The losses we reckon with
April 20, 2018
My paternal grandmother died last week. For most of her life, Grandma lived on the Canadian prairies. But during her elder years, she and Grandpa moved to Chilliwack, to live in an assisted living facility close to four of my aunties who made their own migration from the prairies to the Lower Mainland of British Columbia at various points of their lives.
Half of my Dad's siblings and their families now live on the west coast, aunts and uncles, cousins, spouses and their children, establishing that corner of Canada as the central hub for my paternal family of origin.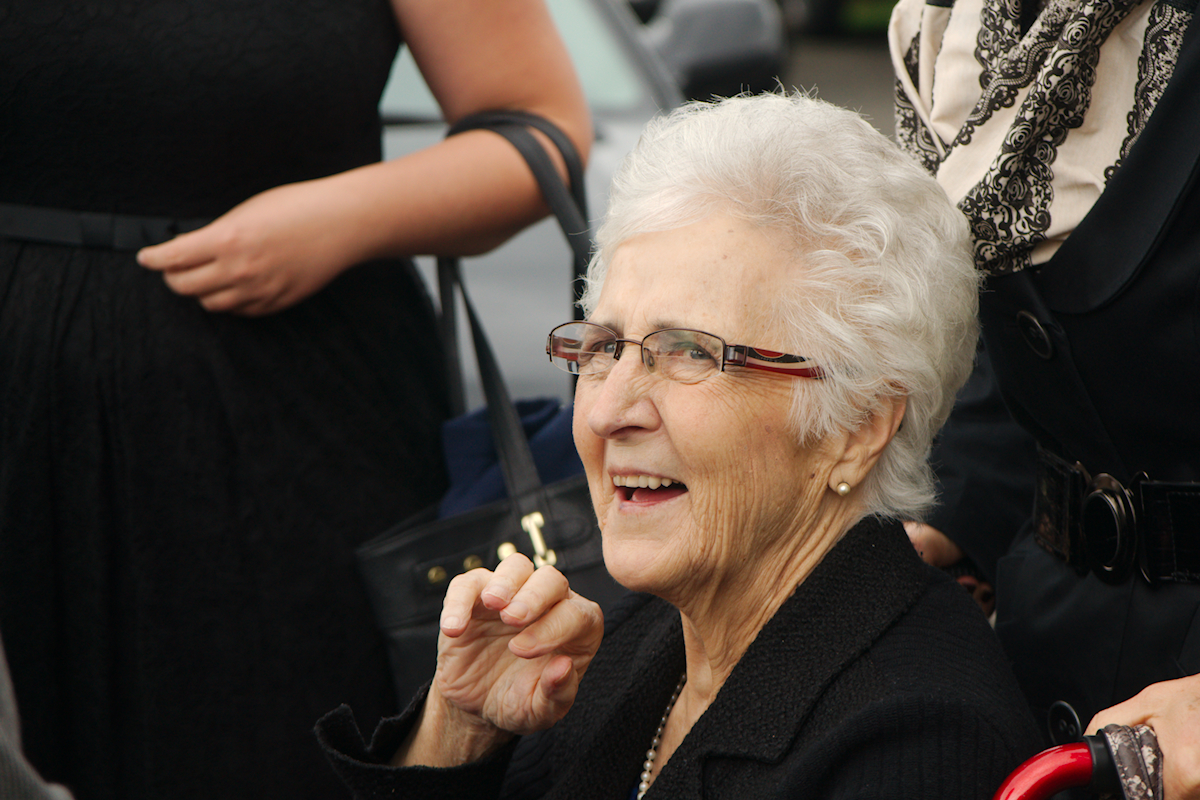 Grandma's death wasn't a surprise passing. Her health has been in a steady decline for a couple years. She was tired of this world and longing for home. She was greatly loved and honored as the matriarch of a family of six girls and two boys, 24 grandchildren and 20 great-grandchildren (and growing).
Because of the distance between coastal BC and eastern Canada and the US, where I've lived for the last eighteen years, I haven't spent a lot of time with Grandma in my adult life. But she was an important part of my childhood and I've felt a strong connection with her throughout adulthood, despite the distance. A connection of faith and family history.
Part of the motivation for our trip west last summer was to see Grandma, Grandpa, and many other members of my Toews family at a family reunion in British Columbia. I was pretty sure it would be the last time I'd see my grandma alive.
Grandma had a stroke on Saturday and on Tuesday evening she died peacefully surrounded by her family singing her into Heaven. It was exactly what she wanted. Should we all be so lucky.
I was unable to go to her memorial service last weekend.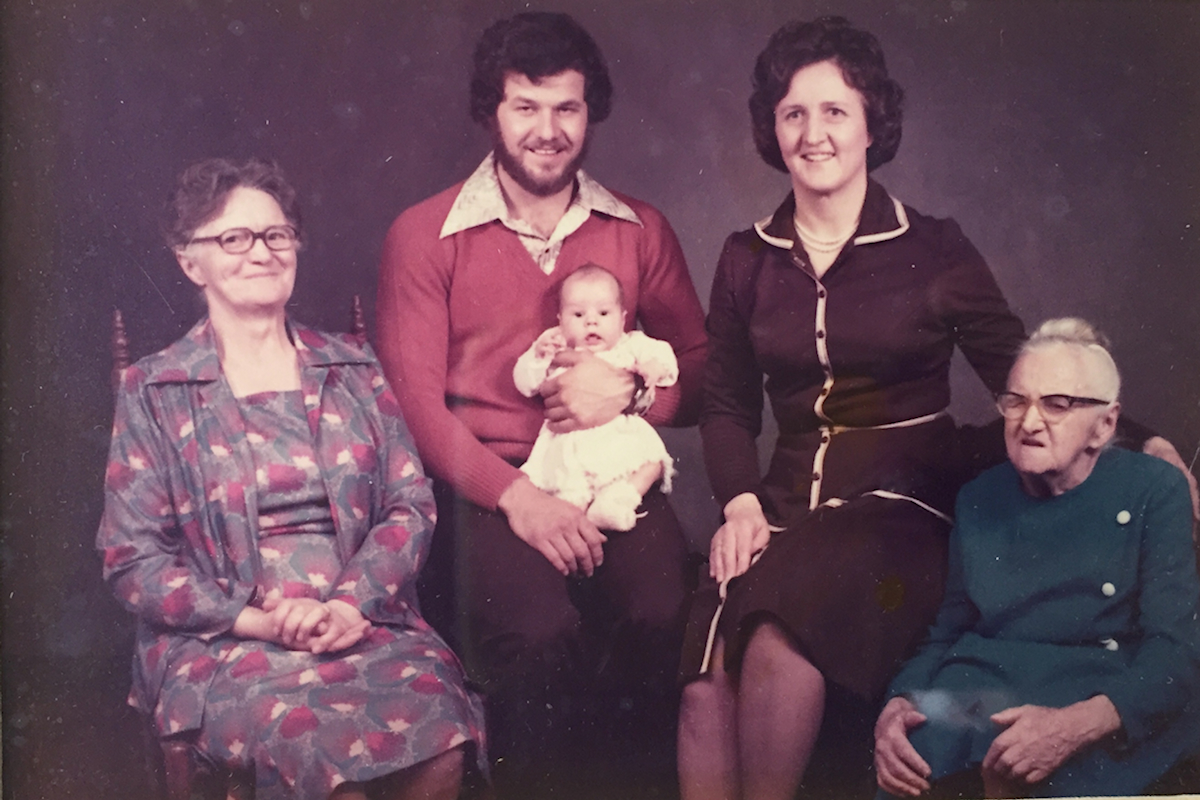 five generations: Great-Grandma, Dad holding baby me, Grandma, and Great-Great-Grandma, 1976
Grandma is 44 in this photo, 2 years older than my current age
Last year's family financial crisis, the perfect storm of financial difficulties and setbacks, landed us in some pretty significant debt. We're crawling out of that now with Damien's new job and my own part-time work but this is not an overnight fix. We're on a two-year plan just to get us out of the debt, never mind building a savings account. That's phase two.
We've had a few big costs this winter already, taking care of some fundamental needs for one of our kids. I just could not justify the cost of a plane ticket. More debt, more millstone. (For American readers, flying across the country in Canada is much more expensive than in the US. Especially last minute without "points", seat sales, or discounts.)
I don't know the correct etiquette for talking about money and your grandma's death in the same post. But this is life. The real world demands we make decisions all the time, weighing pros and cons, stacking one value or set of values against another, prioritizing some relationships over others, anticipating the outcome of a particular action or decision.
Just trying to make the best decision we can with what we know at the time.
And it's not like we can, or do, make decisions based primarily on "hard facts". Human beings, despite the philosophy of the enlightenment, are not rational creatures. And we're each wired differently, by nature and nurture, to process those "hard facts" through our own filter. A filter influenced, perhaps built by, our core struggles, our ego, our beliefs, our experiences, our very DNA.
We will make decisions that other people in the same circumstances wouldn't. But there are no same circumstances because there are no same people.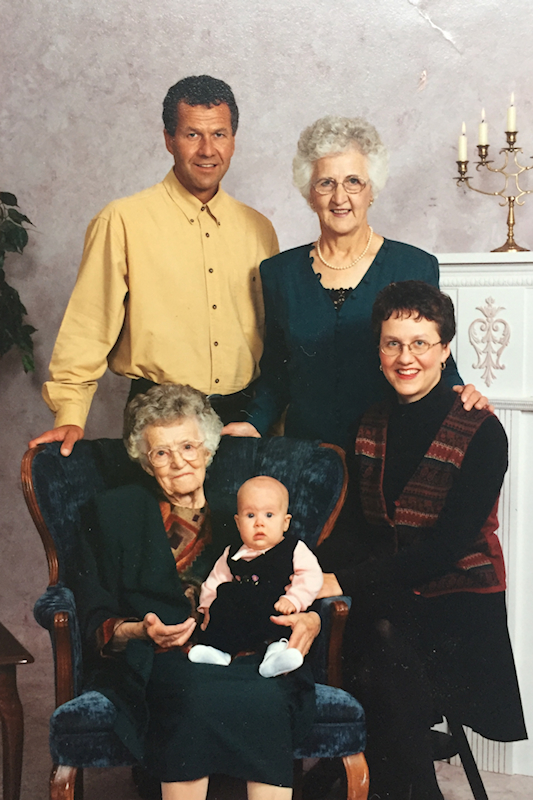 five generations: Great-Grandma holding baby Celine, Dad, Grandma, and me. 1999
I made a ton of decisions in my younger adult years; who I married, being a stay-at-home mom, leaving Alberta, homeschooling, taking an adventurous path with my husband, decisions that I honestly didn't think too much about. Leaving Alberta for a "temporary" career-building job for Damien in New Jersey. Sure, why not?
It wasn't until my thirties that I started to realize the implications of these decisions, the trajectory these choices have set for my life.
One implication is the difficulty of gathering with family on the other side of the country, which has been true for my whole adult life but is keenly felt during times of loss.
This is a sober reckoning.
In my life, I've had incredible experiences and relationships because of choices and chance occurrences. Concurrently, there have been losses, pain, and suffering caused because of those same choices and chance.
That's the part I didn't realize as a young person. Every gain incurs a loss. And if I was aware of this as a young adult, I minimized it or figured I would game the system better than every other human before me. Ahem.
The best we can hope for is to appreciate the gains and positive outcomes while accepting the losses with grace and forgiveness, for ourselves and others.
One of the most crucial decisions I've made in my life, my first career, which felt like a calling more than a choice, has had significant financial repercussions in my life.
Choosing to be a stay-at-home mom and homeschooling parent resulted in a loss of potential income during our child-raising years, it affects my earning potential and career options for this second half of life, and it will affect the financial resources of our elder years.
We have no retirement savings. We don't plan to retire in the typical fashion but we will grow old and need savings for when we can't work. For the next twenty to thirty years I will be working to help secure our old-age.
These are some of the financial repercussions of following this calling (in the mix of everything else of our life - moving, adventures, migration). But I would do it all again because it's what I wanted to do and the gains of investing in my relationship with my children and building the family life I have is worth it to me. I have invested in my future in a different way.
We all make decisions like this, following one path necessarily means we don't walk another. Who we marry, where we live, career and work, number of children, etc. Every choice affects the trajectory in ways we cannot foresee or anticipate. This is what makes life simultaneously thrilling and terrifying.
Regardless of the trajectory, every life path experiences pain. And some of us have the tendency to beat ourselves up for the sense of loss that accompanies pain, we have the tendency to doubt and second guess our decisions in light of the theoretical alternatives. (Where did I mess up to land here in this painful, uncomfortable spot?) And you can't live like that. I can't live like that.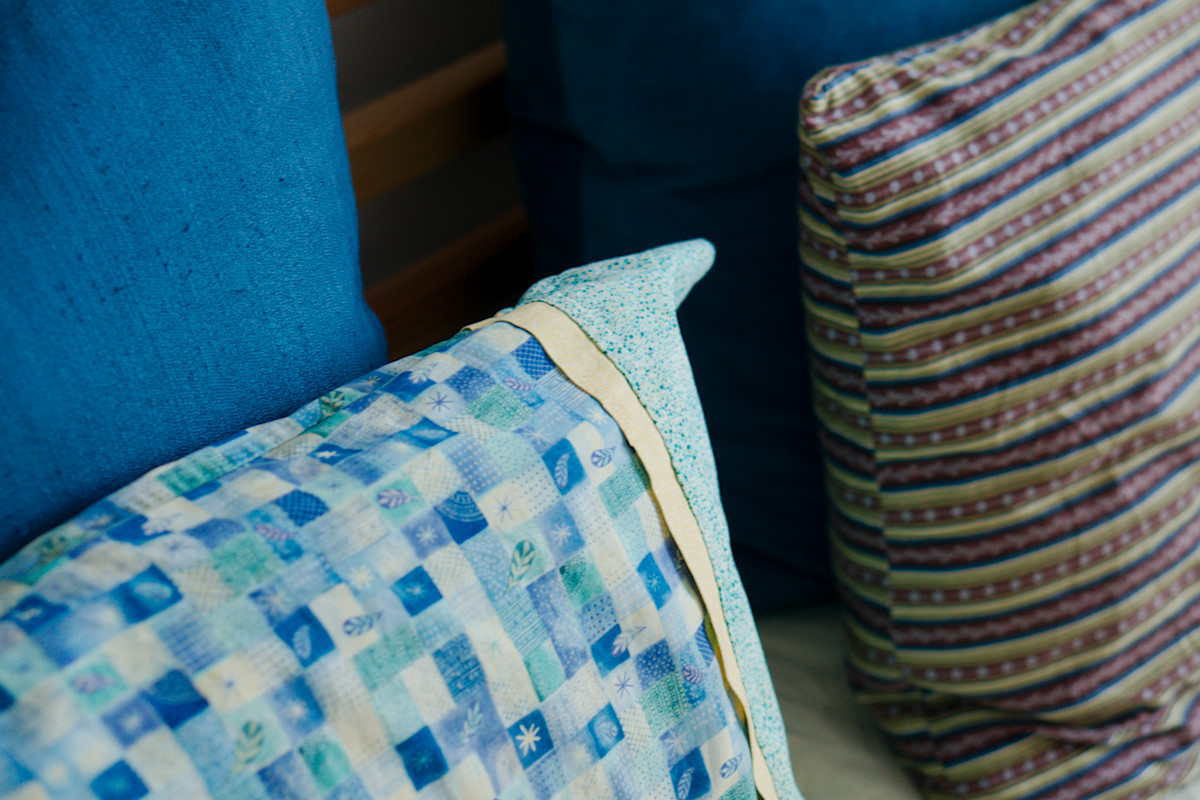 pillow cases made by Grandma
Beating ourselves up for loss and over-analyzing every past decision, looking for the fault that led to the current pain, is a type of shame. The shame of loss. And when you experience this shame it compounds that actual experience of loss, so you get hit with a double whammy.
Like feeling the loss of not being with your family during a celebration of your grandma's life and then feeling shame for that loss. What mistakes did I make in my life to land here? What kind of failure am I, as a person, that is causing me to experience this pain?
The shame of loss is that feeling that you could have done something differently to prevent this loss. Which of course is not necessarily true. Sure, you could have made a different choice somewhere down the line at point "k" but you have no idea what that would mean for where you are at point "s".
Maybe you didn't have the internal or external tools to make a different choice, a better choice (if that was even an option given your circumstance). Maybe you made the best choice you could but like all life choices, there was a loss, a potential future not realized in living the present reality.
Ultimately, you can't wiggle your way out of loss, it's part of the human condition.
These are things I wrestle with. I presume not everyone has this particular struggle, but some of us do. And I'm one of them.
But it's not hopeless and my sharing this doesn't mean I reached the depths of despair last week. It means I didn't.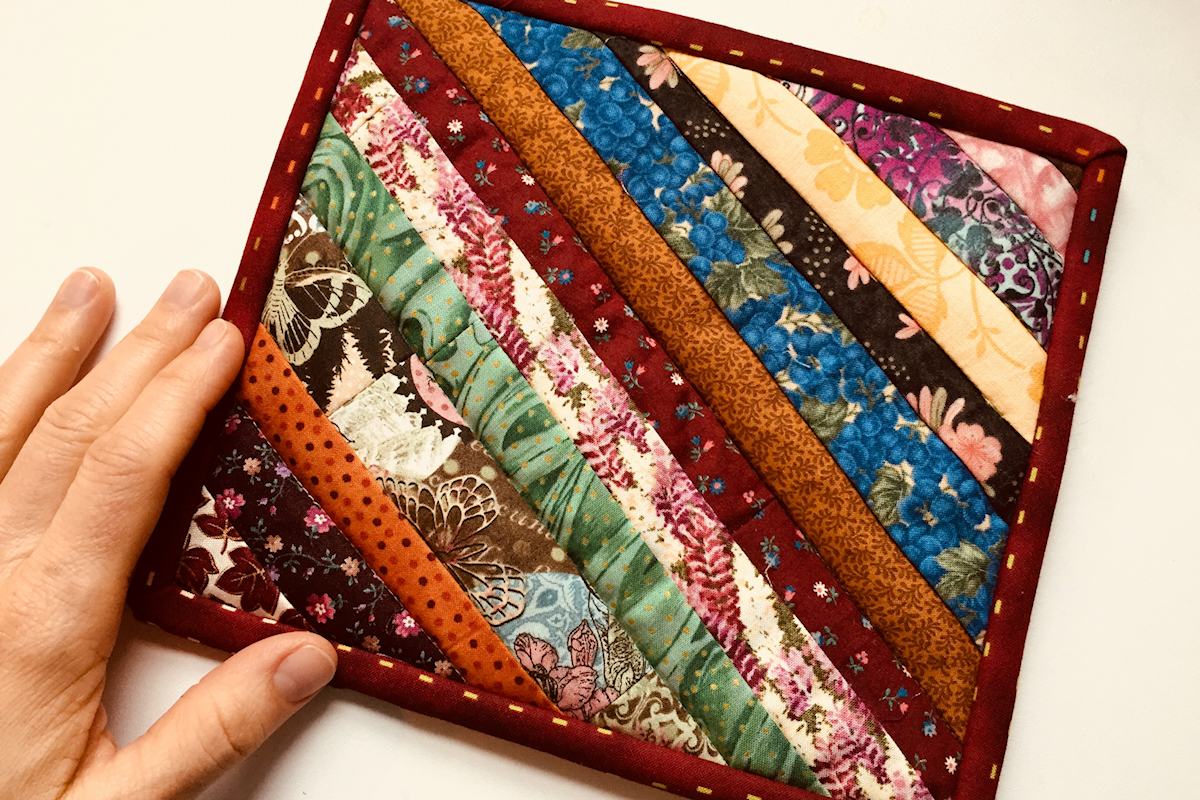 the last quilted pot-holder from my grandma
I have received many of these over the years and used them thoroughly
this one will be decorative art, I can't bear to see it stained and used like all the rest
Shame doesn't survive in the telling, in the light. So I write it out to work it out. I share the crazy to diffuse the crazy.
And I'm learning that the more I simultaneously press into the goodness of my life - the relationships, experiences, Divine presence (just to name a few) - while forgiving myself the inevitable losses of living and growing up, the more freedom I feel from the shame of loss.
My early mid-life crisis taught me I need to make room for a healthy experience of loss in my life. The closer you get to the midway point and around that bend, the more loss you experience.
And because of how I "naturally" (ie: without self-awareness or spiritual intervention) evaluate loss and pain (What did I do wrong?), I could spend the next forty to fifty years of my life in a cascade of self-doubt and shame. No thank you.
I need to learn how to make room for loss in my life. How to feel it but not have that experience subsumed by shame. I'm learning to experience loss, not as a thing that hangs around my neck weighing me down with self-doubt, but as a passenger in the backseat of the car of life.
It's there, it's part of the journey, but like Elizabeth Gilbert writes about her creative fear in her book Big Magic, it doesn't drive the car.
You're allowed to have a seat, and you're allowed to have a voice, but you are not allowed to have a vote. You're not allowed to touch the road maps; you're not allowed to suggest detours; you're not allowed to fiddle with temperature. Dude, you're not even allowed to touch the radio. But, above all else, my dear, old familiar friend, you are absolutely forbidden to drive.
The mid-life weight of loss and the shame we can feel around loss is part of the reckoning process of this age. A life reckoning is an evaluation of what is, like a revealing of the accounts.
A reckoning can be the impetus for healthy changes in our life, but it's often simply another opportunity for acceptance and compassion, for ourselves and others.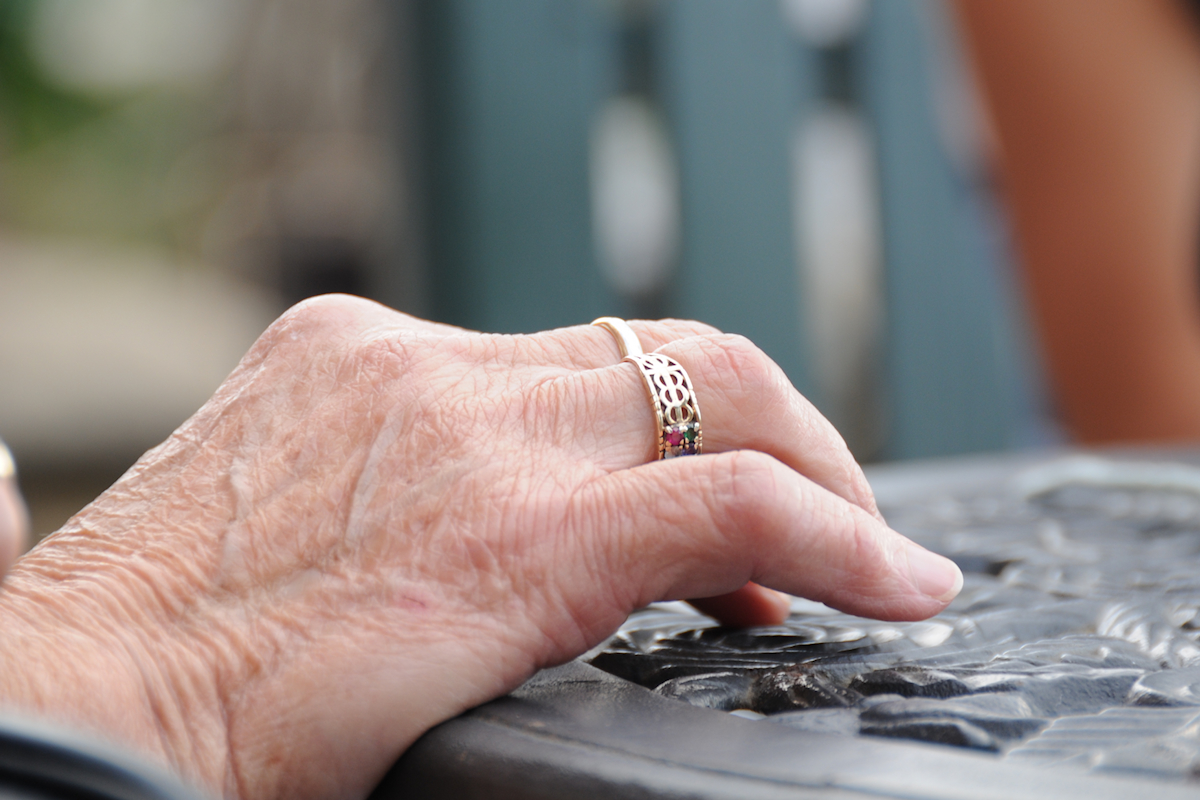 We have some say in how our lives play out, but we don't get to call all the shots. We can't anticipate the consequences of all our personal actions and life decisions. And when you live in a matrix of relationship, as humans do, the possible outcomes become exponentially complicated. That's the fundamental nature of the universe.
Not going to my grandma's funeral was painful. It was a loss to not be with my family during the remembering and celebrating of Grandma's life. Feeling shame, second-guessing my every decision, running down all "what if?" trails of my life doesn't help matters.
So instead I've been remembering my grandma's life, feeling her spirit and the grounding presence of my extended family in my prayers and daily meditations. I've pressed into the goodness of my life, the loving relationships in my own home, and the connection to my parents and my children. I am grateful for the people right here, to love, touch, and draw close to.
I've been thinking about the legacy I will leave as a mother and hopefully grandmother, maybe great-grandmother. What did Grandma teach me about how to be a mother? How to be a grandmother? What did Grandma teach me about Divine reality? What did she teach me about being human?
These practices help release me from the clutches of shame and self-doubt.
My reflections honor my grandma's life and the faith upon which her life was built and challenge me to live and love well, to do my part in this endless circle of life, connecting me to my ancestors and my descendants alike.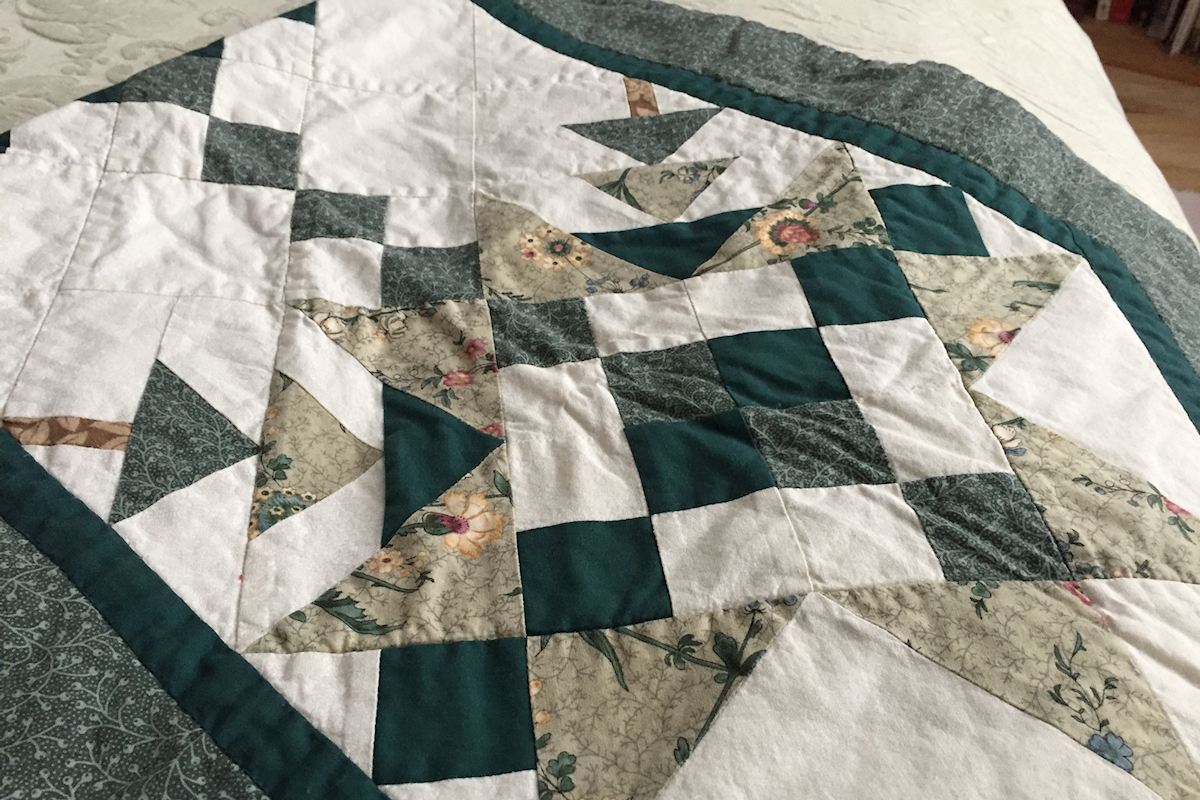 I'm part of something. You're part of something. We belong to a family, not just to our immediate family or our families of origin, but the family of humanity. This is the message of the body of Christ. We belong to the Divine. We are never separated from love and communion, except in our own withdrawing and in our secret shame.
My meditations and prayers during this time have drawn me deeper into the mystery of our belonging to each other and belonging to the Divine. This is a present reality, expressed in our familial relationships. And it is a work of the Spirit, extended to all humanity. We all belong, to each other and the Divine.
What is loss if not the feeling that we are separated? Separated from God, separated from each other, separated from a goal or life outcome we had hoped for. A severing, a distancing, loss is a kind of separation. And separation brings a feeling of loss. They are bound together.
And when I make that connection, loss is separation, separation is loss, I land in one of my favorite passages of scripture. A passage I've claimed as my own, penned by the Apostle Paul.
For I am sure that neither death nor life, nor angels nor rulers, (nor shame or self-doubt) nor things present nor things to come (nor distance from your family during times of loss), nor powers, nor height nor depth, (nor debt nor financial loss) nor anything else in all creation, will be able to separate us from the love of God in Christ Jesus our Lord.
Oh, this is it. This is my hope, this is my truth, this is my freedom from shame, from loss, from the ache of being human.
This is my heritage and my inheritance.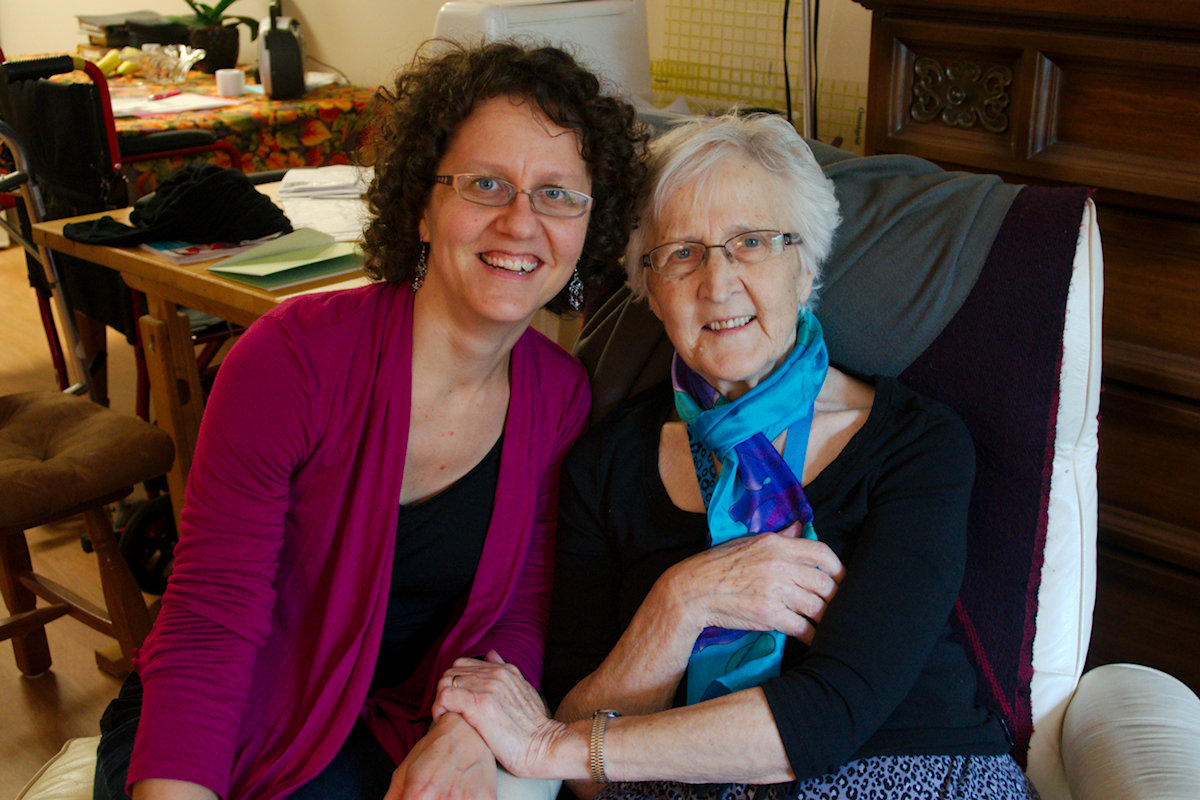 ---
Other posts about my grandmothers, over the years on the blog.
Missing her funeral (600 in attendance) and time spent with all my family (all my cousins, aunts & uncles were there) has been the most lonesome, heart breaking experience I have ever dealt with. I reached a point of despair and heart ache that I have never encountered before.
Their visit brought up that by now familiar tension in me. Realizing it's possible to love your life and who you've become independent from your family of origin and yet miss them in the same thought.
I don't have my grandmother anymore and live a long ways from where I grew up but I have my backyard raspberries. And spending a sunny July morning in my small patch takes me back to my childhood, back to my grandparent's farm, raspberries served with cream on the shady deck, my mother's jam on the pantry shelf.
My grandmother contributed SO much to who I actually am, her very personality courses through these veins of mine, but she also bestowed her handmade goodness into my life and there are touches of her throughout my whole house for which I am very grateful. Things she made years ago that I didn't fully appreciate because I still had her I treasure now.
I've talked before about my grandma's creative gifts in my life. I was thrilled with the totally unexpected bag my auntie delivered from my grandma.
In my late teens and early twenties, I knew I wanted to be a mother and homemaker. Some people have mentioned to me they are surprised that I wanted this at such a young age. I didn't wander the wilderness of young adulthood trying to find myself. (I get to do that in my thirties!) I credit my grandmothers in part for that.
I belong to a lineage of women makers, it is a heritage I am proud of and deeply grateful for. Women who make warmth out of scraps, beauty out of balls of yarn, homes out of handmade.
Filed Under
Part of Series
You can subscribe to comments on this article using this form.
If you have already commented on this article, you do not need to do this, as you were automatically subscribed.