Lazy (?) Summer Days
June 26, 2008
I'm not sure exactly when the summer steam roll train started this year. Probably sometime in February when I began to fantasize about raised beds, weekly pick-ups at the farm, fresh picked berries, wearing sundresses and going to the beach.
I'm officially five days into summer and pretty dog tired from living out my winter fantasies. (No, not that kind silly!) Maybe feeling tired is just a Wednesday thing.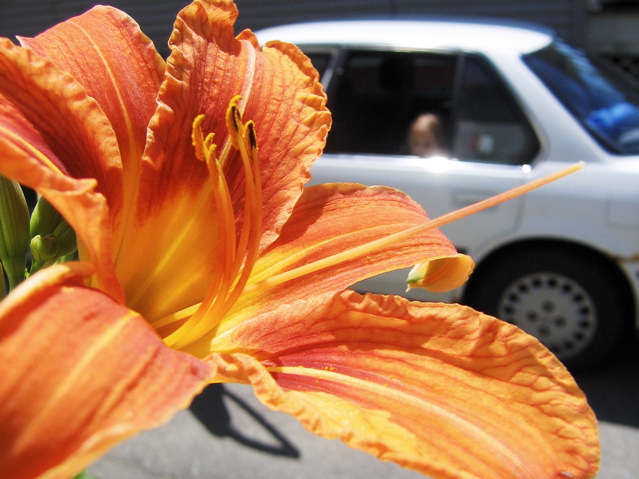 "oh, what a lovely flower", as my kids wait in the car to go to yet another farm</span>
Or maybe it's the-week-is-crammed-with-so-many-good-summer-things-but-you-just-can't-stop-because-the-summer-train's-a-rollin'. Whew, I got tired just typing that.
I'm thinking crossing my fingers a lazy week or even a day will come along in the next couple weeks, realistically sometime after our camping trip. But this week's list of dentist appointment, library visit, berry picking(s) and freezing, cooking a meal for 20 folks, trip to the beach, unsuccessful trip to farm to get manure for building raised bed, last horse riding lesson, farm pick up, and usual weekly errands, grocery shopping, cooking and general home management doesn't allow for a lot of lazing around.*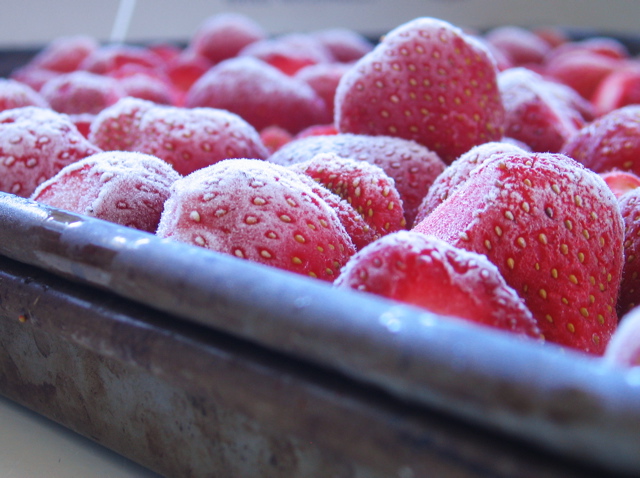 Frozen strawberries ready to be put into freezer bags</span>
Sometimes that's the way summer is. The "must-dos" all happen NOW because the same weather that ripens the berries for picking (the window of time for picking organic strawberries in Maine is brief) makes for great beach days and for growing weeds in the garden and for picnics and for nightly skateboarding and hiking and camping.....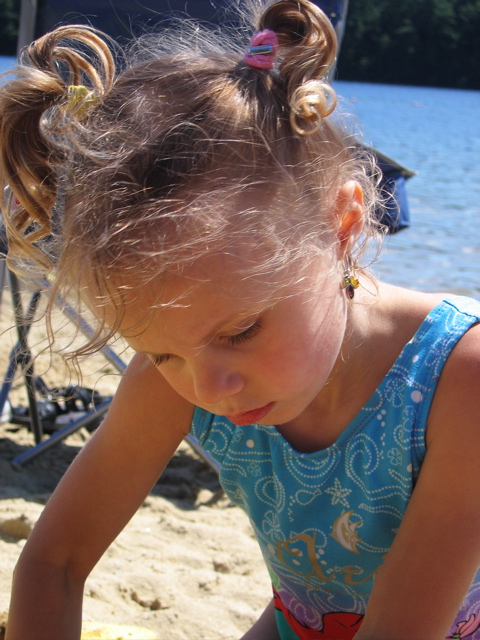 Tonight is a happy life-is-full tired but I'll be glad for some happy feeling-lazy tired too.
*footnote: Did you know that at week's end the kids & I will have been to 6 different farms this week, cool.
Renee Tougas participates in affiliate marketing, including the Amazon Services LLC Associates Program. Whenever you buy something on Amazon from a link you clicked here, I get a (very) small percentage of that sale. See disclosure for further explanation.
You can subscribe to comments on this article using this form.
If you have already commented on this article, you do not need to do this, as you were automatically subscribed.