keepin' it real
April 17, 2008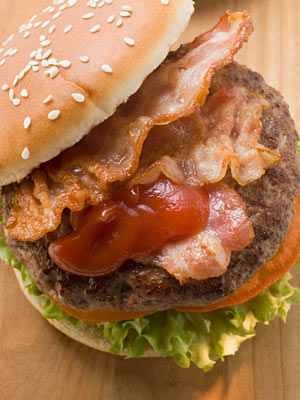 not my photo</span>This post is the first in a new blog category called Keepin' it real you'll see what I mean...
The kids and I went for a walk/bike ride to Bates yesterday afternoon. We hung out there for a long time, and at some point I started to develop a craving for a sandwich, a rare treat in our mostly gluten free house. At around the same time I was suddenly motivated to let the children play longer than I had planned, riding round and round, up and down. What a kind, patient, activity friendly mother I was. Soon enough, surprise, surprise, it was late in the afternoon and supper hadn't even been started - oh darn!
When we got home tired and hungry I met a husband already home and receptive to the idea of dinner out. Turns out he had been craving a burger. Like the kind made with meat, served on, gasp, a wheat bun! Graciously we supported each other in our hour of need and decided to go out for supper to Ruby Tuesdays. And although they have a lovely salad bar the only one who ate from it was Celine (along with her 2 mini-burgers and fries - that girl can eat). The rest of us ate chicken fingers, fries, and various burgers - all real meat and real gluten. No doubt the meat was CAFO raised which I'm actually truly bummed about. I even considered range-fed bison to avoid this problem but settled on (cringing) nitrate laden bacon.
One night we're standing in solidarity with the world's poor eating rice & beans and the very next night we're eating factory farm, petroleum dependent (fertilizers and transportation costs), chain restaurant food. And you know what - it tasted great! Yikes.
Renee Tougas participates in affiliate marketing, including the Amazon Services LLC Associates Program. Whenever you buy something on Amazon from a link you clicked here, I get a (very) small percentage of that sale. See disclosure for further explanation.
You can subscribe to comments on this article using this form.
If you have already commented on this article, you do not need to do this, as you were automatically subscribed.