Introducing Black Widow
April 23, 2015
We're in Montreal right now taking care of family business on a couple fronts - finding an apartment for July and getting Celine to C2E2.
I am extremely relieved to report that, after a hectic schedule of appointments and applications, we secured an apartment in the first three days of our trip. It's a wonderful place and I'll tell you more about it later.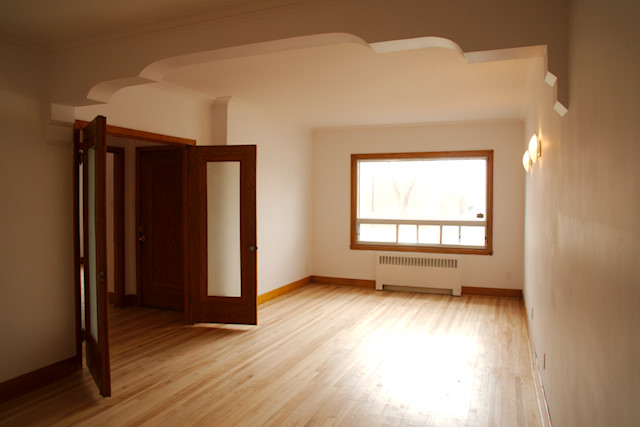 In Montreal the majority of rental leases are signed for July 1st and tenants must give notice by the end March if they are not renewing their lease. This means April and May are the best times to find an apartment. So we needed to come to Montreal to do that.
Our apartment hunting trip was timed to coincide with Celine's travel plans for Chicago.
There is no international airport where we live, just small expensive regional airports. On our budget, to fly you must first drive. And so drive we did, to Montreal, so Celine and Damien can fly to C2E2 today.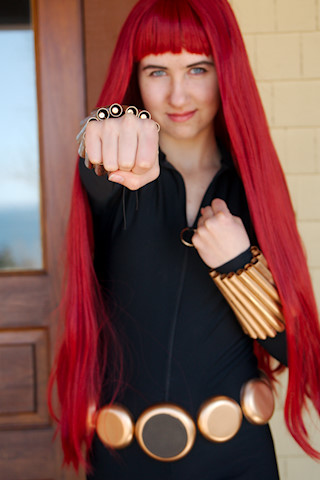 Celine's big project and driving goal since returning home from the trail is to attend C2E2, this weekend in Chicago.
I wrote about that in this post on a goal-driven curriculum.
Today's post is the big reveal of Celine's costume. Part of attending a comic convention, or Comic Con as they are called, is participating in cosplay.
Not all attendees do this but the really creative geeky ones do.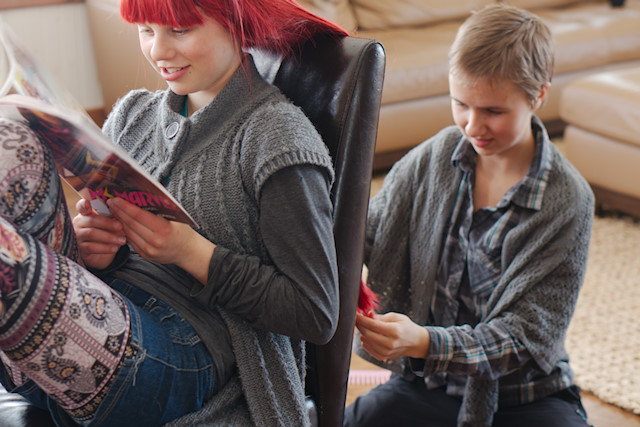 Celine has been working on her costume since last fall. She bought the fabric on our trip to Nova Scotia, just two weeks after getting off the trail.
She had many months on the trail to think about what character she wanted to be and in the end she choose Black Widow from The Avengers: Earth's Mightiest Heroes animated television series.
This is a television series I know nothing about, belonging to a realm of media and pop culture that is foreign to me.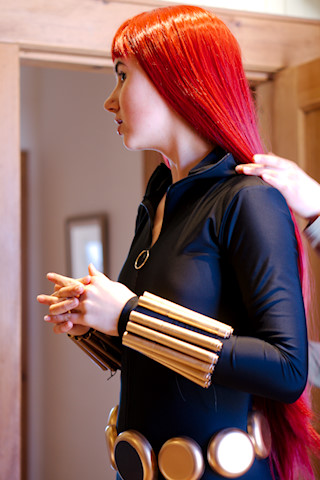 I'm not entirely sure what it is about Black Widow that captured Celine's imagination except I do know that Scarlett Johansson's Black Widow character is one of her favorites from the Avengers movies (not to be confused with Earth Mightiest Heroes animated series). And Celine informs me that the animated costume is easier to recreate, with its simple design, than the non-animated version.
Our entire family eats up superhero movies, they are the one movie genre we all mutually love, and the Marvel Avengers are always a great hit. How can you not love Hawkeye, Thor, Captain America and Robert Downey Junior's Iron Man?
Celine's costume, down to the golden gauntlets was made entirely by her. No dollar store or costume shop purchases for her. That's part of the fun of cosplay.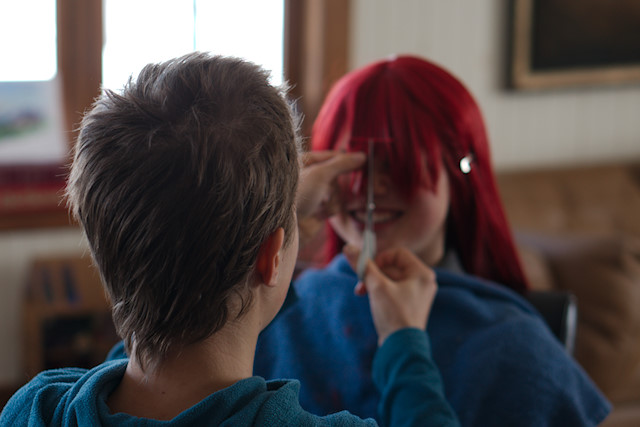 It's not about buying the costume, it's about creating the costume. You can see how this is the perfect "fit" for my geeky, sci-fi fan, sewing and design astute daughter.
For her, this is what "project-based" learning looks like.
When people find out that we employ project-based learning (among other methodologies) in our homeschool they sometimes ask "what kind of projects" our kids do.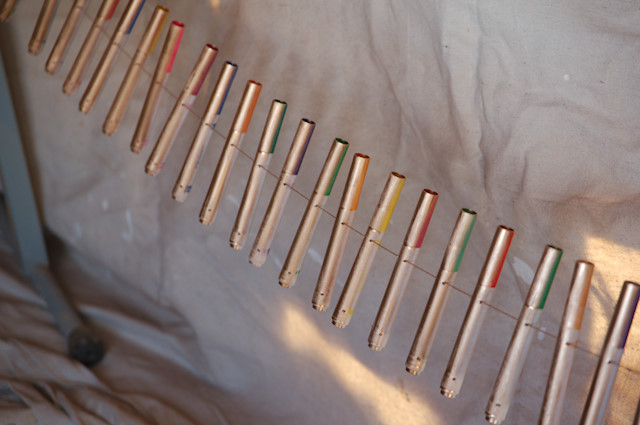 I sometimes wonder if they are expecting projects that are academic in nature, along the lines of a science fair project.
Real life, project-based learning is driven by a person's natural need or want to make or build something. These projects arise from an innate desire or interest to figure something out, express an idea, have an experience, or participate in community and culture.
In which case, it might look like a "classic" science fair type project, figuring out the best location to plant the beans in the garden for example. But project based learning can look like almost anything.
The key thing is, you don't "assign" true student-directed, project-based learning with a scoring rubric of "skills to be learned".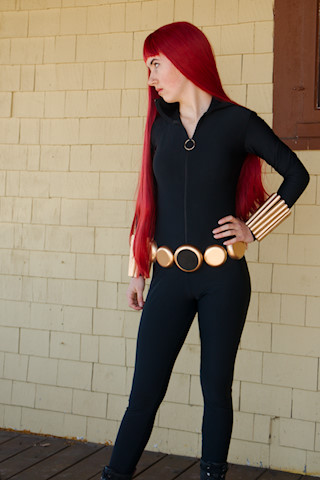 The project itself is the educational means and ends.
Conceiving the original idea, making plans, re-configuring plans, doing the work, (sometimes discontinuing), and finally finishing - the process itself is the learning as much as the finished product or community contribution.
I cannot tell you all the hours Celine put into this costume. It is entirely her baby. I did not "direct" any of it.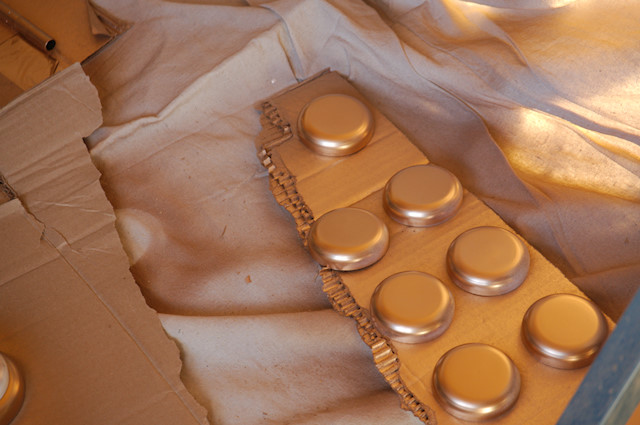 Celine did all the stitching and painting. All the research into wigs and where to buy them. Not to mention all the hours she spent on her part time job to earn the money to pay for all her materials (and her flight, hotel, food and convention ticket).
This kind of project was well outside the scope of my personal experience, or interest. I offered opinions when asked for them. But it's hard to give an opinion on something you know so little about. Mostly I was just a cheerleader and sounding board for ideas.
And when Celine considered giving up all together, sometime in February (who doesn't want to give up in February), we said the choice was all hers but we would do everything we could to support her in finishing through to the end.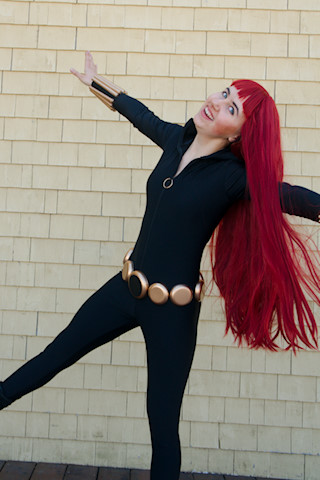 And finish she did!
Celine worked so hard to get here. She's overcome many obstacles and unknowns (too numerous to mention), not the least of which is her own mother's cluelessness about such things, "what's a comic con?"
To say I'm proud is an understatement, and to say she's beautiful is stating the obvious.
Watching her in cosplay is to see a new side of Celine, "who is this girl?"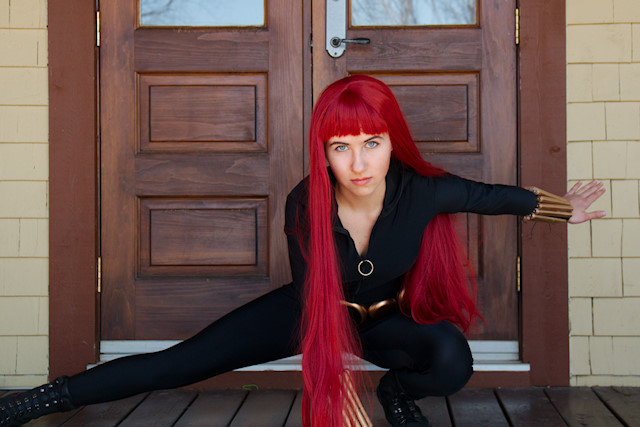 I am continually amazed at Celine's talent for something that eludes me (sewing anything other than straight lines on cotton fabric). And I am impressed at her dogged persistence in working towards a goal.
And today I'm grateful that the person I trust the most, who loves Celine as much as I do (her dad and my husband) will be accompanying this blossomed-into-beautiful young woman on the first of her many self-directed grand adventures.
You go girl!
Filed Under
Resource Library
You can subscribe to comments on this article using this form.
If you have already commented on this article, you do not need to do this, as you were automatically subscribed.