Hosting Hikers and Fellow Pilgrims
August 14, 2008
Today I'm tired, very tired. But I'm also thankful for the sun finally shining on our little corner of the world. The first day nice enough this month, August 13th for pete's sake, to go to the beach.
So, I'm sitting at the beach with one eye on my fish and the other on this notebook*. In the warm sunshine, listening to the splashing and laughter I'm able to forget the mess I left behind at home.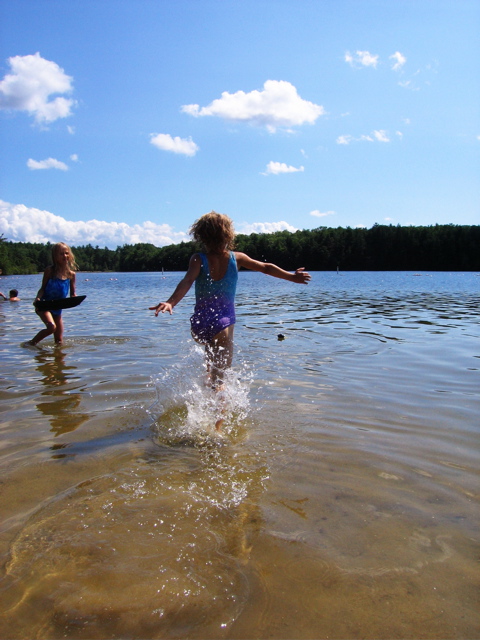 We've just had an intense 2 nights and one day visit with three Appalachian Trail thru hikers. A visit that included a potluck supper last night opened up to coworkers, homeschoolers, friends and pretty much any ol' stranger that wanted to come.
This morning Damien drove our new friends back to the trail in the mountains about 1.5 hours from our home. I was left to face my own "mountain" of clean up. Three disheveled guest beds (I'd like to point out we don't actually have a guest room so these beds are located here, there and everywhere in the house), a front porch full of trail debris left behind by smelly backpacks and mounds of dishes and food littered floors from hosting 20 people, half of them rugrats 9 & under, for supper last night.
Faced with this daunting reality I did the only sensible thing to do. Left it all and came to the beach.
I'm so thankful for the opportunity to have hosted and met the three hikers who left this morning, they had trail names (an AT thru hikers tradition) so this is what I'll use to describe them. (Sm)ellie, the quiet, well prepared and easy going woman from Georgia. On her way to grad school (2nd time around) to further her studies in the interconnectedness of anthropology, bio-medicine and computer science(!). Philly, the storytelling cartoonist from Virginia and Kentucky. Also on his way back to school to pursue a playwright and acting career. And of course Vagabond, also known as Daren Wendell, the man walking around the world on the Earth Expedition to raise awareness and funds for the Blood:Water Mission in Africa. A guy who literally owns only the what he is carrying on his back.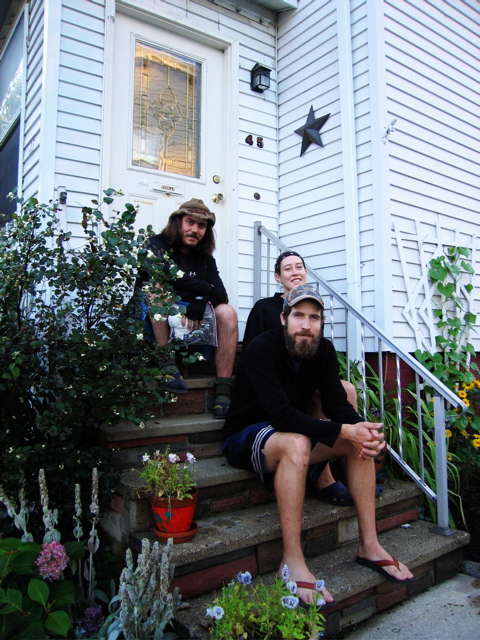 What an awesome experience and privilege to host these folks in our home. If you ever have a chance to put up AT thru hikers in your home - do it! I'd do it again in an instant once the fridge was re-stocked and the sheets washed.
People who have been hiking 15-20 miles a day for months, sleeping in the rainy woods and eating ramen noodles and potato flakes for days are pleased as punch with whatever hospitality you have to offer. Just make sure to have lots of food on hand. Hot water and laundry soap doesn't hurt either. Someday when our family is trekking through North American mountains, backpacking across Europe or doing mission work in Costa Rica, carrying our beds and shelter on our backs I hope we'll be able to crash on someone's floor and get a fresh meal. After all, as our guests told us "on the trail, hikers take care of hikers".
We're all on a journey, a trek through life. Too bad more people don't live by the creed "travelers on this journey of life take care of fellow travelers". What a nicer world that would be.
Show hospitality, share your table and your garden veggies, make up a bed on your floor. Although you'll be providing rest to the weary you'll be the one enriched. Let's take care of fellow pilgrims on this journey of life.
*post written yesterday in my notebook while at the beach.
Renee Tougas participates in affiliate marketing, including the Amazon Services LLC Associates Program. Whenever you buy something on Amazon from a link you clicked here, I get a (very) small percentage of that sale. See disclosure for further explanation.
Filed Under
Resource Library
You can subscribe to comments on this article using this form.
If you have already commented on this article, you do not need to do this, as you were automatically subscribed.