Hello Unschooling and Other Sanity Savers
February 23, 2011
Last week sent me for a loop. Deadlines, expectations, insecurities, winter blah, and the full moon seemed to conspire against me. My best attempts to "be on top of everything" together with the reality of our moving preparations was threatening to overwhelm me. And so by the end of the weekend Damien and I came to a few conclusions about my priorities in the upcoming months.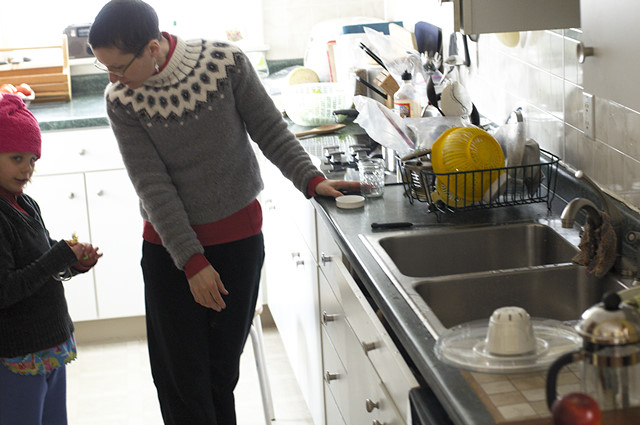 Laurent's candid shot of Brienne and I in the kitchen
I honestly thought I'd be able to maintain some kind of home schooling, home management, daily writing, self care and full time chef schedule till at least the end of March.
I was wrong. Or at the very least optimistically naive
You might recall this well thought out and oh-so-tidily put together post on organizing and evaluating. In which I laid out the flow of our days (for what I hoped would be a couple months but in reality was just one). Well, I've evaluated my organizing and have decided to throw it out the window.
What this means practically is that:
For the next undetermined length of time we will be unschoolers*. Right now we're learning about moving and how to work together as a family to achieve your goals. The kiddos will continue their own self directed learning. But the mama directed portion of our day will look much less routine than we are used to.
Most of the week I will cook meals as usual. On moving prep days we will choose more convenient healthy options.
I will take the time I need to be well rested and refreshed physically and spiritually.
My writing time is limited and must focus on that which is most personally fulfilling for me to write. Blogging is an outlet to process this move and share our family life. To celebrate home, nature and creativity. I have some other writing aspirations that are going to wait till after our move.
Anything I've ever written here (or elsewhere) about how I manage our home and schedule our days does not apply to our life right now.
My most important priority is a home life that is joyful, loving, and nourishing even during an intense season of life. There is no mental and emotional space in my life right now for routines, activities and mindsets that threaten those goals.
We've reached the point in this move where it's time to simplify our home management so the routines serve our needs, not the other way around. I'm not committing to a daily or even weekly schedule. I'm committing to my family's health, my own sanity, a peaceful home, and getting ready to move.
I release myself from all expectations to be the "perfect" mother, win natural homemaker of the year award, be a focused homeschooler, and kick-butt blogger. Yeah right. Easier said than done.
I don't think you'll notice any outward changes in this space but behind the scenes I feel more at peace and on target with our days. This is a good thing.
*Philosophically we are not unschoolers and although I may have presented it as such, I don't believe that unschooling is a "way-out". Unschooling takes a lot of dedication, trust and attentiveness as a parent. What I'm doing is releasing myself from the mental burden of my unrealistic homeschool expectations for this season of family life. Unschooling is just an easy way to say that.
Filed Under
Resource Library
You can subscribe to comments on this article using this form.
If you have already commented on this article, you do not need to do this, as you were automatically subscribed.