Gluten Free Kinda, Sorta
January 27, 2009
We've been a largely gluten free household for a few years. A couple years ago we got a super-duper expensive bread machine that could make 100% whole wheat loaves. I was in bread making heaven. No more door stopper loaves from the oven.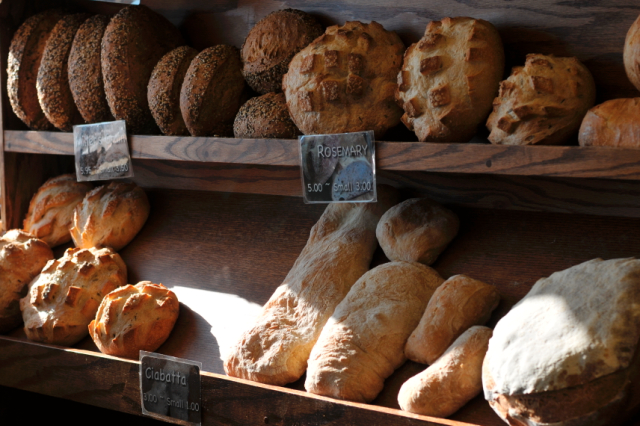 We started to eat a lot of bread. Then my skin-sensitive husband developed itchy rashes and an uncomfortable heaviness in his digestive tract. And within the year following our bread machine purchase our two youngest developed regular and persistent tummy aches. By that time Damien had eliminated gluten from his diet (no easy feat as anyone who has tried can testify to) and suspected gluten as the tummy ache culprit for the children. After elimination and re-introduction we found this to be the case.
So, we've had a couple years of restricted gluten in our home. Gluten definitely hurts Damien and regular sore bellies were reason enough to remove it from the kid's diets. So with 3 gluten sensitive family members Celine and I joined the others in solidarity and stopped eating gluten at home also. No bread, wheat pasta, regular pizza, barley, oatmeal (processed in wheat facilities) etc... It was hard, but doable. Once a month or so, sometimes more often, we'd eat wheat. Cookies at a function, pizza for a treat, bread at a restaurant. Inevitably Damien would break out in a rash and feel gross and the kids would complain of sore bellies. But gradually we've noticed that Brienne and Laurent weren't hurting after these indulgences. So we'd try a little more next time and when we found that they stopped complaining altogether we figured we were maybe in the clear. And that's where it stands right now.
When we started our gluten-free journey we didn't know anyone else who ate this way. But over the past couple years the number of "gluten-free" friends and family has grown. It's rather ironic that we are now less gluten sensitive as friends are discovering their own gluten sensitives. Although the kids haven't had recent bad reactions to gluten we're not going back to the way we used to eat, probably ever. I'm fairly certain Damien's gut is not going to change soon and I continue to cook all our family's shared meals gluten (& animal and refined sugars, flours & fats) free. But the kids and I have started to eat wheat products a couple times a week. What a treat. Did I ever miss bread!
Our journey into gluten-free territory has been a real blessing for our family. We've been forced to change our diet to more whole, unrefined foods. Vegetables, beans, fruits, nuts, seeds, and gluten free grains. It hasn't always been easy, I shed a lot of "I can't make decent pizza" tears before we gave up altogether and instead eat out at a local inexpensive Thai restaurant for a treat. And because no one is deathly allergic we have always been able to indulge now and then.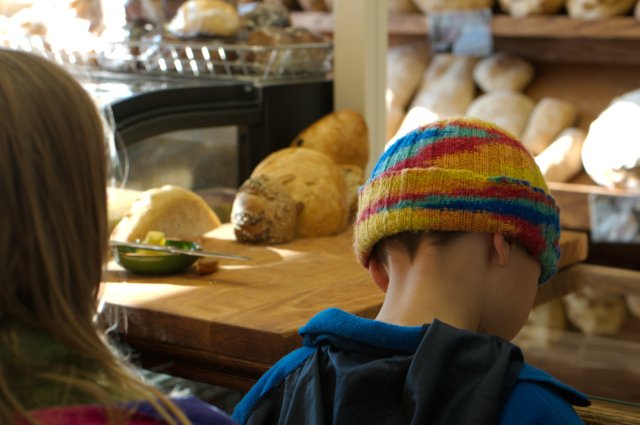 But it's nice eating bread and cookies (my personal weakness) when I'm out with the kids. And here's where I give the plug for our absolute favorite bakery in town. If you're a local you must try The Bread Shack. The kids and I eat rolls and play the odd UNO game there every week on our Tuesday afternoon errand run. Maybe we'll see you sometime if you happen to be buying a loaf during our weekly stop. You won't regret trying their wonderful bread. If you don't have any issues with gluten that is!
Renee Tougas participates in affiliate marketing, including the Amazon Services LLC Associates Program. Whenever you buy something on Amazon from a link you clicked here, I get a (very) small percentage of that sale. See disclosure for further explanation.
You can subscribe to comments on this article using this form.
If you have already commented on this article, you do not need to do this, as you were automatically subscribed.