A girl and her dress
June 20, 2018
The morning after Prom I awoke with a sinking feeling in my stomach.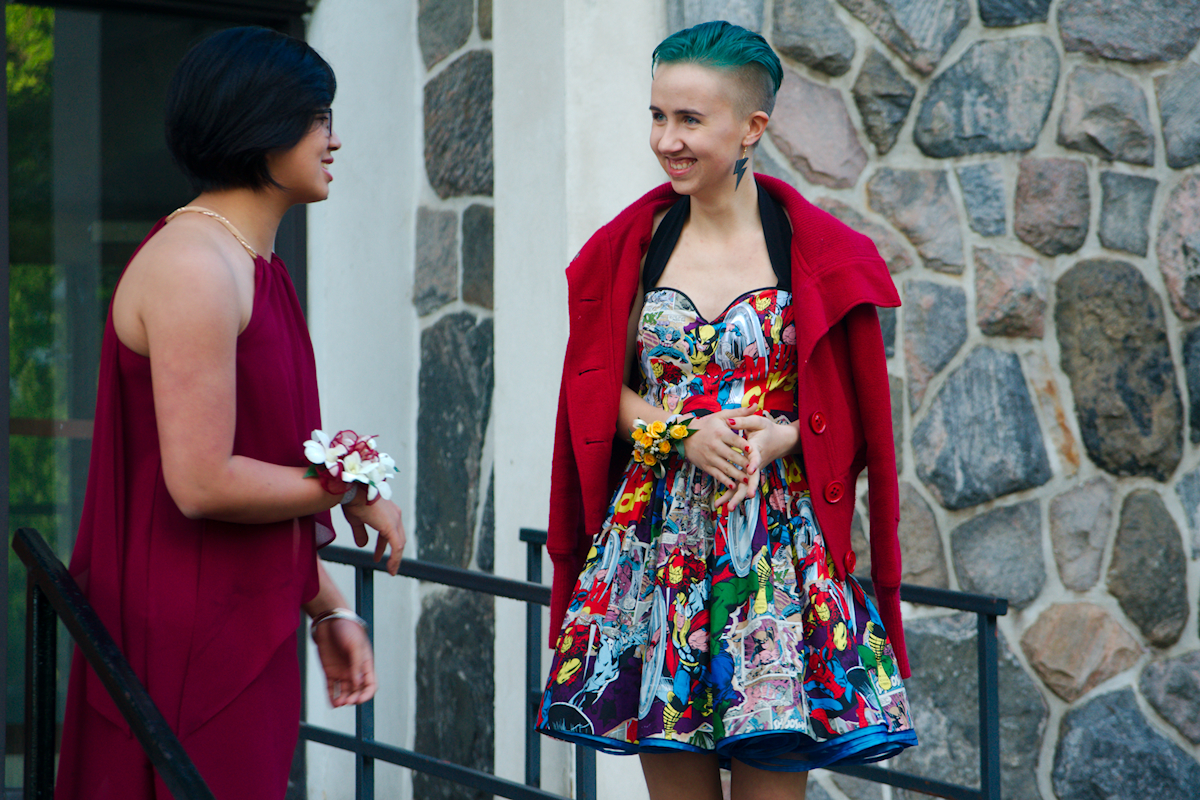 Unfortunately, waking up with a sinking feeling in my stomach is a common enough occurence these days. It's the time of year. It's the season of life.
The early light and city noises through the open windows wake me up and then the stresses of this season of family life and parenting fuel the flame of latent anxiety. The combination can produce early morning wakefulness accompanied by a negative thought stream of all the ways I've failed my children and will end up destitute in my old age.
(Practicing meditation, during non-sleeping hours, has given me the tools to deal with this kind of situation, teaching me how to focus on something else and literally breathe my way back to sleep. Because it turns out I can't solve all the problems of the world, fix my mothering and marriage inadequacies, and secure my future at 5 am in the morning. So I should go back to sleep.)
The morning after Prom was like this. After just four precious hours of sleep (we didn't get home till very late) I awoke feeling I had failed as a mother not in a vague, ambiguous sense, but in a very concrete way. I had forgotten to take portraits of Celine in her dress.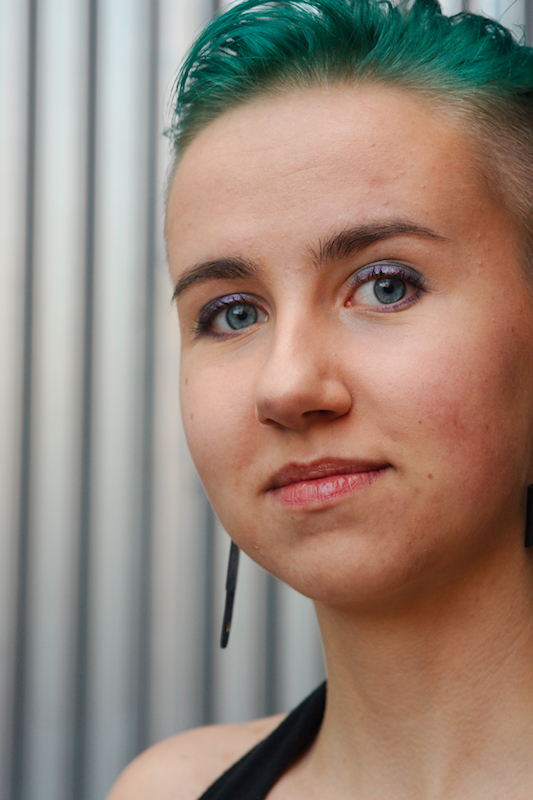 In all the kerfuffle of cooking supper, driving to pick up corsages with my dad, photographing the kids getting ready in the bathroom, driving in the cool rain to the church where the dance was held, and then all the group photos with friends, I totally forgot to photograph Celine the way I wanted to. In a way that celebrates her and commemorates this time of her life.
I've been photographing my kids for years. I don't consider myself a "photographer" but I'm a mom photographer, and a mommy blogger, and I forgot to photograph my daughter at Prom?! Yes, I photographed her with people but not alone. I didn't get one photo of her individually and well staged.
Because we have never hired a professional or amateur photographer for family portraits, and because we have no yearly school photos or other official memorabilia associated with the school years, I make an effort to take good photos of the kids from time to time. It's what I do, and I enjoy doing it.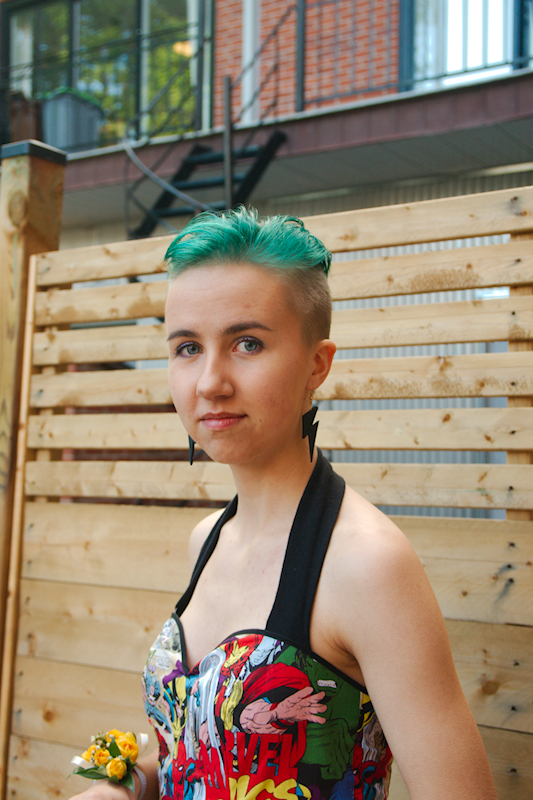 Except at Prom I forgot. And I woke up, the morning after, feeling terrible.
But this was a solvable problem. Very few of my mothering anxieties are so easily resolved but a photo shoot could be arranged.
Poor Celine, she was tired the day after Prom. It was back to work and back to life, and quite frankly a very blah day. But at the end of her work day she was a good sport (both of us wanted these photos) and re-applied her make-up like she had worn the night before, put on her dress, and followed me in the back alley where I ran her through the paces of a mom photo shoot.
The weather was more co-operative the day after Prom. No threat of rain though the temperature was still cool for early June. The red jacket Celine wore to Prom is a regular piece of her clothing, not specially procured for this event, but it worked so well with her dress.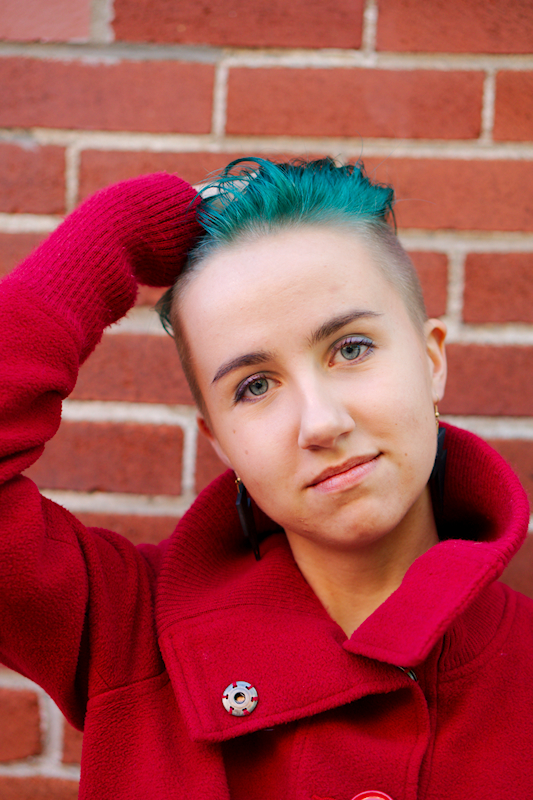 Part of my desire for a photo shoot of Celine's dress is because of how much care and attention she put into her outfit.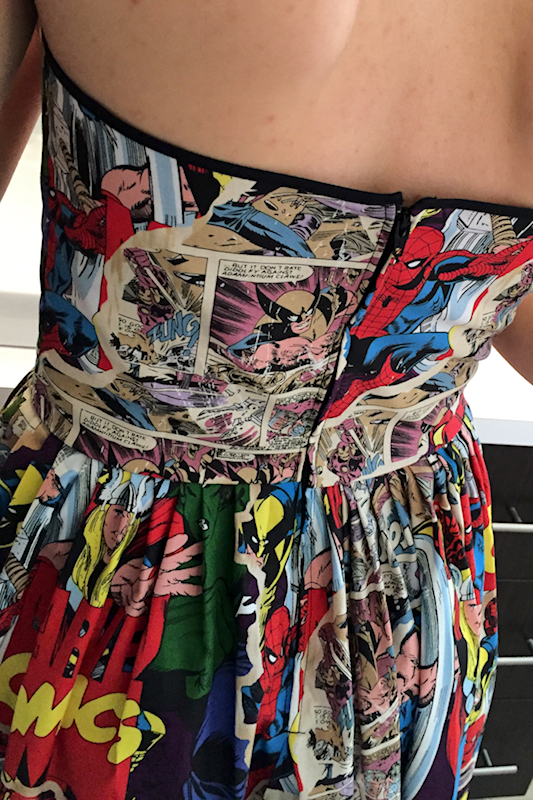 trying on the dress when it arrived in April
Celine is a quiet and reserved person. She is not verbally expressive. It is a privileged few who truly know Celine. Which is one of the reasons I love this dress so much. This is Celine making a statement about who she is, to the world.
This is what's on the inside of all that quiet. A whole lot of color, sass and creativity, a chutzpah to be her own self. God, I love this girl.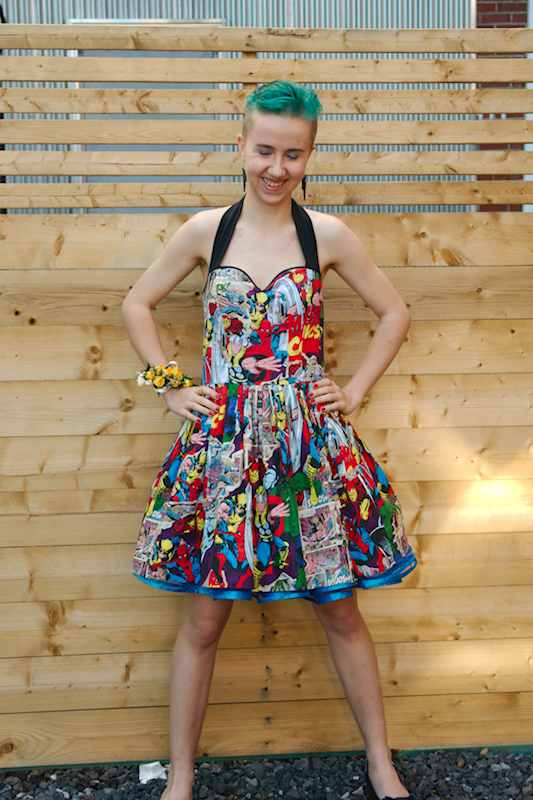 Months ago Celine purchased her dress on Etsy from Cake Shop Couture. It was handmade to her measurements and was a perfect fit in all the ways. The fabric is a comfortable cotton with a Marvel comics Avenger print. It's a sundress that can be worn in many contexts and to jazz it up for Prom Celine designed and sewed a royal blue petticoat for the skirt.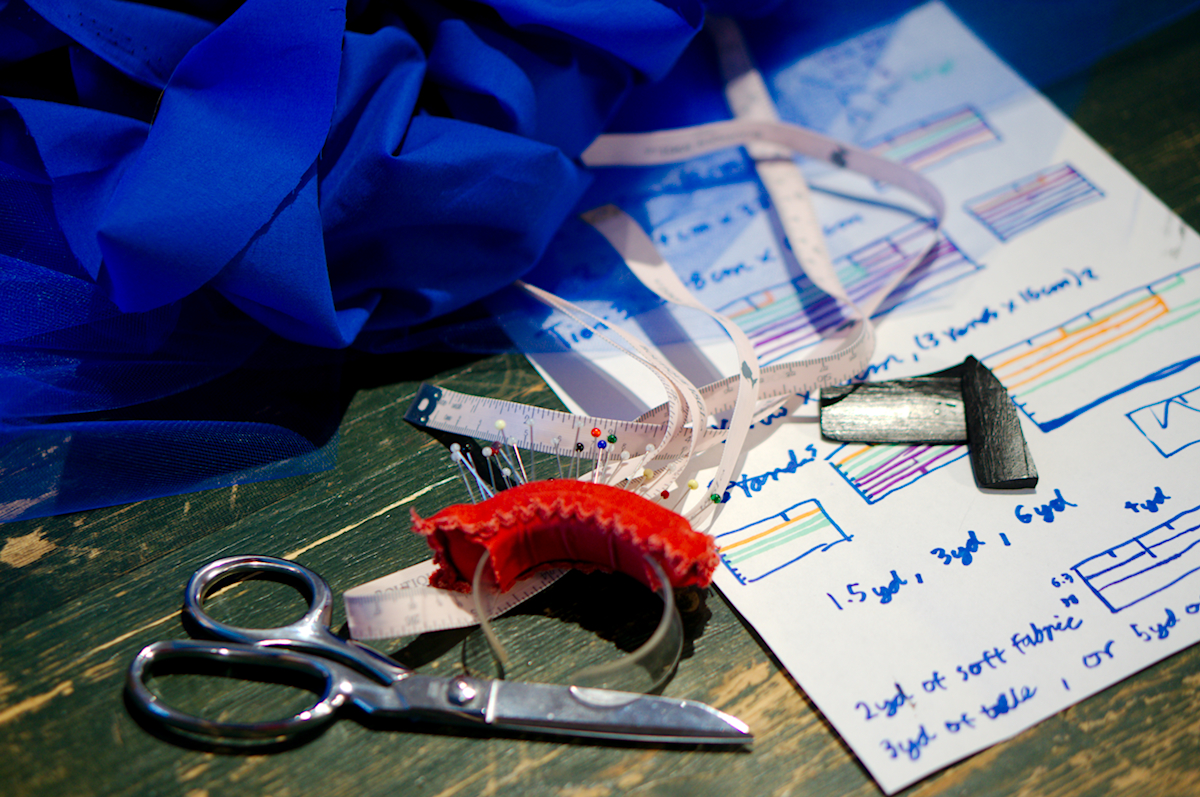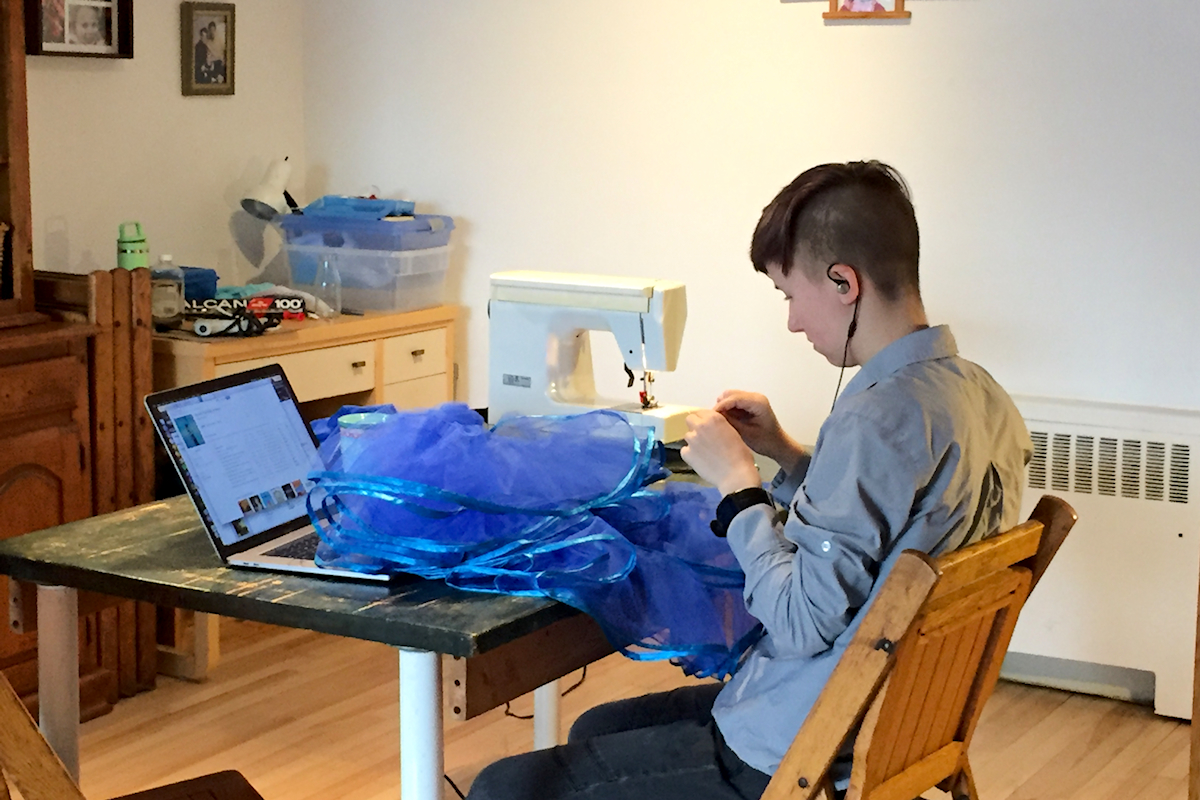 Celine custom ordered the skirt length a bit longer than advertised and then hemmed it herself for the best length so we'd see this gorgeous blue ribbon edging of the petticoat.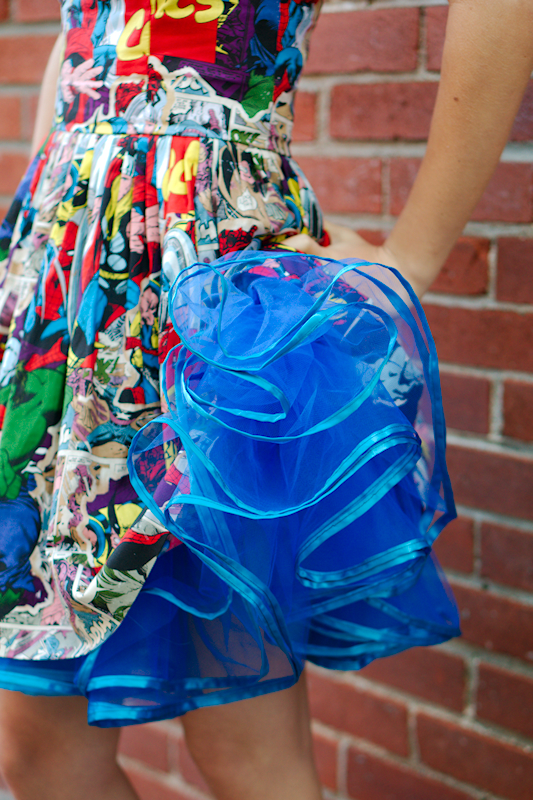 In typical Celine-style, she also made her own earrings from Fimo clay. The same stuff my kids have been crafting with since they were "kiddos".
She used Manic Panic to color her hair, after first using hydrogren peroxide to lighten the color a bit.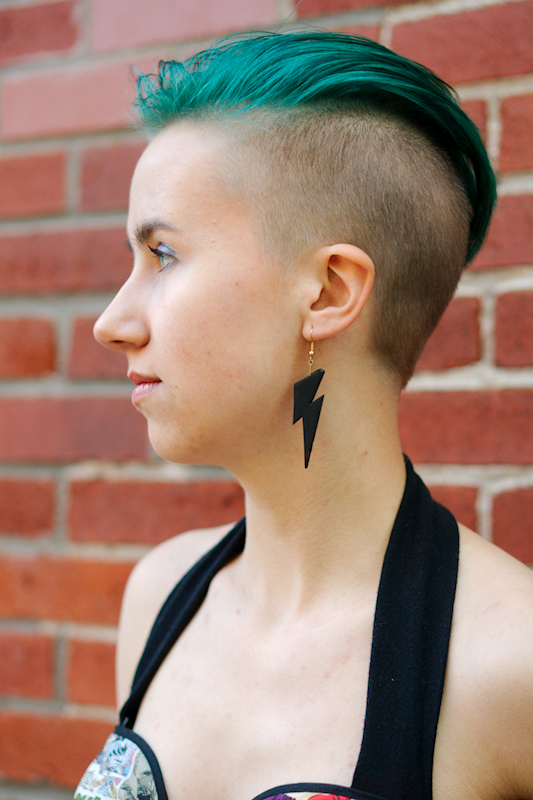 As I mentioned on Instagram a few weeks ago, in one of my getting ready for Prom posts, the kids purchased all their Prom clothing and accessories, except for flowers. I bought those. This is our financial reality of life with teenagers. They're on the hook for this kind of stuff.
And thankfully I remembered to photograph the flowers on the night of Prom! All fresh and beautiful.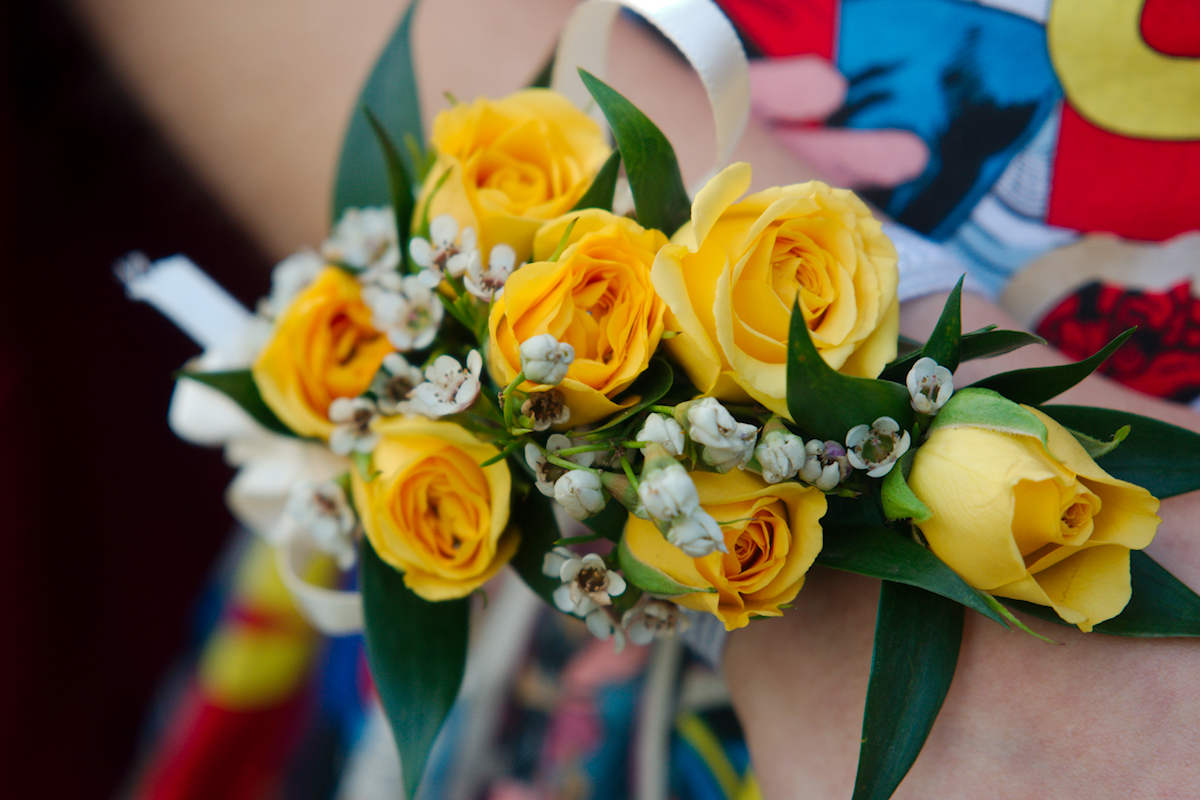 In the end we probably got a better photo shoot than we would have if I had taken the photos on the actual Prom.
We had time. We could play around a bit and there was no pressure of driving and arriving.
I have to constantly remind myself to apply that same philosophy to parenting through the teen years. I have to speak these words to myself in the early morning, when I'm woken by the light, there's no pressure to arrive. We have all the time there is.
You can subscribe to comments on this article using this form.
If you have already commented on this article, you do not need to do this, as you were automatically subscribed.