Friday's Flowers ~ Red, White & Blue
July 2, 2010
This weekend is fourth of July here in the States. Being that we are Canadians we don't make a big deal of this holiday but have always appreciated Damien getting a day off from work!
Despite the fact that we're not big flag wavers I was inspired to pull together a red, white and blue bouquet this week. Problem is I don't have any red flowers. At one time I had a gorgeous red blanket flower (Gaillardia, an awesome garden perennial by the way) but it died back one winter and I haven't replaced it.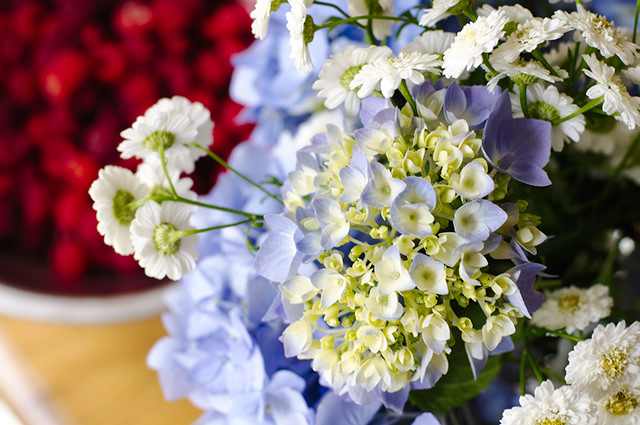 So this is all I was able to come up with. Blue hydrangeas, a white chrysanthemum of sorts and red raspberries - all from our garden.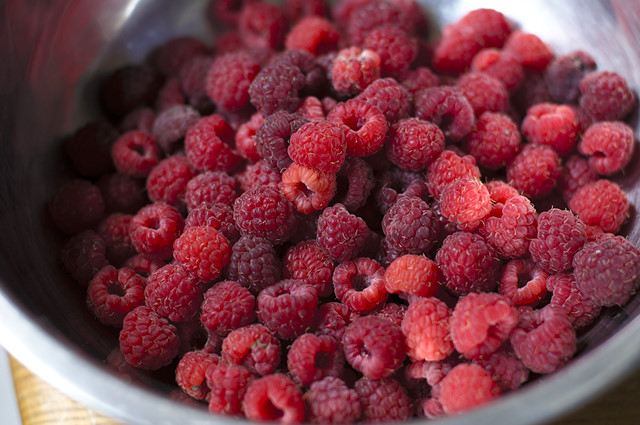 When we came home from our vacation the raspberries were ready to be picked and we have many white berries that will yet ripen. Raspberry season is one of my favorites and this fruit especially brings many memories to mind, both in the picking and eating. 
This weekend as Americans celebrate freedom with parties and fireworks (hopefully we will take in some of both) I feel so grateful for all I have been given.
Memories of loved ones and a wonderfully supportive family, a lifetime partner and friend, beautiful daughters and a sunshine boy (whom I'm keenly missing right now). The blessing of being born in one free country and the privilege of living in another. The food on our table from both near and far and this snug and safe nest I call home. 
What do you appreciate during such celebrations?
~~~
Next week I will be drawing a winner for my soap giveaway from the May and June participants of Friday's Flowers. I will be drawing another winner in August from the July and August participants so please join in.
If you are participating in Friday's Flowers linky list please consider the following:
Your post should have a photo of a bouquet in it. I'm not going to be a rule task-master about this but the idea of Friday's Flowers is to bring them into our homes, or share them with others; to enjoy the bounty of summer's blossom both indoors and out.
Your post should link back to this particular post on FIMBY. You get that link by copying the URL address from this window. If you are new to html you can contact me for assistance.
If you're just visiting today and want to know what's going on please read this post. Use the linky feature below to share your bouquet blossoms.
Pick some flowers, arrange 'em pretty, take a photo, post it to your blog, visit Friday's Flowers to share it with us.
Renee Tougas participates in affiliate marketing, including the Amazon Services LLC Associates Program. Whenever you buy something on Amazon from a link you clicked here, I get a (very) small percentage of that sale. See disclosure for further explanation.
You can subscribe to comments on this article using this form.
If you have already commented on this article, you do not need to do this, as you were automatically subscribed.