Friday's Flowers ~ Beauty in Busy
June 4, 2010
I thought I was doing good. I was doing good. 
Then spring and summer collided and my careful scheduling of our days to give us time to explore, create, learn, play and manage our home went flying out the window. Oh, I don't do good with transitions.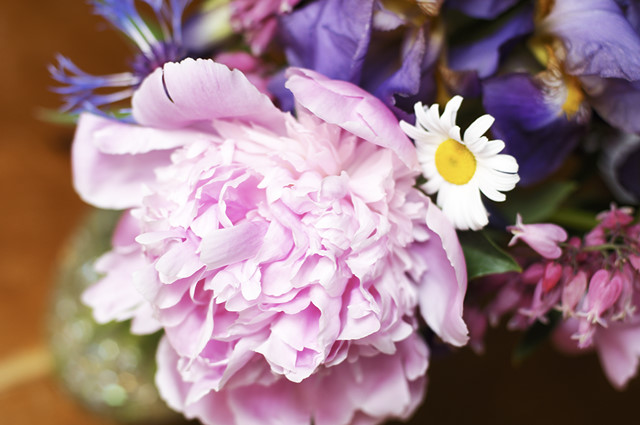 To put things in perspective and be fair to myself, life is not crazy busy. I'm so thankful that the routines we've established keep the house running - meals, laundry and basic chores. But this week I lost my Monday rhythm due to backpacking and I've been playing catch up ever since.
Now the end of this week is Brienne's dance rehearsal and recital. I'm running extra errands for hair clips and applying make up to my seven year old. I'm a fish out of water in this scene.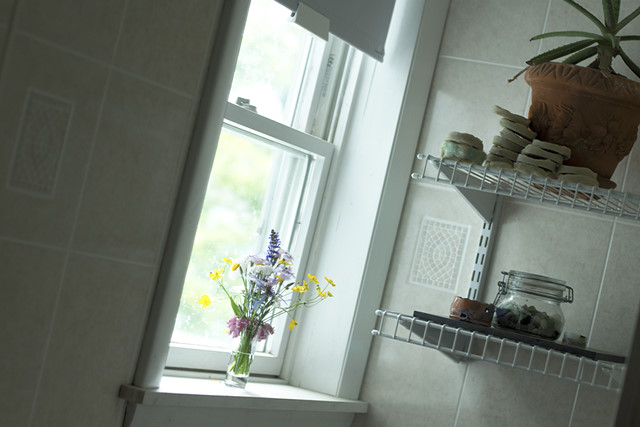 The only real chaos in the week was Tuesday morning when I took this photo of the flowers I picked earlier against a background of camp debris spread over our living room floor.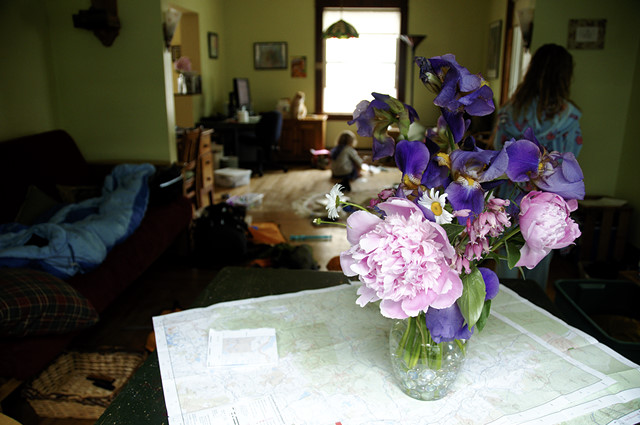 But then Damien, bless his heart, came home on his lunch break and in fifteen minutes working with the kids managed to clean most of it up (minus the heaps of laundry we washed and hung the following day).
Where there is busy there is also beauty because I have these flowers.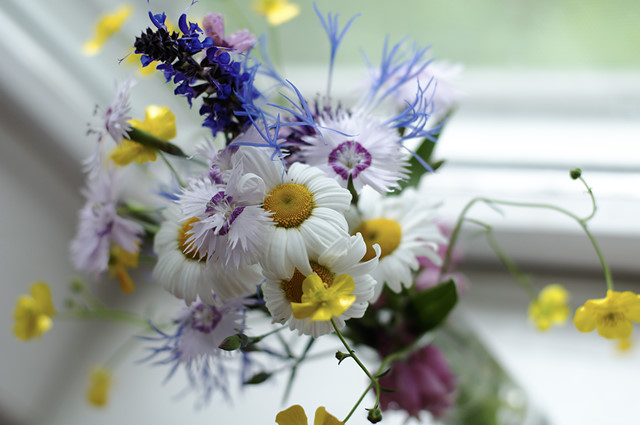 I can't say they make the work of the week or this time of transition any easier but they do make it more beautiful. And that counts for something.
~~~
If you are participating in Friday's Flowers linky list please consider the following:
Your post should have a photo of a bouquet in it. I'm not going to be a rule task-master about this but the idea of Friday's Flowers is to bring them into our homes, or share them with others; to enjoy the bounty of summer's blossom both indoors and out.
Your post should link back to this particular post on FIMBY. You get that link by copying the URL address from this window. If you are new to html you can contact me for assistance.
If you're just visiting today and want to know what's going on please read this post. Use the linky feature below to share your bouquet blossoms.
Pick some flowers, arrange 'em pretty, take a photo, post it to your blog, visit Friday's Flowers to share it with us.
PS. At the end of June I will be randomly drawing one name from all the folks who participated in Friday's Flowers for the month of May and June and mailing the winner a bar of my soap. Yes, I'm bribing you all to join in. The more weeks you participate the more times your name is entered in the random drawing.
Renee Tougas participates in affiliate marketing, including the Amazon Services LLC Associates Program. Whenever you buy something on Amazon from a link you clicked here, I get a (very) small percentage of that sale. See disclosure for further explanation.
You can subscribe to comments on this article using this form.
If you have already commented on this article, you do not need to do this, as you were automatically subscribed.