Freewrite
October 17, 2012
While I procrastinate a little longer on finishing my elementary homeschool curriculum series, I thought I'd share one piece of our writing curriculum. Freewrite. In that case I guess I'm not procrastinating all that much now am I?
I'm going to tell you right now that my favorite homeschool writing resources are the Brave Writer materials by Julie Bogart. I recommend her stuff all the time (I should see if she has an affiliate program!) Lately, I've been enjoying her podcasts also.
The Brave Writer homestudy courses, language arts programs, and online classes show homeschool parents another way to teach writing. Writing with joy, freedom and enthusiasm (while teaching our children spelling, grammar, etc.) This is a great review of Julie's flagship product, The Writer's Jungle.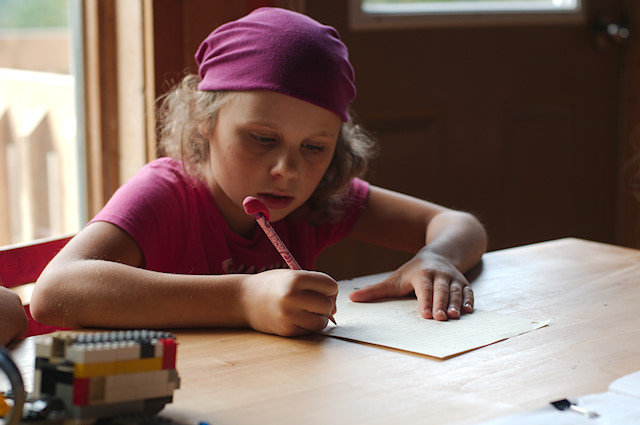 Must-do's and must-learn's do not motivate our children to become writers. Letting them write about what matters to them, teasing words out of them, reading and listening to good books, providing an audience for their genius - these and many other tricks are what help us grow writers. Wait, this isn't my in depth writing post!
It seems I can't help myself.
Many homeschool parents figure out how to teach interest-led writing on their own, through trial and error, indeed that's largely been my case. And there is nothing wrong with trial and error - that's real learning. But isn't it nice when we can have less fumbling around in the dark, and have the light of someone's lantern to see by until we feel sure footed on our own path? That's what The Writer's Jungle has given me. A light while I find our own writing path.
Freewrite is a part of the Brave Writer philosophy. Freewriting is nothing new and not exclusive to Julie's teaching. Writers and journal keepers do this all the time. Some people call it a "stream of consciousness" writing.
I direct you to these links for more information about freewriting:
You can also peruse the freewrite tag at Julie's blog for more information.
At first I thought, "my kids are not going to want to do this." They don't even know how to spell! (I know you're all gasping at this point. What, they don't know how to spell?)
But, this is what I've learned. If we don't get hung up on what we see are obstacles in the path of writing (they're not obstacles at all, just the natural course of learning) neither will our kids.
So when I told the kids we're going to sit down and write for 10 minutes (I think we actually started at 5 minutes), we're not going to worry about spelling or punctation, we're just writing whatever comes into our heads - they were cool with that.
It was awkward the first time but ever since then it's something the kids enjoy doing. They ask when we're doing freewrite again. Be still my beating writer's heart.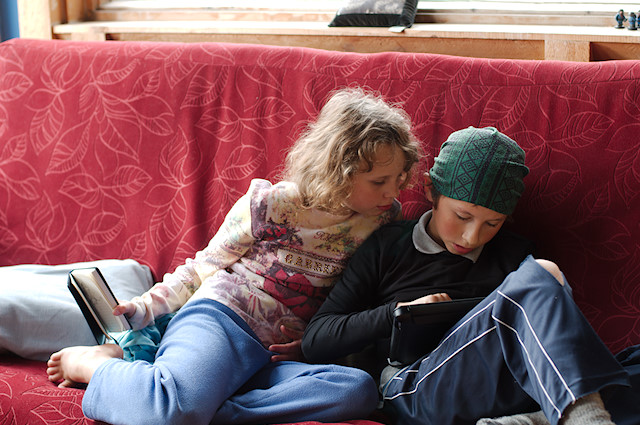 Here's how it works in our house.
I think of a prompt. I take into consideration my kids' interests, the seasons, etc
I give them a little advance warning (sometimes they'll ask me a day in advance what the prompt is, and often I have no idea!) so they have time to think about it.
When it's time for freewrite (currently Thursday morning) we grab our writing materials - my journal and fountain pen, lined paper and pencils for the kids, the computer for Céline.
Ready, set, go. We write for a set time period, using the prompt as our starting point. When we first started I followed the "just write whatever comes to your head" idea. But now I let the kids take time to form their thoughts if they want. Which means they are not always pushing that pencil constantly.
At about 10 minutes I say times up. Often they keep writing! How did this happen I wonder? From "I don't know what to write about" to "I'm not quite done Mom".
While we wait for people to finish I translate Brienne and Laurent's writing. Remember, I tell them not to worry about punctuation, spelling or grammar. I translate it so I can read it aloud for everyone and not stumble on the spelling. Also, they might actually want to read their writing someday and in that case, will find my translations. I add only the necessary punctuation (so I can read it aloud properly) and correct spelling. I leave the grammar as is.
Céline manages her own writing and leaves her incorrect spelling as is. Or, as is the case these days, her computer spellchecks as she goes and she has very few errors. A very quick note about spelling. The older Céline gets the better her spelling gets, without formal spelling instruction. Just spell and teach as we go, with the writing she does. Interesting, eh?
After everyone's work is translated I read all the pieces out loud and we all clap for each other and talk about what we've written.
In the beginning there was a lot of "I don't know what to write but I'm still moving my pencil" type phrases but not much anymore. Words come and they write them. They're writing.
I know you might be wondering, "this sounds nice but how will my kids learn spelling and grammar?" I'll get to that... soon. My homeschool elementary writing posts are coming. You could also just read Julie or Patricia's stuff since I share a very similar message.
I'm still in a pleasant state of surprise by how much my kids like this activity. I aim to do it once a week though realistically it happens once every second week in a good month!
The prompt for our last freewrite was fiery leaves.
Céline wrote an opening paragraph for a fantasy novel that left us all begging for more of the story. And honestly, I had no idea she could write something so descriptive and engaging - I didn't teach her that! Laurent wrote about fire elementals from one of the kids' favorite computer role playing games, the weather, and not knowing what he wants for Christmas. I wrote about the leaves, the change of seasons, children growing and the beauty outside our windows. Heart achy mama stuff.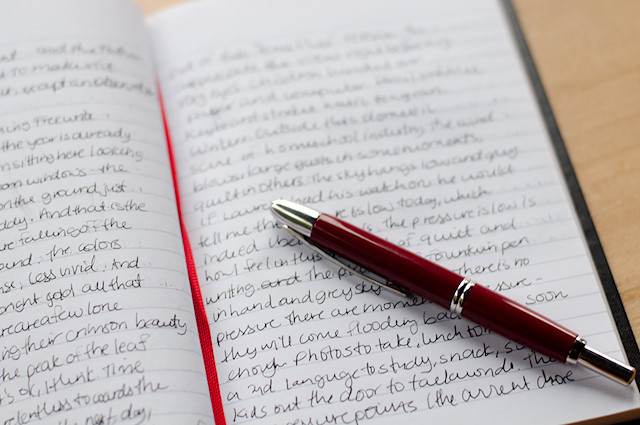 I'm sharing Brienne's fiery leaves freewrite (with her permission).
The leaves leapt up in flame with an arrow below the tree. Orange and yellow and red flames covered the tree. Soon all the trees were in flames except the pines that did not go into flame for some reason that I do not know. An elf leapt away into the flaming forest, with a bow in his hand. But he did not light on fire. Either it was said he was never seen again but he was the next year. He was seen getting all fiery again except for the pines.
We all loved this story of how an elf lights the woods aflame with fiery leaves each fall.
I do look forward to talking more about writing in the coming months and sharing more resources and ideas that might be helpful in your homeschool.
Have you tried freewrite in your homeschool? What about in your own writing or creative practice? Do you use something similar to get the creative juices flowing?
Filed Under
Resource Library
You can subscribe to comments on this article using this form.
If you have already commented on this article, you do not need to do this, as you were automatically subscribed.