Favorite Tools for a Whole Foods (Plant-Based) Kitchen
June 9, 2011
I had intended to write this post before we moved. But you know how moving goes - it takes a lot of time. Way more than you anticipate. So this post never made it past the outline phase.
But now is a really good time to publish this because I am sharing a kitchen with my mom for the next four months or so. And these are the kitchen tools I could not live without.
Ok, that's bit of an overstatement. We could live without them but life in the kitchen would be a lot more work and potentially more expensive.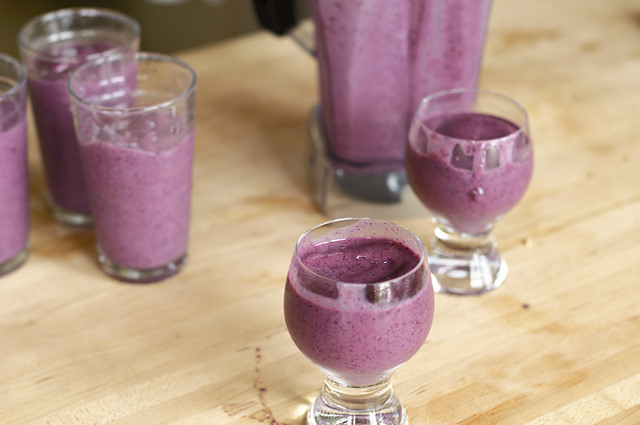 As luck would have it, my mom has these very tools in her own kitchen (and a bunch more like a grain mill) so I didn't need to keep mine very accessible in the move. The pictures below are of my own appliances. I took the photos when we still lived in Maine. 
I'll be honest, when Damien first suggested buying most of these tools I balked at the price. I am the tightwad in the family. Damien believes in buying quality tools and has convinced me likewise.
These tools allow our family to make delicious and healthy whole, plant-based foods. For us, that makes them worth the cost, especially since they are used almost daily. 
We added these essential appliances to our kitchen over the years.
If someone asked me, "What one appliance should I buy to help save time and money in the kitchen?" this is how I'd answer: 
1. Vitamix Blender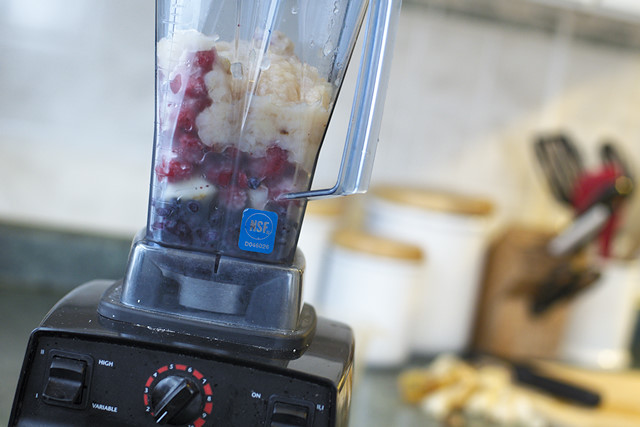 Our family owns a Vitamix Vita-Prep, a commercial quality Vitamix model. My mom has the Vitamix 5200. Ours is packed in the trailer so we're using my parent's and I haven't been able to tell a difference between the two, for whatever that is worth.  
We've had ours for five or six years and I haven't used any other high powered blender so I can't compare the Vitamix to a different brand.
But what I can say is that the Vitamix kicks butt on any standard blender I've ever used. 
With this blender we make smoothies, sauces and sometimes dry chop nuts, grains and seeds. It's handled everything I've thrown in there.
It's amazing. I use it most every single day, often more than once. 
Just this morning at my mom's I made almond milk with it. Yesterday night, I used it to blend cashews and broth for our family's favorite potato broccoli soup.
I'd be lost without my Vitamix. This summer I plan on making more slushie drinks for afternoon refreshers. My mom has a cookbook that came with her model with a bunch of recipes for inspiration. I'm looking forward to trying them.
2. Kuhn Rikon Pressure Cooker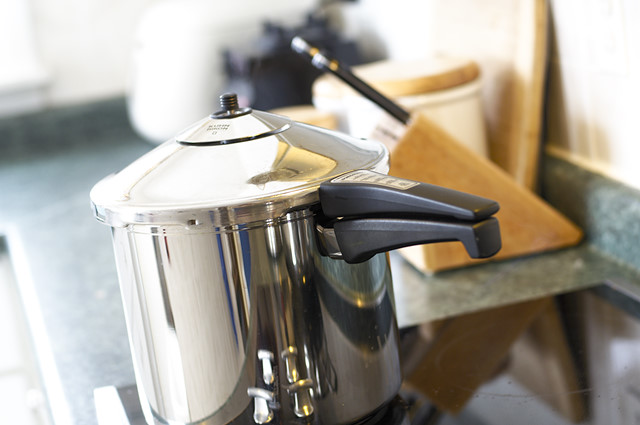 We've had our Kuhn Rikon Pressure Cooker for a few years now, at least six. Once again, the files are in the trailer and I don't recall the exact year we purchased it.
What do I love about this pressure cooker?
Cooks beans like nobody's business. I cook beans, in some form or another every couple days. I usually soak my beans overnight first (I haven't yet gotten into the routine of long soaking beans like everyone seems to be recommending these days). After an overnight soak and rinse, the beans take less than 10 minutes under pressure to cook completely. This is compared to 2-3 hours that beans normally take to cook.
What this means is that I don't have to be so on-the-ball in the kitchen. As long as my beans are soaked I can cook them up in under 30 minutes total time (bringing to pressure, pressure cooking and then cooling down). This is a huge time and sanity saver for me.
I also cook all our soups and stews in this pot. I can make a soup in one hour, including my chopping time - and I spend a lot of time chopping. 
The pot itself is really solid and I use it as my all purpose large stock pot even without the pressure lid.
The customer service and warranty is excellent. We've had it fixed twice in the years we've owned it, at no charge (we did pay shipping). Being without my pressure cooker during those weeks while it was being fixed was almost as bad as being without my camera.
I know there are other brands out there. My mom has one of them and I don't like it. No offense to my mom, but my Kuhn Rikon cooks circles around her model. So much so that I had Damien find ours from the trailer so I can use it this summer. I really do love my pressure cooker.
3. Cuisinart Food Processor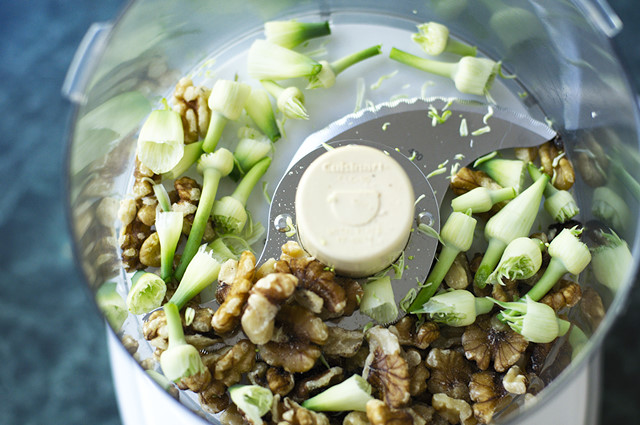 You've probably noticed I'm mentioning a lot of brands in this post. When it comes to kitchen appliances I am brand loyal because I have found these machines to really work for me.
Our Cuisinart food processor is no different. 
I grew up with a food processor in my mother's kitchen and Cuisinart was the brand she used. It's the brand she recently bought new and it's the one that sits in our trailer right now.
We both own the 7 cup model and find it works well for most family sized food processing needs.
The attachment I use the most is the S shaped chopping blade. Yes, you can hand chop all your nuts, dried fruits, veggies, etc. But I spend enough time as it is in the kitchen. This little baby makes my life easier - saving my wrist and my time. 
Also, there are some things you just can't make chopping on your own - like almond butter, which I just made last night. So much cheaper than buying it, about half the price and really easy to make. You might be able to make nut butters in the Vitamix but we find it's easier (to make and clean) in the food processor. 
I often prefer a large hand shredder for shredding veggies as I find washing out the food processor is more work that the actual shredding. Unless of course I'm making a large batch of something and needing to chop many different vegetables, than I use the shredding attachment. 
We've owned our Cuisinart for many years and I've never had any problems with it. I highly recommend this brand though I know there are other food processor brands out there.
4. SoyQuick Soymilk Maker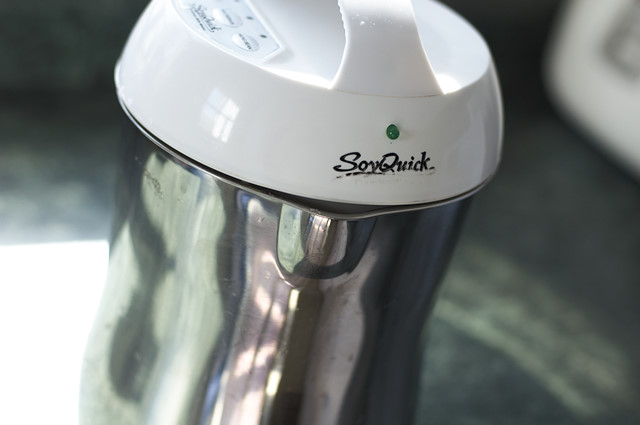 The best thing about owning this soymilk maker is the amount of money we save. 
When we first started eating mostly vegan, about 10 years ago we switched to rice milk. We actually drank the stuff if I recall correctly. After all, you need to drink milk - just like all those advertisements say, right? 
We didn't like all the additives in the rice milk (sugars and such) so we switched to an additive-free soymilk. But regardless of which one we bought they were both expensive, even when we only used it for topping our morning hot cereal.
Making a quart of organic, non-gmo soymilk costs about 10 cents in our soymilk maker. The Canadian grown soybeans might be a bit more expensive. I'm not sure, we still have a big bag of beans to use that we moved with us. But even with higher prices in Canada it can't be more than a few pennies more per quart (or should I say litre - welcome back to metric Renee).
There are no additives and no packaging. And it's really easy.
The newest SoyQuick, the one we own, is also easier to clean. Which is a big bonus. This summer we're back to using the older model my mom has and I tell ya, it's a pain to clean.
We make soymilk a couple times a week and use it for breakfast, sometimes smoothies and maybe baking, the very limited baking that I do.
We love almond milk but it costs WAY more to make and so we reserve that for a treat. The SoyQuick can also make other grain and nut milks.
Alternatively, you can make soy, nut and grain milks in a high powered blender, like a Vitamix. But my SoyQuick makes the job easier and produces a creamy and not too grainy soymilk, which matters to the children. 
If you've ever bought nut, bean or grain milks for a family for a period of time, say 6 months, you probably could have purchased a SoyQuick Soymilk maker with the amount you spent at the grocery store. And doing so would have eliminated all those packages. Just something to think about. 
5. Dehyrator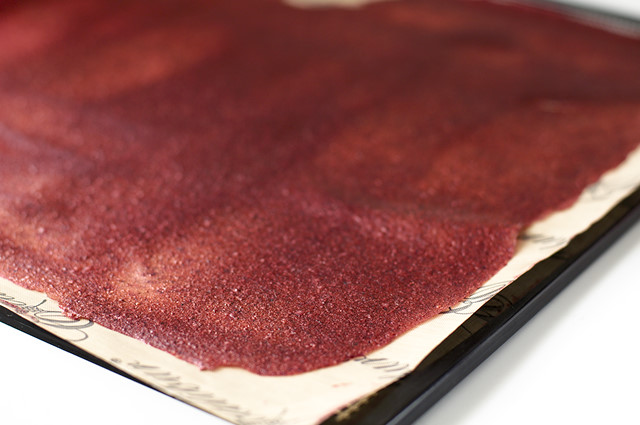 This is where I don't recommend a brand as such, though I love my 5 tray Excalibur.
Before we owned one, we borrowed a friend's dehydrator (thanks Spring for getting us started). A dehydrator is a kitchen tool you can pass around and share since they aren't used heavily every day, except maybe during harvest season. 
We use our dehydrator primarily for:
Drying fruits & veggies - This is especially great during harvest season when there is an over abundance and we want to preserve some of that (we don't do a lot of food preservation). We also use the dehydrator to eliminate or cut down on food waste. If something doesn't taste great fresh (a mealy bag of apples for example) or is too overripe to eat we can dehydrate it and it will taste great as a fruit leather or slices.
Preparing trail food - This may have been the original reason Damien convinced me to buy this appliance. But once we got it we used it for so much more than just this purpose. Our family loves the outdoors and backpacking adventures. We need to prepare food that is light in weight (we don't take coolers into the woods), healthy, and filling. The dehyrator is an awesome tool for preparing this kind of food. 
It's funny, if you go to the Excalibur website you'll see they market their dehydrators to veggie types, health conscious folks, gardeners, and outdoorsy people. I guess that about covers us from all angles. No wonder we like it so much!
~~~
What tools (beyond the basic knives and bowls and such) do you use most in your kitchen?
(Disclosure: all amazon links are affiliate links.) 
Filed Under
Part of Series
Resource Library
You can subscribe to comments on this article using this form.
If you have already commented on this article, you do not need to do this, as you were automatically subscribed.