Family Fun Can-Do Robots
October 29, 2008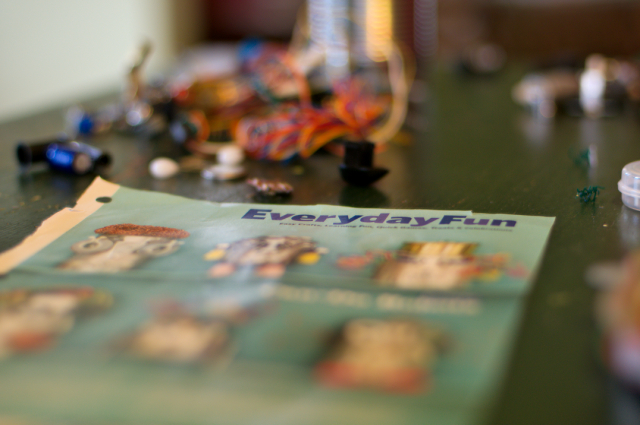 For some inexplicable reason every month I get a copy of Family Fun in my mailbox.
I've never subscribed or paid for this magazine. Apparently, the magazine mysteriously shows up in my friend's mailboxes also. Hum... what's going on here?? It's free so I can't complain... but maybe just a little. The magazine is a too commercial for my likes with lots of advertising for Disney vacations (where you "never need to say no to your children"). And none of the recipes apply to our life. Can anyone out there name a magazine with recipes that are gluten-free, vegan and use primarily locally grown foods (no Kraft!). All without refined oils or sugar? Perhaps I should offer a prize if someone can recommend such a magazine to me!
Having said all that I still appreciate receiving the magazine (thank you Family Fun) for all the great craft ideas for kids. My children love to create and ideas are always welcome. The most recent November issue included a very cool craft - making robots out of recycled cans and household "stuff". Laurent is a "take it apart and figure it out" kind of kid. We pass to him all our non-fixable electronic gadgets. He takes them apart and then stores the bits and pieces all over his room. So I was thrilled when I found a craft idea that actually used all this "junk" (sh... don't tell him I said that).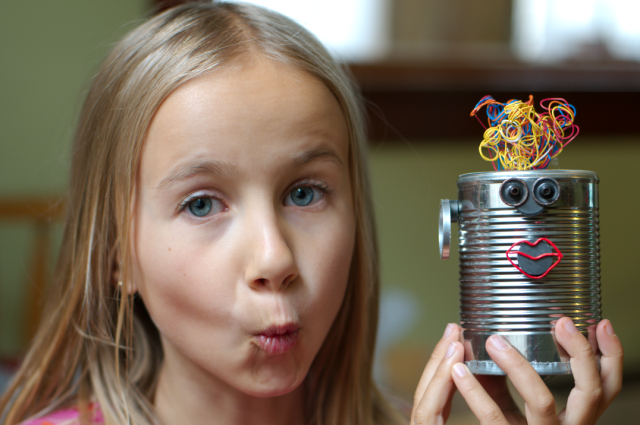 Instructions for Can-Do Robots:
The craft is basically making an aluminum can Mr. Potato Head. The parts can move around and be interchanged because they are glued onto magnets. It's kind of crazy and all together fun. I especially liked that I only needed to purchase a few boxes of strong magnets, regular fridge magnets don't have enough umph (is that a word?).
You'll also need hot glue and goggly eyes are not needed but a bonus. 
Clean and tape (duct tape works well) the sharp edge of a can. 
Scour the house for any odds & ends that could be used to decorate the can. Look for fun and interesting pieces that resemble noses, ears, hair, arms etc... 
Using a hot glue gun, glue the individual pieces onto the magnets. Some metal pieces do not need to be glued because they are "magnetized" (I don't understand the physics behind this, ask my 7 year old, he might know)
Mix and match the pieces on the can, have lots of fun. The can itself can store all the parts when you're done playing.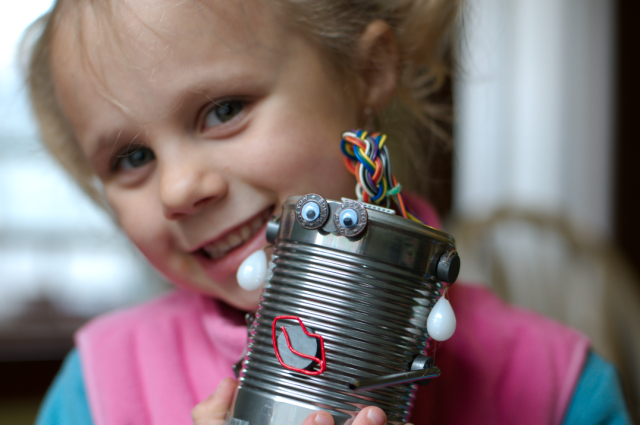 You might be able to flip through the magazine and find the original instructions.
Anyone else getting Family Fun? Any cool crafts or family activities you'd recommend?
Renee Tougas participates in affiliate marketing, including the Amazon Services LLC Associates Program. Whenever you buy something on Amazon from a link you clicked here, I get a (very) small percentage of that sale. See disclosure for further explanation.
You can subscribe to comments on this article using this form.
If you have already commented on this article, you do not need to do this, as you were automatically subscribed.