Experiencing Yellowstone National Park
July 21, 2016
When Damien and I traveled out here five years ago we drove through Yellowstone, making one stop at the The Grand Canyon of the Yellowstone, in our drive from Livingston, Montana down to Jackson Hole, Wyoming.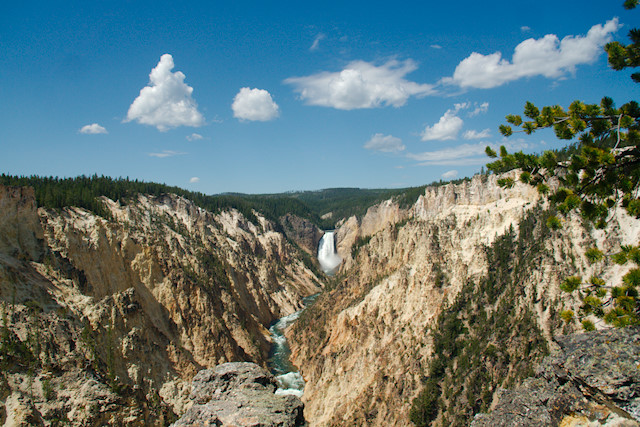 This trip the kids and I have taken two "full day" (12 hours by the time we returned back home) day trips down to Yellowstone.
For years the kids, Laurent especially, have watched PBS documentary type nature programs about Yellowstone. The history, geology, and ecology of Yellowstone have been part of their education and studies. And so to actually be in this place has been pretty special.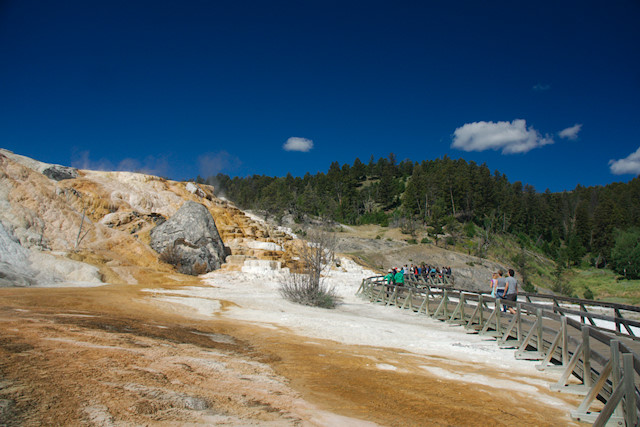 Mammoth Hot Spring Terraces
I've traveled through quite a few Canadian and American National Parks, both as a child and an adult. Yellowstone is jaw-dropper for sure.
We were blessed with two picture perfect days of exploring, and in the course of those two days (we broke it up by going on two different weeks) we visited the following Yellowstone attractions:
Mammoth Hot Springs Terraces
Norris Geyser Basin
Midway Geyser Basin (Grand Prismatic Spring)
Old Faithful
Grand Canyon of the Yellowstone (Artist Point)
Boiling/Gardner River swimming hole (not on the official Yellowstone map)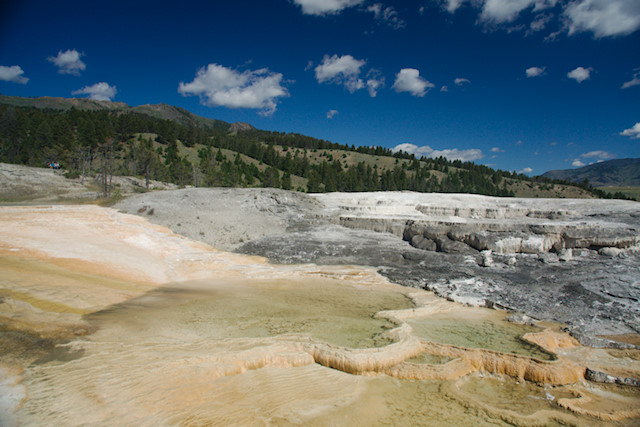 Mammoth Hot Spring Terraces
We've seen a lot of mountains and done a ton of hiking and my purpose wasn't to show the kids Yellowstone on foot, or even try to find wild animals. I wanted to experience the geothermal features of the park because we've had so little experience with those.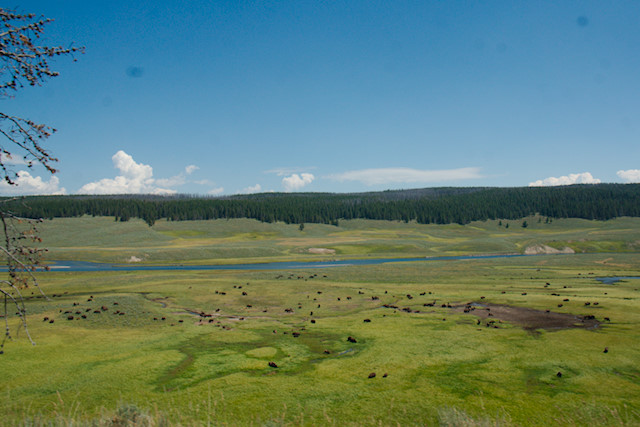 Even though I told the kids, "we're not stopping to take pictures of bison", we stopped to take pictures of bison. This picture though was taken while driving (slowly). Driving slowly happens a lot in Yellowstone.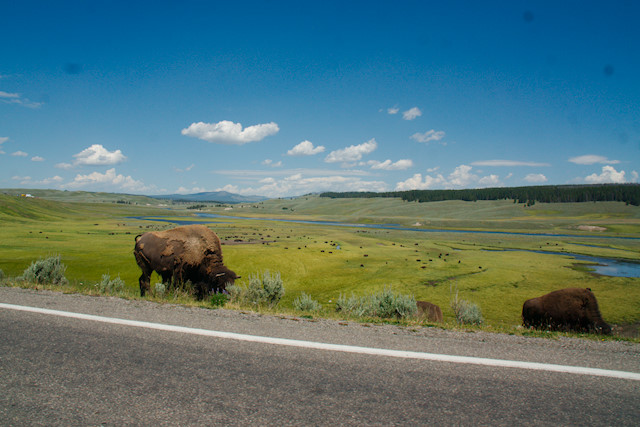 We did the "see Yellowstone from a car" tour. It's not the way we often explore places - on foot and off the beaten track - but it was a good option for our needs.
Of course, many (many) other people feel the same way. And so driving through Yellowstone and stopping at its attractions requires patience. On our first morning into the park we tuned into the park's AM visitor information radio frequency. We learned what to do if we encountered an aggressive grizzly and we were told when visiting Yellowstone it's best to "pack your patience" along with your gear, food, etc.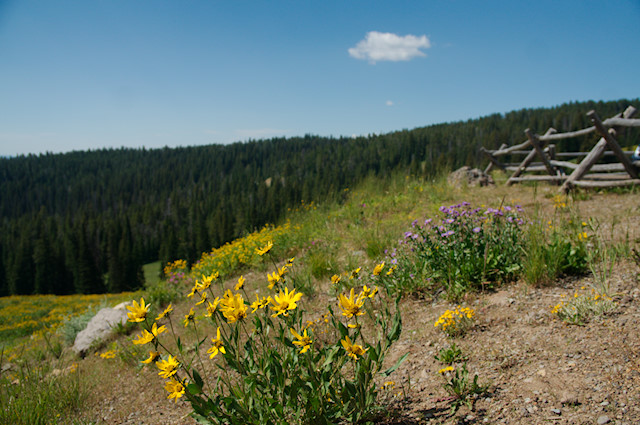 That became my go-to phrase for the two days of driving, waiting in traffic, walking on busy boardwalks and just generally being surrounded by many people. We did the fast walking "we came, we saw, we photographed" two day tour of Yellowstone. If I was to do this with little kids I would approach it totally different. Going one or two places in one day and meandering at those places.
My favorite place was the Boiling/Gardner River swimming hole (technically, it's more soaking than swimming). A couple people recommended this spot to me and I'm so glad we went!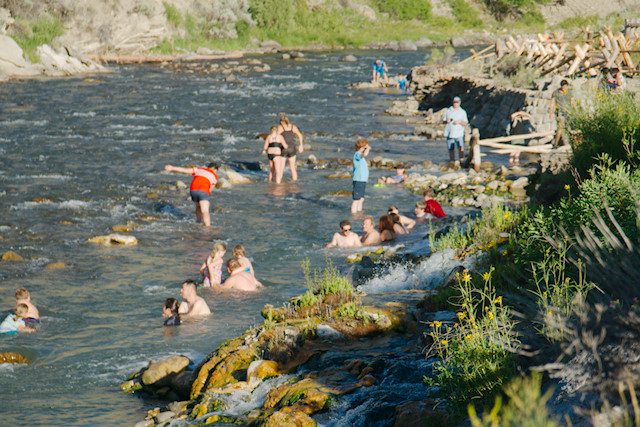 I'll let you watch this TravelingMel video to learn more about it; but basically, it's a place on the Gardner river, very near the North Entrance of the park, where a hot river meets the cold water, producing a hotspot in the otherwise frigid mountain river. It was amazing.
If you go, keep following the path all the way to the end where the park has constructed stone steps to enter the water. We didn't see that part when we first arrived and got into the water on a muddy bank, which was fine, but slippery and dirty getting out.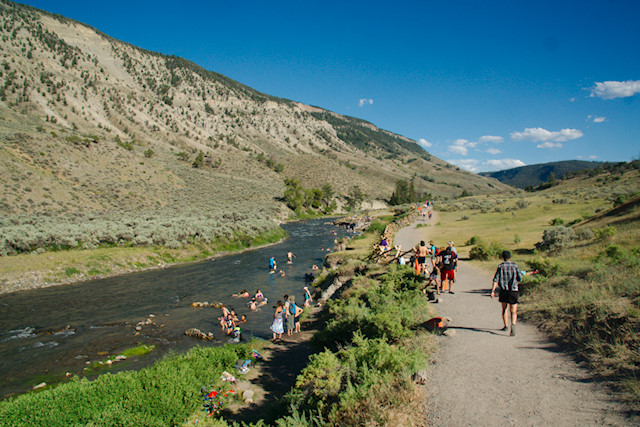 There were at least one hundred people at the time we were there but this was the least populated spot on our trip. And the most relaxing.
We visited Old Faithful twice. The first day we went we watched the eruption from Observation Point, which is a one mile hike up the hill behind the geyser. The view was meh and all of us were underwhelmed by the experience. So we returned on our second day and watched from the benches, with all the other people. We had a front row view and we were not disappointed. For your first time I recommend the boardwalk view.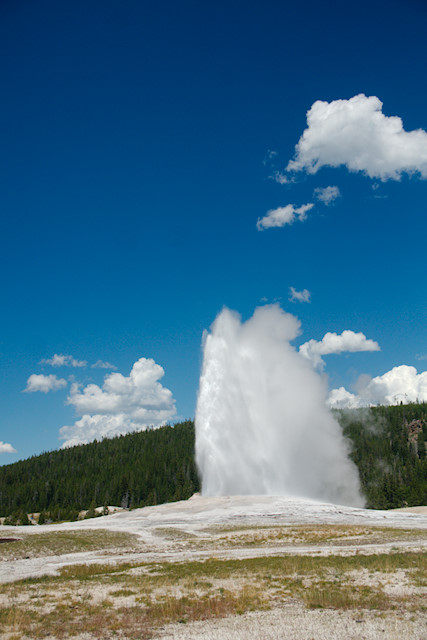 The Grand Prismatic Spring at Midway Geyser Basin was probably the most awe-inspiring hot spring we saw. And Excelsior Hot Spring was also stunning.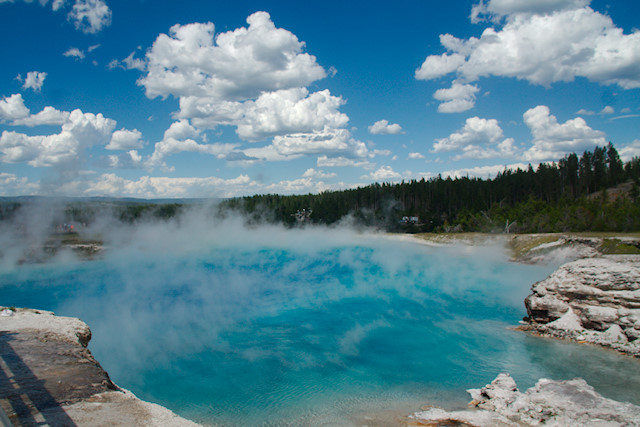 I'm guessing the best view of Grand Prismatic Spring is from Fairy Falls trail but the access to the trail was blocked, plus we were on the speed tour and didn't have a lot of time for hiking that day.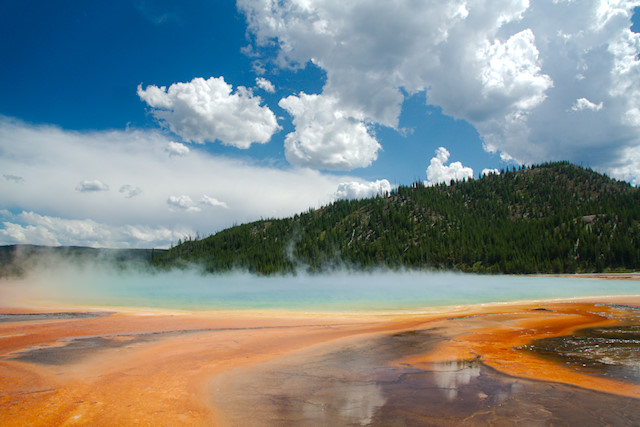 We viewed the Lower Falls in the Grand Canyon of Yellowstone from Artist Point, with a kajillion other people.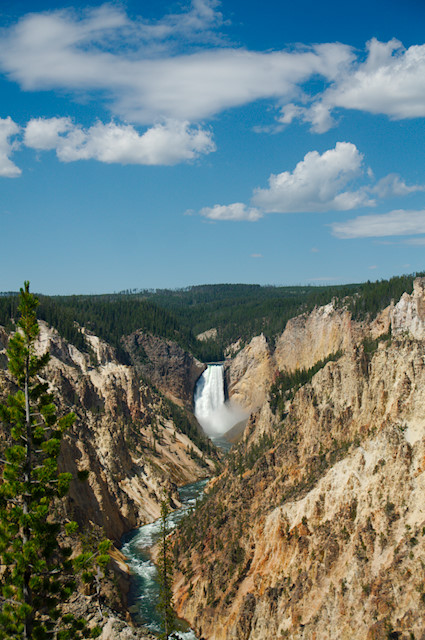 It was a beautiful view but the swarm of people around you takes a little bit away from the experience. But they have every right to be there also. Thank goodness I "packed my patience". Ha!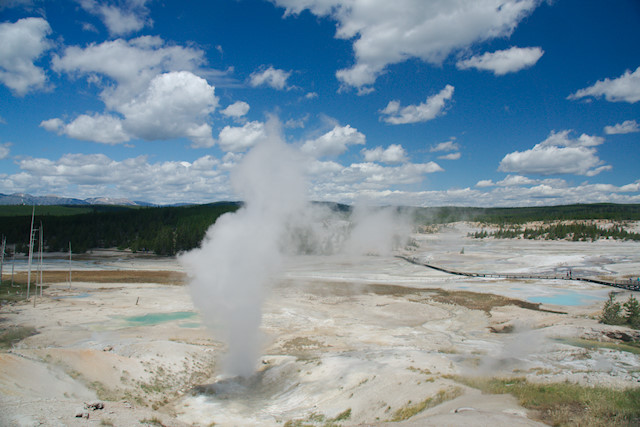 Norris Geyser Basin was beautiful and well worth the stop, even though we walked more than a mile just to get into the parking lot. (The parking lot was full so we parked at a pull out along the road and then hiked in.)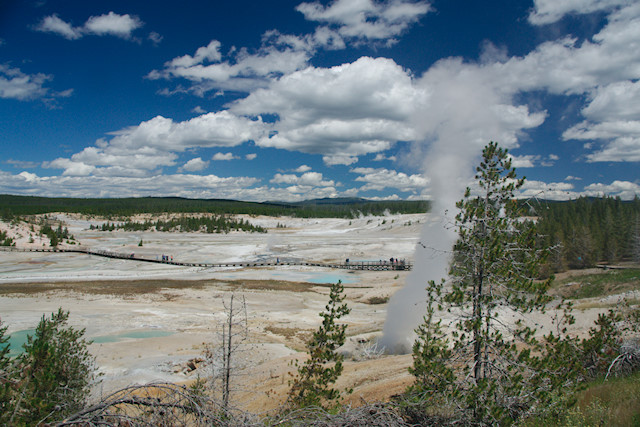 There is so much more than could be said about Yellowstone but I'm sure you've heard it all before as Yellowstone is the oldest and perhaps most iconic National Park in the US. For us, and the approximately other 4 million other people who visit the park each year, it was completely worth the trip (and the traffic).
If you want to go hiking I can recommend Bunsen Peak, at the north end of the park.
PS. I've started to notice spots on my photos which means I have dust in the camera body, probably stuck on the sensor. Until I can remedy that problem I apologize for the blight on some of my photos.
Renee Tougas participates in affiliate marketing, including the Amazon Services LLC Associates Program. Whenever you buy something on Amazon from a link you clicked here, I get a (very) small percentage of that sale. See disclosure for further explanation.
You can subscribe to comments on this article using this form.
If you have already commented on this article, you do not need to do this, as you were automatically subscribed.