Craft Storage in a Small Space
April 12, 2012
Today I have a video to share with you. Taking you "behind the scenes" to show you how we store craft supplies in our small chalet. I'll jump right into that and then share some notes and photos after.
As you saw in the video, we have three craft storage areas, using plastic bins and pieces of furniture.
Plastic Bins
Plastic bins are not as aesthetically pleasing as I like but they are very practical for our purposes.
In clear plastic bins the kids can see the contents.
They transport well. This is especially useful since, with our move next month, we will have moved three times in twelve months. Living in 4 different homes. The bins handle all of this beautifully. Me? I'm learning to handle this with grace also (smile).
Bins are easy to stack. Even if you don't have a shelf most bin systems are made to self stack. This is a handy feature.
Plastic bins are affordable and relatively accessible, even if you don't live near an IKEA. Just a word on that - I have not lived near an IKEA for over twelve years. I haven't visited one in nearly as long. You don't need an IKEA to be organized.
Having said all this my dream would be to have a dedicated wooden shelf with rattan or willow baskets that were designed to fit inside. Something exactly like this (that link even includes the plans for how to make one, cool).
One of these lovely pieces is not in my immediate future so bins it will have to be.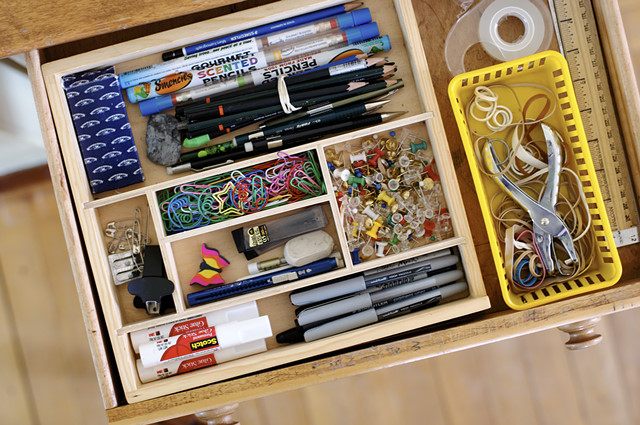 Cabinets and Dresser Drawers
Who needs storage for clothes anyway? Clothes are so overrated (smile).
This is my preferred method for stashing stuff. We've used a dresser drawer for years for craft supplies. When we outgrew that, we started the bins also.
A dresser is great because you can close the drawers and everything could be hairy scary inside but you'd never know on the outside. Not so with clear plastic bins.
There are seasons when our craft drawers are a total mess but since we've moved around so much this past year we've kept them pretty tidy. This is one of the advantages to moving - you are regularly sorting, decluttering and purging.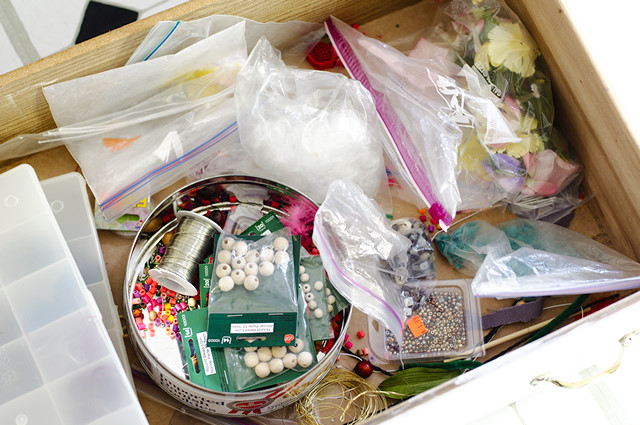 I've included this photo of what the bead drawer (it's tidy in the video) used to look like before we started using little jars for storage. As you can see, plastic baggies galore. Ick.
The Mess
What you don't see in the video is what a (small space) crafty house looks like, in action. This is why I've included the pictures. The only time the craft stuff is nicely stacked in bins and put away is first thing in the morning and then again at the end of the day.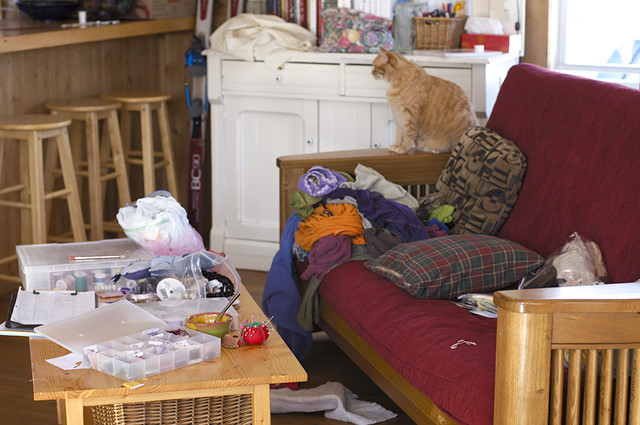 Craft supplies are for crafting and a house is for living. You can't create (with children) without a mess.
The photos you see in this post are what my house looks like on any given day. Of course I'd go crazy if it was always like this so we have a regular clean up time at the end of every day. The kids are old enough to do this by themselves. They're the ones making the mess after all! This includes daily vacuuming or sweeping the floors.
For the evening the house is mostly clean (inevitably some craft or art project comes out during the evening hours but these are small and contained) and it stays this way till the next morning. This is one reason I do love getting up early - it's my time to appreciate a clean dining room table - just to look at.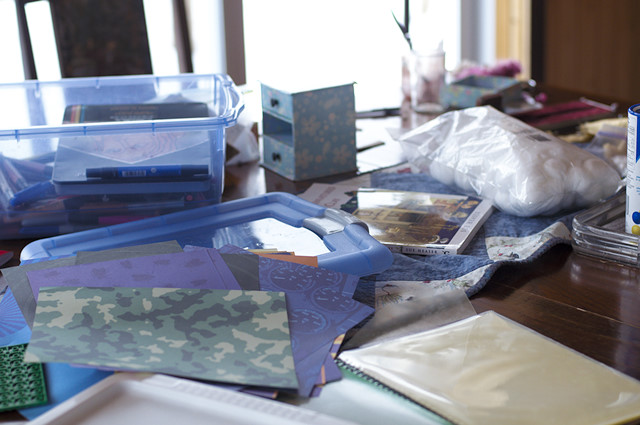 I forgot to show you where our sewing machine is kept - right next to our bed. Our bedroom has been a bit squishy for the past five months. The chalet came with a king sized bed (bed overkill) and then we've got Damien's treadmill desk in there also. It's not ideal but it works in the short term.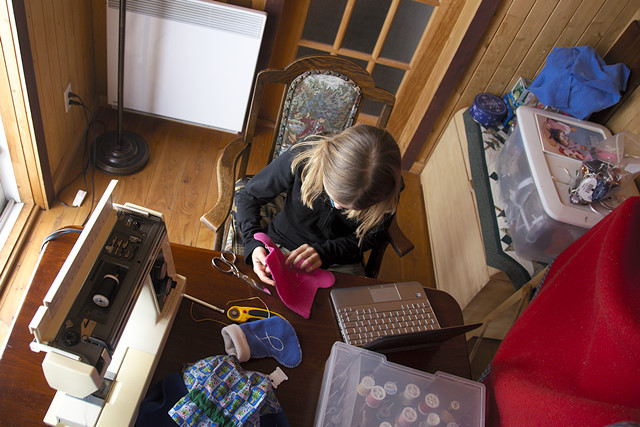 The video gives an overview of what supplies we stock. Next month I plan to write about those supplies in detail, sharing what I think are the most important ones to stock, if you are just starting out or aren't very crafty yourself but want to give your children some supplies to work with. The follow up to this paper craft supply post from last year.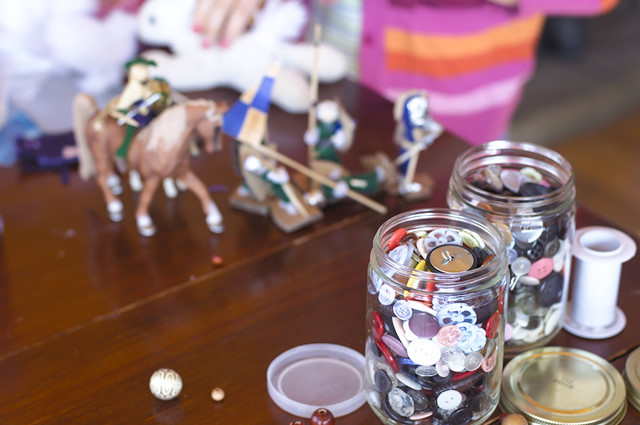 You can subscribe to comments on this article using this form.
If you have already commented on this article, you do not need to do this, as you were automatically subscribed.