Couchsurfing with a family
October 30, 2014
This week, we had the privilege of hosting four young people through Couchsurfing. We fed them supper and put them up for a night and in exchange they shared stories of their studies, travel and homelands with us. And helped us practice our French.
Sophie and Véronique are from France, Lorena from Spain and Rowan from Canada's British Columbia. They are young and adventurous (closer in age to our kids than us), interesting, vibrant, and multilingual.
If we can't travel the world right now we can bring the world to us.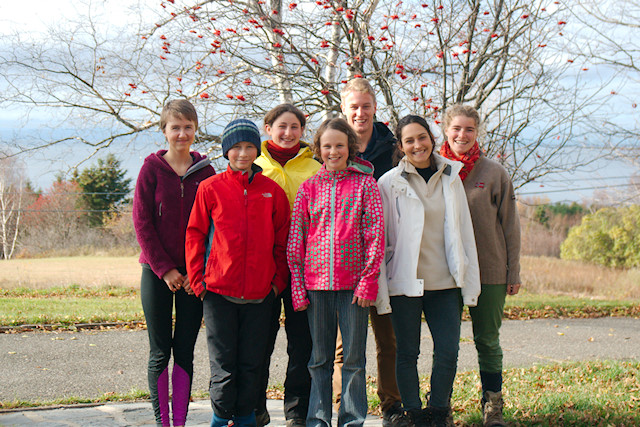 Hosting them reminded me that I had written a post about Couchsurfing years ago on Outsideways, our family's third and now neglected blog. The following post is adapted from that original published in January 2010. Which is why the kids look so much younger (they were) and why the landscapes are so snowy (welcome to Québec in winter!)
---
In January 2010 we made our first reconnaissance trip to the Gaspé peninsula. We had read it was a beautiful natural area on Québec's East Coast where mountains meet the ocean. Having decided to move back to Canada in 2011, we wanted to know if the peninsula might be a place we could move to and make home.
We decided to go investigate the area directly following our Christmas trip to Nova Scotia, where my parents live. But we didn't have a lot of funds for a post-Christmas trip.
Thank goodness for Couchsurfing.
My parents joined us for this adventure but did not couchsurf. Not for lack of trying, but our family had already booked whatever homes were available by the time they looked for a couch.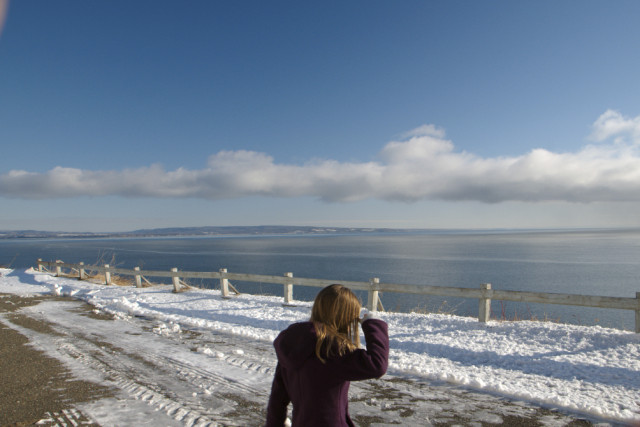 Couchsurfing Basics:
The Couchsurfing organization is a social network that helps people find free places to stay while traveling.
To participate you become a member (also free), post a profile to the site and go through a verification process. Obviously this doesn't weed out all loonies and scary people, there are small risks involved, but as soon as people start "surfing" or hosting they leave feedback for both guests and hosts that helps build a level of credibility and confidence. You can sign up to host, surf or both.
A traveler searches in the area they are planning to visit for available "couches". They send a request to potential host(s) and arrangements are made via the Couchsurfing website, personal e-mails, and phone calls. There is no standard level of accommodation or length of stay.
The traveler(s) brings their sleeping bag and is willing to sleep wherever their host puts them up. In exchange they are given free accommodation and often have access to the host's kitchen and other amenities.
Those are the details of how to find and give free accommodation but Couchsurfing is so much more than that.
This is how Couchsurfing describes their vision (beyond a free place to sleep):
We envision a world where everyone can explore and create meaningful connections with the people and places they encounter. Building meaningful connections across cultures enables us to respond to diversity with curiosity, appreciation, and respect."
That was true in our experience. Saving money was just the added bonus.
Our Couchsurfing experience:
When we talked about making this trip we started looking into hostels in the area, as there are many. Gaspésie is a popular tourist destination... in the summer. The hostels we contacted were all closed during the winter. So Damien started looking for couches instead. Of course for a family of five you aren't really looking for a couch but enough floor space to throw down your sleeping mats and bags.
There weren't that many people on Couchsurfing who could accommodate a family our size but we found two households who were willing and we made our travel arrangements based on their availability.
The first household was a young single man who put us up in his bedroom (of his small one bedroom apartment) while he slept on the couch. We stayed here for two nights.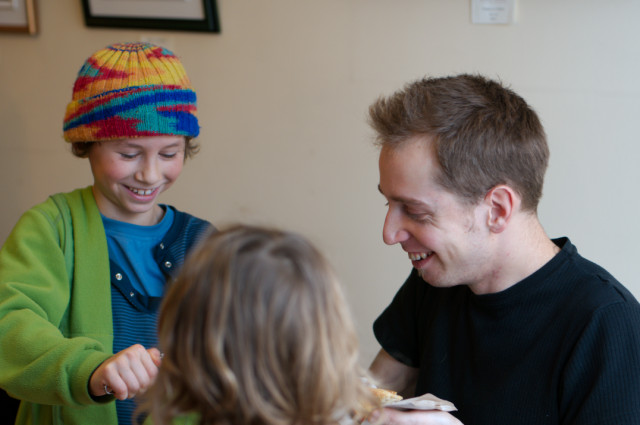 The second willing household was a family who was eager to host us but they lived on a private road that was not guaranteed to be plowed on the day of our estimated arrival. Instead of chancing it we reserved a suite with a kitchenette at a local auberge (inn/hotel). The week of our trip the road was plowed so the family invited us to their home for a meal.
Couchsurfing is not just about finding a free room. It's about meeting and connecting with people in unique places. It's about friendship, breaking down barriers and making this big world a little smaller and friendlier.
Couch One
Yannick, our first host, is a young man who has studied some, traveled lots and come back home to Québec to finish his studies. Because of his travels and world outlook he spoke English and was eager to practice with us.
In fact everyone we met in Québec was able to speak English with us and we did our best (Damien's skills were much better than the rest of us since he spent a year in France after high school) to return the favor speaking French as much as possible.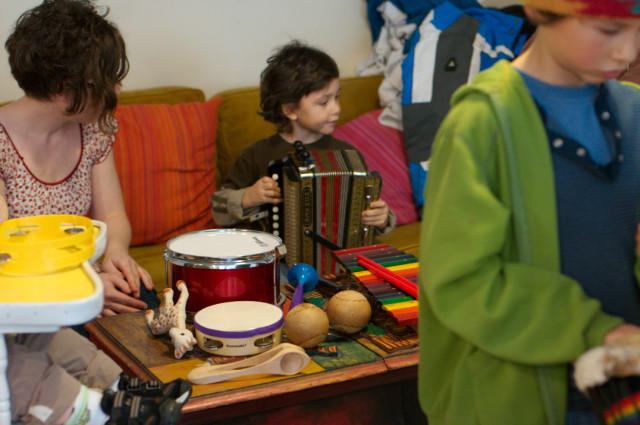 Staying with Yannick was not without challenges. The day we arrived his kitchen sink backed up, his little icebox freezer defrosted without warning, and his washing machine broke down.
We arrived to a somewhat disheveled kitchen but with a very warm and gracious host. Wow, did I ever learn something about hospitality from this young man! But those inconveniences were solved and we shared parts of the next day and half with him discovering the area's cultural gems and "places to be". One of which was the local boulangerie, where we joined in the kids' open jam session.
His apartment was our home base for our next day's drive along the very windy, cold, and hauntingly beautiful St. Lawrence River on the north side of the peninsula.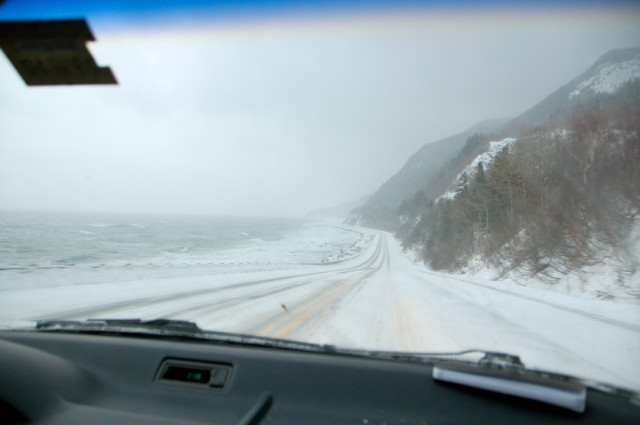 When we left, Yannick gave us gifts from his sparse household, expressing the affection he felt for our family. He praised our children (what parent doesn't like that?) and said he hadn't met a family like ours. We proved, in his words, "that it is possible to travel with children and have adventurous experiences", something he hadn't seen in families he knows.
After leaving Yannick's home we drove through the Parc de la Gaspésie crossing to the other side of the peninsula, on the Baie des Chaleur.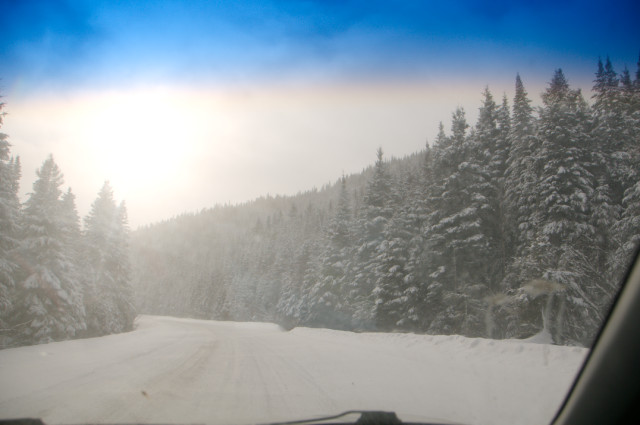 Couch Two
Arriving an hour later than planned, we met our second Couchsurfing contact, Isabelle and Danny and their family. These were the hosts that said we could stay the night but the road might not be plowed and so we didn't want to commit to that plan.
However, earlier in the week when we checked the weather forecast, it was determined the road would be passable so they invited us for a mid-day meal at their home. Our family of five, plus my parents. We were told to not bring anything. Talk about hospitality!
Isabelle and Danny live in an intentional community of individuals, couples and families, building sustainable dwellings, community, and livelihoods. They were an inspiring bunch to be around. Members of their community had also come to meet us and contributed to the potluck feast of homegrown turkey, potatoes, gravy, tourtière, salad, squash and apple crisp.
The whole experience at Isabelle and Danny's house blew us away, almost literally. The wind never ceased gusting, but their kindness, warm wood stove, and conversation knocked our socks off. Although the adults spoke fairly decent English their children did not at all. But after "moving around each other" for a couple hours the kids breached the language barrier... with play. Hide and seek, paper airplanes, Lego and drawing.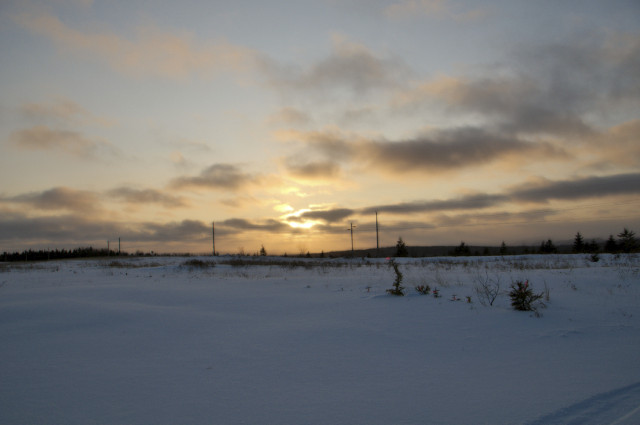 Crossing the border back into Maine, through the snow and wind of winter, Damien and I talked about the friendliness of the people, the cultural vibrancy we saw evidence of in the towns (we weren't there long enough to explore that), the obvious raw natural beauty of the peninsula and decided the Gaspé was worth another look in the summer.
The end of that story is that we did come back in summer 2010 and moved here permanently in the fall of 2011.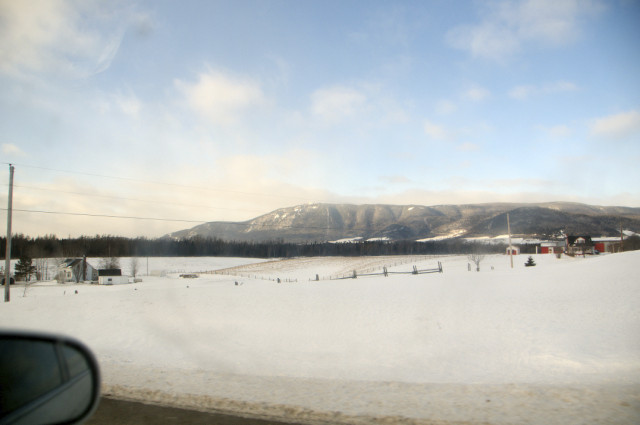 Couchsurfing with a family:
Couchsurfing is a great option for travelling if you enjoy meeting new people. Obviously though it can be a bit more tricky with a family.
Things to consider when Couchsurfing with your family:
Be willing to plan your travels according to who can host you and where. Yannick was the only host we found who responded to our request for sleeping space for a family of five so we based our itinerary around that.
Have great kids. A few traits that come to mind are fun-loving, inquisitive, and respectful. Obviously these are character traits we want to grow in our children regardless of whether we couchsurf or not.
Safety comes first. If it doesn't feel right, don't stay. Have a back up plan, just in case. Don't sleep in separate rooms. Common sense stuff.
Bring along a few comforts from home. Sleeping in a strange situation can be unsettling. We had our familiar sleeping bags. I personally like to bring along my mini titanium French Press (the same one I use camping) because you just never know if your host drinks coffee.
Like I mention in my introduction, Couchsurfing is not just about "going", but also hosting.
If you can't travel the world right now with your family, you can bring the world to your home.
You can find our family's Couchsurfing profile here. And if you're a FIMBY reader visiting the peninsula just send me an e-mail if you need a place to stay.
Filed Under
Resource Library
You can subscribe to comments on this article using this form.
If you have already commented on this article, you do not need to do this, as you were automatically subscribed.