Chia Vanilla Pudding (and other dessert thoughts)
May 10, 2010
Getting our priorities in order, let's start off this week of eats with a dessert recipe.
Kind of ironic considering we don't prepare typical desserts for everyday fare. I bake cakes for my kiddos' birthdays, or even better, my mom might be visiting and do the baking instead. After years of cooking and baking with minimal animal products, fats, oils or sugar I've lost my skill for pulling together an indulgent birthday cake. 
Birthday cakes aside, we follow a few dietary guidelines for our home eating that preclude most dessert foods. We also try to limit our consumption of out-of-the-house sweets to one treat/week.  A trip to the ice cream stand, cake at a friend's birthday, soda with a supper out etc.  We don't always succeed on this account but it keeps gratuitous sugar consumption in check.

Brienne's reaction to eating an honest-to-goodness cookie (whole wheat and vegan but definitely not healthy),
a treat I baked for the kids earlier this spring
That may sound depressing, but it really isn't. It's called keeping our health, our teeth and our sanity - our children do not have sugar highs and sugar crashes and they are darn pleasant to be around.
Weekday desserts at our house are usually a couple squares of fair trade (yada, yada) dark chocolate, fruit smoothies, Damien's signature mashed banana, tahini and cocoa pudding, fresh fruit or dried fruit. But sometimes we feel like something a little more special, something like this pudding recipe.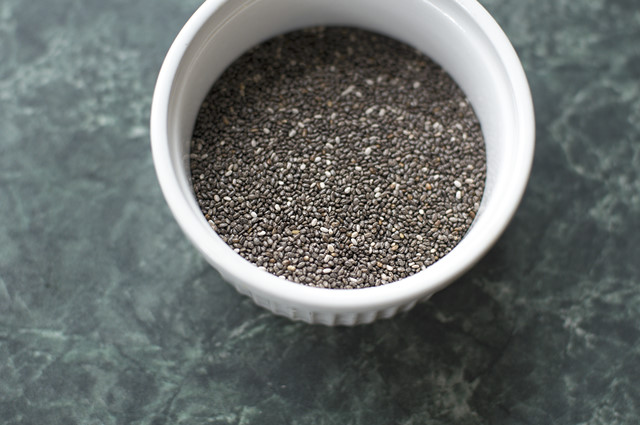 Chia seeds seem to be all the rage these days. We've been eating them for at least a year (bought them here) and we use them when hiking, mixed with lime juice and water, as an energy drink. Apparently they are really healthy but all I can think of every time I use them in our meals is chia pets, which were heavily advertised on TV when i was a kid.
Chia Vanilla Pudding
This recipe is an easier, quicker and healthier alternative to tapioca pudding. Not that tapioca pudding is necessarily unhealthy but the nutrition in chia seeds makes them a substitution worth trying, if you don't mind the slight crunch and goo.
Really though, the crunch and goo aren't too pronounced. We like those jelly balls that form around each chia seed (similar to tapioca) but if you have a crew of picky eaters you might need to serve small quantities - then scarf the rest down yourself.
Also, this is not a sweet dessert. It's sweet by our standards but 2 tbsps of maple syrup in 3 cups of pudding is not much. You may want to add more (but I dare you not to).
Recipe includes the option of adding cocoa powder for a chocolate pudding. I like it equally well both plain vanilla or rich chocolate.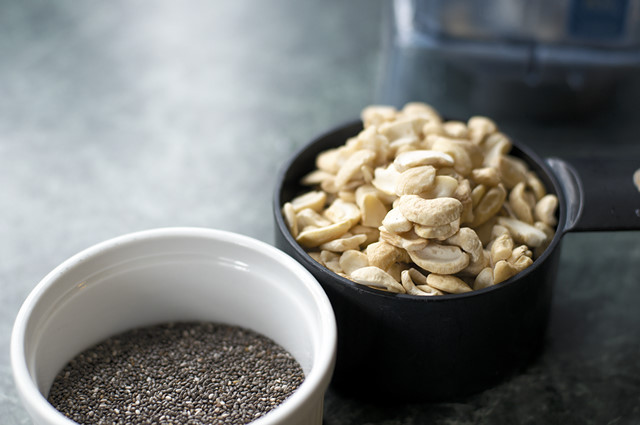 Ingredients
1 cup raw cashews
3 1/2 cups water
2 tbsp maple syrup
1 - 2 vanilla bean pods (optional - see notes)
pinch sea salt
1/4 cup chia seeds
1/2 cup fair trade quality cocoa powder (optional for chocolate pudding)
1 tbsp vanilla extract
Directions
Using a high powered blender, blend cashews, water, maple syrup, vanilla bean pods and sea salt till smooth. Ie: no chunks of nuts remain.
Pour liquid mixture into medium sauce pan.
Add chia seeds and whisk well. Whisk in cocoa, if using.
Stirring often, bring chia mixture to boil over medium heat. Turn down to the heat to a simmer. Stir pudding with whisk (not constantly but enough to not stick and burn) until thickened to your liking. Maybe 5 minutes or so. Rememer pudding will thicken more as it cools.
Remove from heat. 
Serve either warm or cold, according to your liking.
Notes
I make my own vanilla extract so I buy vanilla bean pods by the 1/2 pound. Much cheaper this way and my kitchen smells like heaven while they sit in the cupboard awaiting their vodka soak. When the beans are done soaking in the vodka, usually 2 months or longer at my house, I strain the vanilla extract and then save the vodka soaked bean pods in the fridge. They last a long time, they are steeped in alcohol after all, and I throw them into the blender with wet mixtures for baking and such. Adds a nice flavor (if you don't mind the teensy black flecks) to whatever I'm making.
For this pudding I've used both these post-extract beans and fresh pods that we just tantalizing me with their smell (double, super yum).
I know not every one has bean pods sitting around their kitchen so technically this ingredient is optional (use more vanilla extract maybe?). Omit at your own risk.
As requested by one of my readers my mom shared a recipe for Black Bean Brownies on her blog today. Very timely if I say so myself.
Related Posts:
Renee Tougas participates in affiliate marketing, including the Amazon Services LLC Associates Program. Whenever you buy something on Amazon from a link you clicked here, I get a (very) small percentage of that sale. See disclosure for further explanation.
You can subscribe to comments on this article using this form.
If you have already commented on this article, you do not need to do this, as you were automatically subscribed.