Celebrating Chinese New Year
February 2, 2011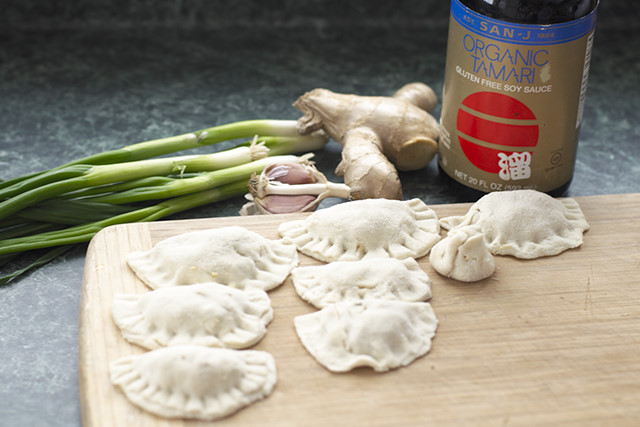 Yesterday our family celebrated Chinese New Year in the one way we knew how. We had a feast, gluten free and vegan of course.
This meant I spent the better part of the day in the kitchen, as all celebratory days require. I had plenty of company though as Damien was home from work for a snow day and was busy cooking food for our backpacking trip this weekend. The kids joined us at various points in the day to make dumplings and help with the mountains of dishes.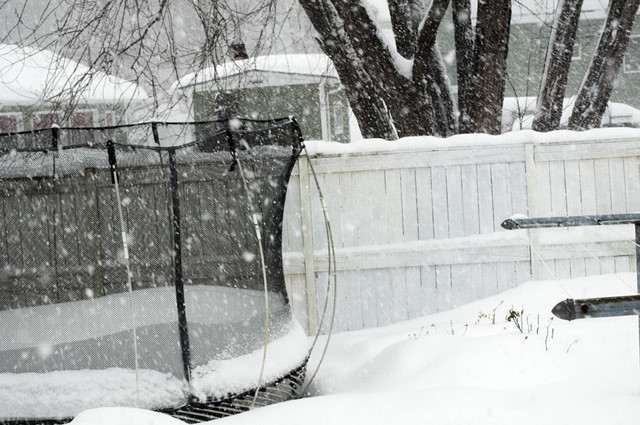 No doubt this was not an authentic Chinese meal and there was a lot of improvisation (lacking a bamboo steamer I used my pasta pot with nested colander for the steaming dumplings and Nian-Gao) but we enjoyed the spirit of the holiday anyway - starting fresh, celebrating family, and eating good food.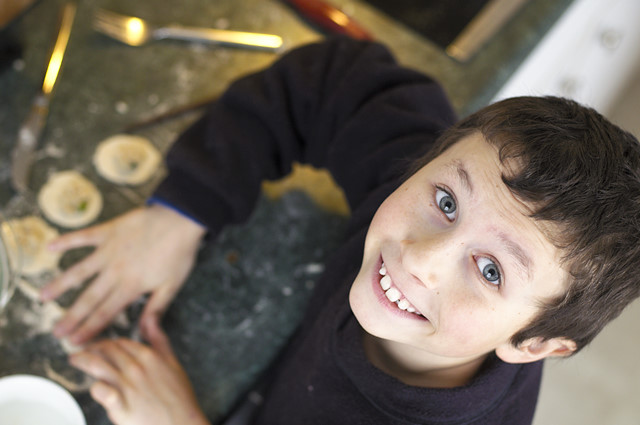 Much of what we eat on a day to day basis uses similar ingredients to the more traditional plant-based diet of rural China. Lots of veggies, rice, a bit of soy and limited animal products. For a fascinating read on the link between nutrition and disease as studied in the Chinese population I highly recommend the book The China Study: The Most Comprehensive Study of Nutrition Ever Conducted and the Startling Implications for Diet, Weight Loss and Long-term Health.
I digress.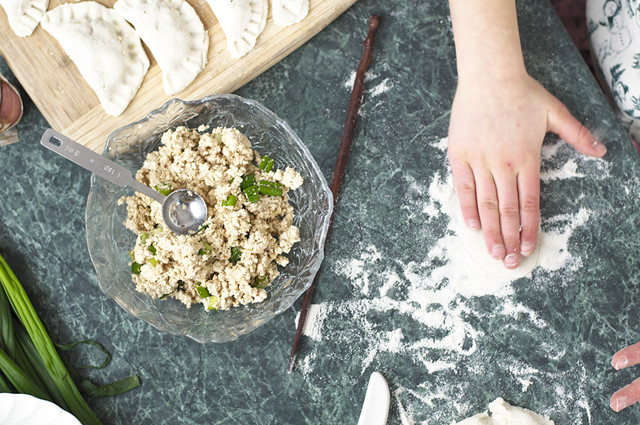 Celebrating Chinese New Year this way, with a big feast, was actually part of a homeschool study the kids and I have been doing this winter. I was hoping to inspire my children's curiosity about something other than medieval Europe. Besides, the food they ate back then was atrocious. Cockatrice anyone? What about Larks Tongues, Boars Head, or Cock Comb and Hen's Feet Salad? I imagine though that food in China during that time wasn't much better. Please correct me if I'm wrong, I'm no scholar.
Enough history, let's get on to the meal.
A Meal to Celebrate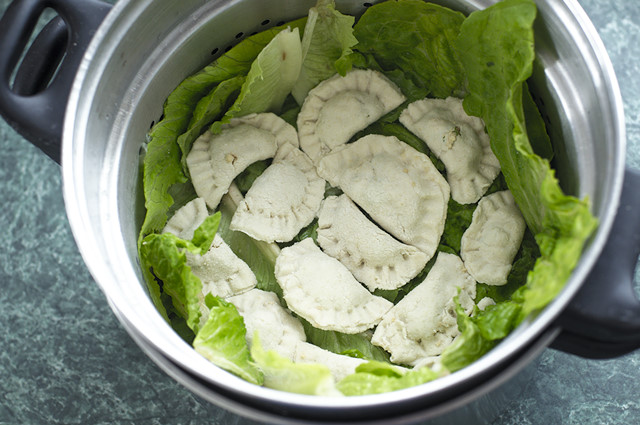 The hands-down favorite dish and the one most complicated to make were the dumplings. I'm not aware of any gluten, corn and egg free wonton wrappers you can purchase. So... I made my own (see recipe below). 
Here's the complete menu:
Mushroom and (tofu) egg drop noodle soup, my own made-up recipe 
Szechuan Noodles (with significantly less oil) and veggies
Dumplings, completely from scratch, vegan and gluten free
Steamed Nian Gao, recipe from The Runaway Rice Cake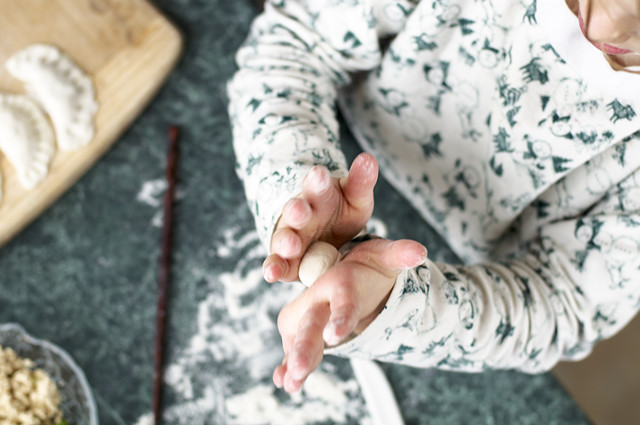 For the noodles I used the "Mama" brand brown rice vermicelli noodles, available through my buying club and local health food store. These are similar to ramen-type egg noodles but much healthier and g-free. They were best in the soup but too fragile in the noodle dish.
The most surprising part of the meal was the success with Nian-Gao, the traditional sticky rice cake served at Chinese New Year. I have never steamed any dessert food before and it turned out really well. Even without the glutinous rice flour (I used sweet rice flour) and date sugar instead of white sugar. 
Books To Read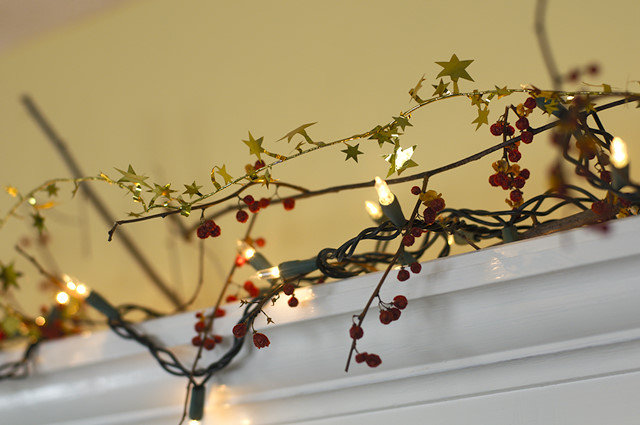 red and gold, traditional Chinese colors
Although studying Chinese New Year just seemed like an excuse to take a few days off school so I could plan and cook this meal we actually did some study to go along with our feast. Last month we read the following books specifically about the signficance of this holiday.
These are some other books we've read together through the years about Chinese culture, language, history and geography.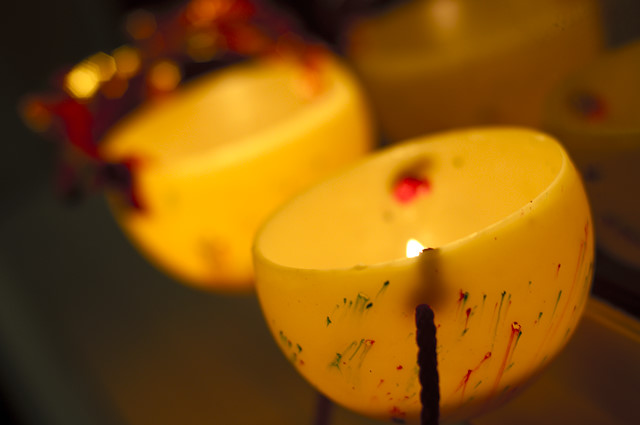 sparkly red ribboned golden beeswax lanterns
A Christmas gift from family, perfect for Chinese New Year
Facts about Chinese New Year
These were sent to me by a Chinese friend of mine (who lives in Canada). I don't know her sources, if she used any.
China's most popular traditional holiday, Chinese New Year (CNY) is a time for feasting, family reunions, fun and celebration! Every year, Asians throughout the world spend weeks preparing for the 15 day celebration, officially called the Spring Festival. This is the lunar year 4709, the year of Rabbit, according to the Chinese lunar calendar.

Here are some of the ways you can celebrate CNY:

Clean House - Before the New Year arrives, the Chinese consider it very important to give the house a thorough cleaning, sweeping away any bad luck that may have accumulated over the past year. (We didn't do this)
Decorate! - Doors and window panes are also often painted red, considered to be a lucky color. In addition, people like to hang paper-cuts and Chinese Calligraphy on doors and windows. Paper cutting is an ancient Chinese art form. (Ironically enough the kids made paper snowflakes - paper cutting)
Wear brand new clothes – it will bring you a better New Year and prospect.
Don't clean for the first few days of the New Year - if you do any sweeping during this time, you may risk sweeping away your good luck. (Got that covered)
Offer a Sacrifice to the Kitchen God - Many families have a poster or statue of the Kitchen God in their kitchen. The custom is to offer a ceremonial sacrifice to the Kitchen God, to make sure that he gives a good report on the family's behavior when he returns to heaven. Rice sticky cake (Nian Gao) is popular, or children may rub honey on him.
An important tradition on New Year's Eve is for families to gather together and spend the evening preparing Chinese dumplings (Jiaozi – wheat flour or Yuanzi – rice flour). According to Chinese culture, it is common to hide a coin in one of the dumplings. Whoever gets the dumpling with the coin will supposedly have good luck in the coming year.
Give out money packets - On New Years day, children receive the "Spring Festival Money Gift (or yashuiqian), a red packet decorated with gold symbols and filled with "lucky money".
Like Thanksgiving and Christmas in the US, Chinese serve festive foods throughout the CNY season. Certain foods are served because they symbolize abundance and good fortune. Besides preparing special dishes, tangerines and oranges are often passed out to children and guests, as they symbolize wealth and good luck.
Chinese New Year is today but we celebrated yesterday because today I am packing for our winter backpacking trip tomorrow. In keeping with Chinese tradition for complete grooming and a new look I even managed to get Damien to cut my hair before we ate supper. Bring on the New Year!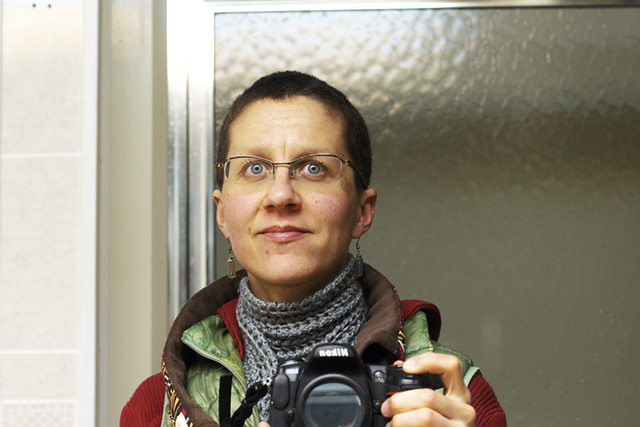 Does your family celebrate any cultural holidays or festivals (other than from your own heritage) to broaden your horizons?
You can subscribe to comments on this article using this form.
If you have already commented on this article, you do not need to do this, as you were automatically subscribed.