Baked Beans
July 23, 2009
Introduction
This is one of the first recipes I published on the blog. I shared it here because it is easy to make, is inexpensive, my family loves it, and it's a crowd pleaser (for vegans and non-vegans alike).
This recipe uses more processed ingredients and refined sugars than I normally use these days - molasses, ketchup and maple syrup. So I wouldn't call this a strictly whole foods recipe.  However, it's a great recipe to have in your repertoire and I make it often.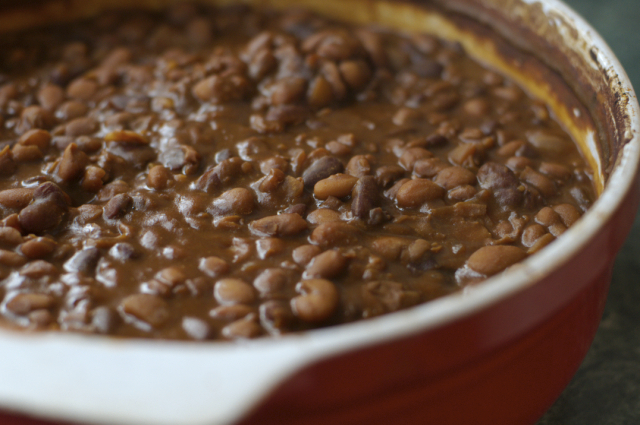 Original Post
Since changing our diet to nearly vegan (we eat non-vegan edibles from time to time) our daily life involves a lot of beans. And I know you're wondering so I'll just say it out loud "no, we're not farting a lot". Some, but not a lot.
In case you're reluctant to try eating more beans because of flatulence our experience has been the more you eat the more your body adapts. After years of eating beans most every day; homemade soymilk for breakfast, beans on salad for lunch, or beans for supper I can say without a doubt that beans do not give us gas.
They probably did at one point but I can't remember anymore. This particular bean dish is one of my family's favorites and it's great all year round. In summer beans are a traditional addition to a cook-out or barbeque and in winter baked beans are the epitome of warm-your-belly comfort food after a day of cold outdoor activity.
And if you eat beans on Saturday night you're participating in the long history of the Bean Suppah, (supper pronounced with a Maine accent).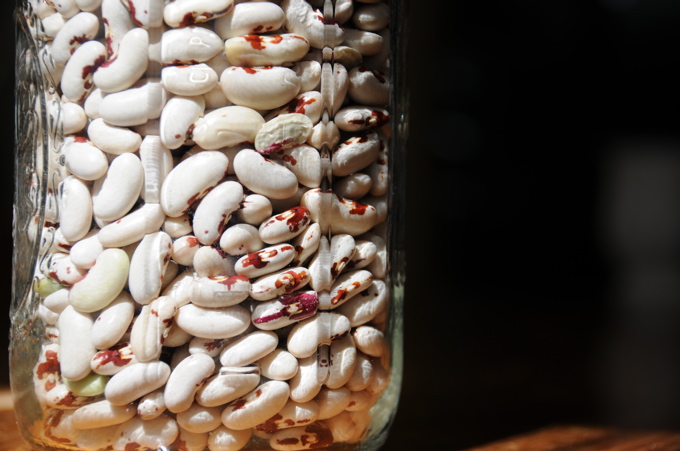 last year's bean harvest from our garden
Baked Beans
Our family eats these beans as "the" supper dish. I am a one-pot wonder cook. This meal is simply eaten as a bowl of beans or sometimes I'll serve with bread or baked potatoes. 
I use my pressure cooker to cook dried beans beans. I prefer the texture, taste and reduced sodium (& cheaper price) of homemade beans vs. canned.
5 cups of dried kidney beans produces 10 cups cooked. For this recipe I like to use a pinto and kidney mix.
Ingredients
10 cups cooked beans
2 onions, chopped
3-4 cloves garlic, minced
1/2 cup blackstrap molasses
1/2 cup good ketchup (avoid the HFCS stuff)
1 3/4 cup water (if you remember save the water used for cooking the beans - I always drain it off before I remember)
1/4 cup Maine maple syrup (I suppose Vermont or Quebec syrup might work also ;)
2 tbsp dry mustard
2 - 4 tbsp Braggs or soy sauce, less if you're using canned beans
1/2 tsp each garlic powder and onion powder, for good measure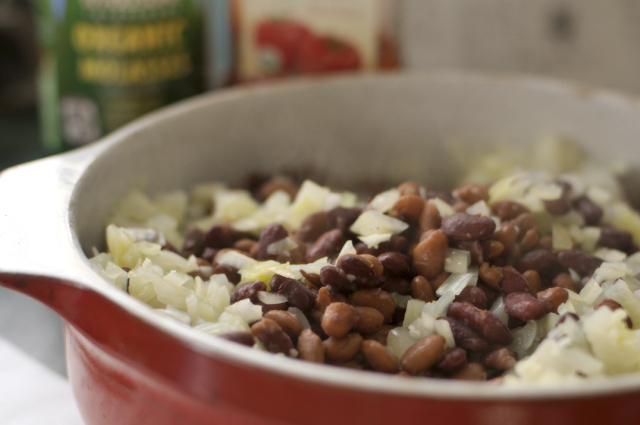 Directions
Preheat oven to 300 or 350F. See point 4 for explanation.
Sauté chopped onions and garlic in a little water till mostly soft.
Put cooked beans in a very large casserole dish. When onions and garlic are nearly soft add them to the beans. Add remaining ingredients and stir well.
If you want to beans to bake for 2 hours (I choose this option if I'm going to out of the house doing errands and such) cover and bake beans at 300F. To cook for 1 hour and 20 minutes or so cover and bake beans at 350F.
Related Posts:
I am contributing this post to this week's Food Roots at Nourishing Days. Baked beans are a very real part of my adopted Maine identity, part of my food roots
Filed Under
Resource Library
You can subscribe to comments on this article using this form.
If you have already commented on this article, you do not need to do this, as you were automatically subscribed.