An Open Hearted Letter To Moms of Young Children
January 24, 2012
Over the past year I have received quite a few contact e-mail and comments at FIMBY from moms of young children. It has been on my heart for some time to address those in a post.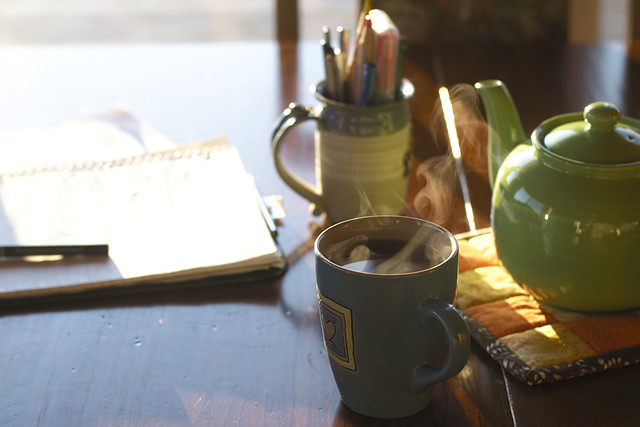 This is heart-to-heart stuff. This is not how-to or I have all the answers. This is my mother's heart - the heart that wants to nourish, encourage and teach (that's my mission) - speaking to your heart.
It feels vulnerable and scary to share this deep (I have butterflies in my stomach hitting publish) but I need to write this way - open hearted - to really get across what needs to be said. No mask, no "is this acceptable for a blog?" filter.
This is the letter I would write to a dear friend. It's long. Really long. In fact, I think I just wrote my first e-book.
I want this to feel like you are receiving a special envelope in the mail today. Hopefully you'll make yourself some tea and sit down to read it. A letter from someone who cares for your well-being - spiritually, emotionally and physically.
In the messages I get from moms with young children there are recurring themes, questions and concerns. This letter is not directed to any one person in particular but is written to a fictional mom, a composite really of all those readers who have contacted me.
I will warn you now, there is a bit of "faith stuff" in this letter, near the end. Many of you are sister believers in Jesus Christ. Many of you are not. That's cool. Just like my not-online friends are a mixed bag of beliefs and creeds, so it is at FIMBY. And that's the way I want it to be.
FIMBY is not a faith-based blog in the sense that I talk about Christian stuff all the time or blog about "homemaking as a Godly woman" or "creativity for God's glory" or something like that.
I don't like religious speak and I'm not going there in this post. But because this post is straight from my heart and at the heart of me is my love for Jesus, I can't help but talk from that place. If this feels weird to you, you don't have to read it and I will return to the usual stuff I blog about in my next post (smile).
I'm writing this as a letter. It feels more intimate that way. The paragraphs are long. There is no bold text. There are no photos. There are no links - you'll find those at the end. Because honestly, I'm not trying to push or peddle any resource, just offer help. If you want to print this to read it like a letter, you can download it here.
With all that out of the way....
~~~
Dear Friend,
I got your letter in the mail the other day. Thank you for taking the time to write to me. Your kids are growing so big and they look so adorable in the picture you sent. I can't believe the baby is already six months old. I know, it's just like you say, they grow so fast.
I remember what Celine felt like in my arms at that stage. I don't remember as much with the younger two but Celine had a certain heft about her. It's funny because she's long and lean now (just last night we stood in front of the mirror and she's past my eyes now) but she was our chipmunk cheeked baby and I remember the feeling of her in my arms. That weight of responsibility and that weight of love.
Did you ever see the movie "Jerry McGuire" with Tom Cruise and Renee Zellweger (oh, I just love her)? And when he says "you complete me" and all women everywhere are swooning over their TV screens. "You complete me" is I think the words to describe the feeling of Celine as a six month old baby in my arms. I miss her in my arms and at my breast.
But I don't miss all those sleep deprived nights. It is so hard. I hear you sister. You're tired. I remember that too. I think I told you this already but Celine was only 21 months old when Laurent was born and Laurent 21 months old when Brienne was born. So Celine was 3 1/2 years when Brienne was born. Damien was working at home those days and that did help but he was working full time for someone else and not available to care for kids. But at least he was there in emergencies and was a warm body at home if I needed to step out for fresh air during the kid's naps. That helped.
You mentioned you're struggling to get exercise and taking care of yourself with little ones. Especially that your miss your outdoor pursuits. Oh, I know love, it's hard. When the kids were little I think I aimed to get outside every day with them but I know it only happened every other day, at best. It's funny how having the responsibility for teaching my kids' good habits and taking care of their health helped me form better personal habits and take better care of myself.
When they were little and I had to be outside with them (now they can play outside without me, oh how nice that is) I would take them for neighborhood walks and to the playground in warmer months. In winter we would bundle up, oh my goodness that took forever, and I would take them for short winter walks in their puffy snowsuits, more often having to pull them in the sled. That was a good work out for me.
We weren't big hikers then, when the kids were just toddlers. Damien was into competitive cycling and when he gave that up, because it was a drain on the family in terms of time and finances, that's when we started our weekend hikes. Brienne was three at the time. But it was a slow process. Establishing these patterns takes time.
I have always loved the woods and nature so I took the kids out for nature walks in city parks during the warmer months. But winters were especially hard. I tried at-home exercise type stuff but those never stuck. The outdoors is where I like to exercise. Being where we are now is a real gift that way.
If I could encourage in one way it would be this - keep at it. Part, no, the main thing, going on in the early years with your kids is establishing patterns and laying the foundation. If you make the effort now to make the outdoors important that helps establish your children's patterns of behavior as they get older. The things we can do with our kids now - backpacking for days or skiing together in tough conditions (as we did yesterday in -20C in the mountains - and the kids had a blast!) is because of the foundation we laid when they were little. And building up our stamina bit by bit. Don't give up.
Which is really true of so much of mothering young children. You're laying a foundation and it's hard work. But the effort will pay off. Really, I had no clue how hard it would be to mother young children. One of the most difficult stages and you don't even have the benefit of previous parenting wisdom or experience!
Some moms find that exercising early in the morning or when their partners are available to help works for them. That didn't work for me. I preferred to do my physical activities with the kids so my alone time could be used for something else.
Never mind the fact that there was no way I was getting up early to exercise. Get up early! As if. Baby born after baby born after baby. All of whom I nursed for an extended time and through the night. I was tired and there was no way I was getting up early for exercise, quiet time, or whatever. I tried so many tricks to get my babies to sleep "through the night" to no avail.
We tried crying it out but I just couldn't do it. In the end I surrendered and by the time Brienne was born I was one of those quasi-attachment type motheres. I say quasi because I don't like labels and I also did things different from typical attachment philosophy. We found our own way. Surrendering to motherhood was hard. I had my own plans for how things should unfold and they didn't go that way. But there was more peace in the surrender than there was the fight.
I encourage you to find your own way also. Don't compare yourself to that mom you mentioned from your playgroup. Trust me, no one has it all together. And don't compare yourself to bloggers. I write a blog, I know. Blogs are a very edited snapshot of someone's life. It breaks my heart that you compare yourself to these women on-line, your next door neighbor, or (heaven forbid) me!
I didn't blog when I had little children. There wasn't blogs back then and I wouldn't have had time. And even if I did blog it wouldn't look like what FIMBY is now.
I've been learning some things about personality types and it might be helpful if you looked into that a bit. Some homemakers and mothers, because of their personality types, do better with loose structure and more sponteneity in their days, though you don't see much of that in blogs. At least not the blogs I read (I'm a bit of an organizational freak so I think I'm attracted to that type of writing).
Some people, depending on if they are introverted or extroverted, need more or less time alone. I only know how I operate but I know that's not for everyone. I think it's really helpful to understand ourselves and how we tick. It might help you find your homemaking groove.
One book I think is worth reading (and owning) is "Steady Days" by Jamie Martin. I'm not sure if you can find it at your library or not. Look into it. I wrote a review of it on my blog a couple years ago when it came out. So much of what Jamie writes about in that book is great stuff to read when you are mothering young children, everything from getting organized (but not unrealistic schedules and such) to staying enthusiastic in this tough job of motherhood. I think it might help you.
You mentioned in your letter that you are struggling to find time for you, specifically to write and create. Here's a few ideas that might help. First, do those creative things that most feed your soul. Don't create something because you saw it on a Pinterest board and think all "good mothers" knit sweaters for their little ones (or cloth diaper or whatever). I wasn't a writer when I had littles, I hadn't discovered that part of myself yet. But I did like to scrapbook, play guitar (bet you didn't know that about me), sew and dabble in other crafty things.
Writing, at least for me, requires being zoned out from my family. So if you need to write than have that be your alone time activity. We all need alone time from our families. It's ok. It might be once a week or once a day or whatever you can work into your schedule.
There are creative pursuits you can do with children about and around. Photography being one. Photo editing is a bit of pain and has you parked at the computer but doesn't require the same "zoned outness" of writing.
Sewing and hand crafts were one of those things I could do with children around. They learned to sew this way also and they really enjoy doing this activity. Yes, they interrupt. In fact, life with little children is all about the interruptions - at least it was for me. But if you take the time with them now - to teach, love, model, discipline, etc. you will be rewarded as they grow. I know of what I speak.
Homemaking, in and of itself, is a very creative act. I satisfied a lot of my creative "urges" as a mom with young children in this domain. Like I already mentioned, I liked to sew and do simple decorating. But I guess the main thing is - do something you love to do. Something that fills your well. If writing is that thing - then go for it and structure your days to fit it in somehow. I know this is easier said than done but we all find ways to make priorities happen.
You know that makes me of the other thing you mentioned - activities and homeschool "stuff" with your little ones. They need less than you think. No offense to your friend who does gymnastics and music class with her toddler but your three year old does not need that class. If YOU like doing it and can make it work in your schedule and budget - great. But if it takes away from what you are doing at home and makes less time for your personal "well filling" activities (you know what I mean by that right? - things you do that feed your soul and help you give and care for your family better) I think you should re-consider.
I think what is most important to little ones at home with their mama is that their mother enjoys being with them. Not that they take art, music, and swimming lessons.
I did a bit of that with my little ones, community classes we all took together. I wanted to get out and meet people also. But if the activity drained me I didn't continue. What's the point of doing all that if you feel burned out? Your kids need you, not the classes.
Maybe a casual mom's group is more your style. Yes, the kids play and "socialize" (that's such a funny concept to me) but the point is for you to connect and be encouraged by other moms. To share your stories and struggles. I loved doing this with friends when my kiddos were little. We called them play dates but they were really "sanity savers" for me.
Oh, and don't worry that you're not doing "preschool" or even kindergarten with your five year old. Hon, you really can relax. I didn't do preschool with my kids. Not that I'm a model or anything, I'm just sayin' is all. We live in a culture that doesn't value a slow and steady approach to living and certainly not childhood. If it feels like you're swimming against the tide, you are! I take a certain comfort in that.
Our preschool days were stories, nature and outdoors (like I already mentioned) and crafts - I liked that kind of thing. Do what you love and invite your children to join. Honestly, they just want to be with you. While you're at it, teach them how to fold laundry and sweep the floor. Seriously. These years are for laying the foundations (there I go again) of love, trust, relating to others, and establishing a sense of belonging in your family. And much more. Teach them their letters, if you want, while you're doing your daily living. Unless your child is really precocious (mine are fairly average) that's enough of a preschool curriculum.
I guess the thing that weighed most on my heart when I read your letter was your concern about your relationship with Jesus Christ. I have been asking God for wisdom in how best to respond to you. I pray these are the words of the Spirit and not my own flesh.
There is a message that underlies the whole gospel of Jesus Christ and it's a message I want to shout from the rooftops. And that message, dear sister in Christ, is FREEDOM. Christ redeemed us to free us from sin (and its consequence of death) and condemnation. All condemnation. The condemnation that you are not good enough. A good enough mother, a good enough wife, a good enough writer, a good enough homemaker and home manager, a good enough crafty person, a good enough "green living" person.
I have been dwelling in Romans 8 for the past 6 months. Technically, I'm trying to memorize the chapter. It's a slow go for me. But talk about life giving words. Words to fill your well and encourage your spirit. I mean it's all covered in here. Every time I read it, there's something in there for my spirit, even as related to mothering and my hopes for family life (vs. 24-25 ...Now hope that is seen is not hope. For who hopes for what (s)he has seen? But if we hope for what we do not see, we wait for it with patience). Patience, the life long lesson of being a mother.
I long to tell you this. Relationship with Jesus Christ is just that - relationship. It is not something you need to carry as a burden, something to check off your to-do list for the day. If you don't have a morning quiet time because, let's face it - you are tired and you are busy - that's ok. Relationships happen in the context of living. Dating my husband is wonderful but it's moment by moment discussions and how we treat each other day in and day out that most builds our relationship. Not alone one-on-one time. This was true even when our children were little. We didn't get out much, I was a nursing mother and we didn't trust many people with our most precious gift - our children. But I can honestly say Damien and I have an amazing, rock solid relationship. And it's not because of dates. It's because relationship is an ongoing thing.
What the heck does this have to do with Jesus? You have a relationship with Jesus. And it will grow and develop as a day to day thing, in the context of your life as mother, wife, homemaker, homeschooler. It does not need to be, nor should it be, something separate from those.
What does this mean practically? At the risk of sounding heretical, you don't need a morning quiet time. Do you need time to grow, time to read the Bible, time to pray, time to get together with other believers - Yes! Do you have to have a regular, early morning practice to do this - No!
When my children were little a lot of my spiritual growth and time with Jesus, in terms of Bible reading and worship was done with my children. Reading the Bible together, especially the Psalms - I needed those Psalms. Worshipping together. I played the guitar and sang my heart out. The kids danced around and waved their banners. If you don't play an instrument, put on a CD (do people use those anymore?) or make a favorite iTunes playlist. Sing, dance and rejoice.
Read good children's literature - picture books and short stories. The story of good and evil, redemption and transformation and so much else is written over and over in children's book. Check out the book "Honey For A Child's Heart" if you're looking for book titles. I would sit on the couch and read to my children, tears streaming down my face at what the Spirit showed me about my own heart in reading those books. Praying is something you can do always. My favorite, "Lord, help me". Kid's fighting? Then I would pray out loud, "Lord help me to teach your love and kindness to my children". When the kids would come to me with a sore tummy or something to work out. I'd pray.
When my spirit was thirsty and I needed time alone I grabbed it where I could. While the kids napped I usually napped also but sometimes I would sit and pray (and cry) and journal. I still remember times when God spoke to me during those random, not scheduled, times.
I am at a time in my life where I feel called to share and give more, stepping into the part of my mission that lies a bit outside (but very much overlapping) my responsibility to my family. My children sleep well. I get a solid 8 hours of sleep a night, there is no excuse for me in terms of a disciplined quiet time - taking time each morning to hear from God, to fill my well so I am better able to serve. I need this right now to be grounded in the Truth because I feel very vulnerable in the world-at-large. But I have not always had this time, or even desired this time (truly I just wanted to sleep in the mornings when the kids were little).
God knows the burdens you bear as a mother. If it's Jesus you want to be more like can I encourage you with this - Jesus is in the nose wiping, dirty bum changing, the floor washing, the night time nursing, the mommy snuggles, the tears (theirs and yours). Jesus was a servant and so are you. In the day to day life of mothering you are closer to Him than you realize. You are in a holy place.
When I was a mom with littles a friend recommended the book "The Practice of the Presence of God" by a seventeenth century monk named Brother Lawrence (don't let the 17th century monk part scare you, this book is for moms!) My friend lent me her copy and it was one of the books I've read that has helped transform my view on having relationship with God. I highly recommend it, you can probably find it from a good library. If you have a Kindle (I'm switching most of my reading to that because there isn't English library service here) you can get it for free.
Also, I really love Ann Voskamp's list 10+ Real Helps for Really Busy Mom, it's a list of inspirational ideas she has posted on her blog. I'll send you a copy. I have a copy of that in the front of my homemaking binder and when there is no time for anything else I read a few points. This is one of my favorites from that list: Motherhood is a hallowed place because children aren't commonplace. Co-laboring over the sculpting of souls is a sacred vocation, a humbling privilege. Never forget.
I wish I could mentor you one-on-one in person, I really do like that type of interaction best, me writing you feels so one-sided. I'm looking for a mentor myself, I know what loneliness in the journey feels like. I hope this letter has helped some. Would you consider praying that I would find a mentor also?
It has been wonderful to "talk" you. Though, like I said, I do wish it was in person. I hope you are taking good care of yourself this winter and doing your best to enjoy it. I am enjoying winter more than I ever have before and it feels so good to appreciate the season for what it offers.
Do be in touch.
Much love,
Renee
Resources:
You can subscribe to comments on this article using this form.
If you have already commented on this article, you do not need to do this, as you were automatically subscribed.