Afternoon School ~ A spring schedule
April 24, 2013
In an effort to survive March I made some changes to our daily routine. Almost every February and/or March (that I can remember of recent memory) I make changes to our New Year's routine when we hit the winter doldrums.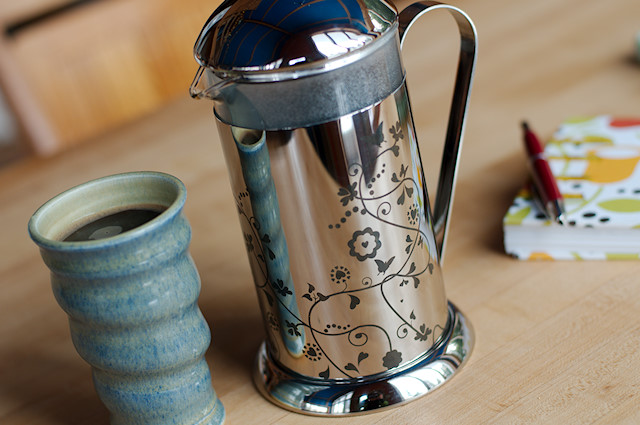 Inevitably, a scheduling or schooling idea that looks good on paper doesn't play out so well in real life. Usually, I plan for more than I am capable of achieving and I have to re-adjust my expectations. And very often I simply get tired of day-in, day-out routines and need to change things around to stay inspired. I'm guessing a few of you can relate.
I introduced a change last month that I've never tried before - afternoon homeschooling.
We are interest-led homeschoolers and we allow our children a large degree of freedom to pursue what they want to learn. This is not hands-off for us. There's a lot of parental assistance that accompanies this type of learning.
Also, in the elementary years there are a few foundational skills - reading, writing and math - that we actively teach our children. These activities: the hands-on assistance for interest-led projects, time for skill building, and the inspired mama-led learning is what our designated "school time" looks like.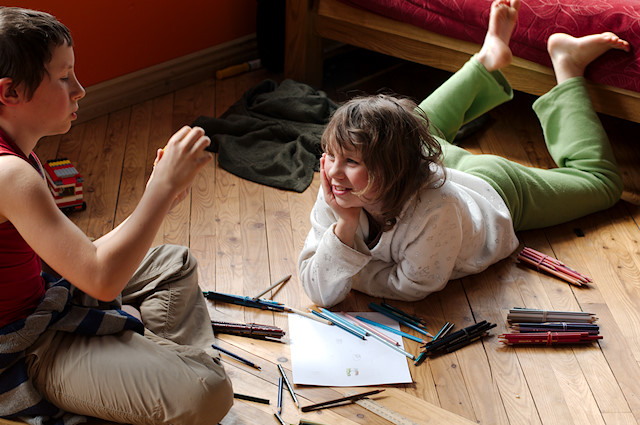 Mostly, it's the time I set aside in my day to focus on our kids' education. I am thinking about our kids' learning almost all the time. It's my responsibility and passion. But there are certain times that I stop the other activities I'm doing to actively teach and facilitate - this is our "school time".
There is so much reading, discussion, and life learning activity that happens outside of our designated "school time" that the term seems somewhat artificial. But in our home everyone knows what "school time" means. The kids expect there will be some combination of reading, writing, math, maybe science or history. There could be games, stories, or poetry. It's never the same each day.
This routine has always happened in the mornings. Not every morning, we average about 3 days a week for "school" and we take complete breaks often, but morning was the time for it.
Last month, for the first time in our homeschooling history, I changed this routine.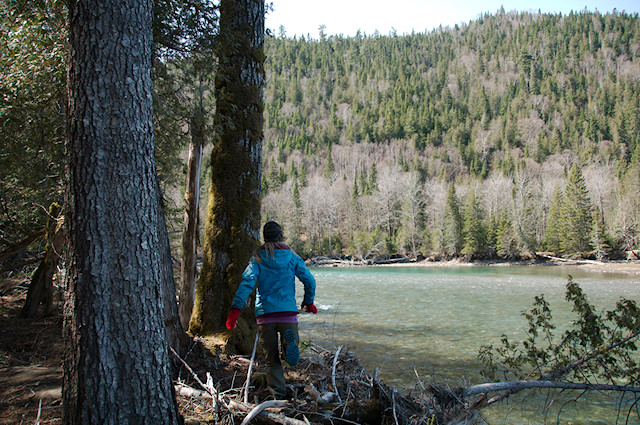 I started exercising every day and decided the best time for me to do that was mid-morning. (This reflects a general trend last month of recognizing my physical, emotional, and mental needs and taking care of those first. And if that meant no school in the mornings, then so be it.)
Damien is also more available in the morning than he is in the afternoon and evening (the times of day he does his main income earning work). I have enjoyed loosening the tight grip on my mornings, which used to be my workhorse, so I can spend more time with my husband. Going for walks together, chatting on the couch leisurely instead of me stressing out about "getting things done" and cranking through my morning routine.
My morning has shifted from "check, check, check" my way through the list to "what feels like the right thing to be doing right now?"
I find I don't even have to plan as vigilantly in the morning either because I'm not hitting the ground running, so to speak, with our schedule first thing. This frees up a bit of my early morning time, so I can make a fire if I want, or sleep in if I need it.
I am writing simpler to-do lists these days also. Little paper notes (how old school) in a sweet little notebook that Miriam, from the Netherlands, sent me. I still do most of my note keeping and planning in Evernote but a switch to simpler to-do lists is a nice change.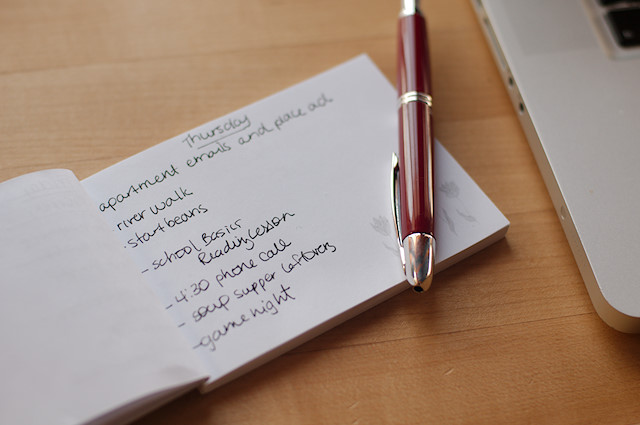 My needs required a new schedule; but the kids' changing needs also demanded a new routine. As they grow their sleep cycles are changing. And everything I've read about teenagers staying up late and getting up late has come to pass in my own home.
Our old schedule was based on a 7:30ish rising time. 7:30 just ain't happening anymore.
I have no problems with the kids staying up late and sleeping in, as long as we can still get our stuff done (throughout the course of the whole day). And get it done without too much angst.
The kids' later bedtime, and subsequent later rising time, was resulting in too much morning angst. I was stressed about getting the kids up by a certain time so we could "do our routine". But the routine was not serving us anymore so it was time to change it.
Our mornings are slower now and I don't have the stress of unrealistic expectations and ill-fitting schedules.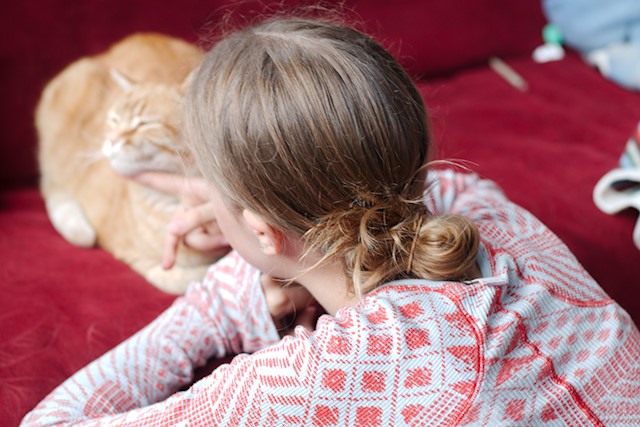 I changed the chore system also so that everyone can work independently and at their own pace. (Chores used to be more shared.) The kids love this change. I had no idea how ready they were for this next level of independence.
So now my mornings go something like this: I get up and putter, start laundry if a load needs washing. Earlier this month I was lighting a fire, though that's starting to change.
Most days I read my Bible and usually try to grab hold of one particular verse that speaks to me and try to carry that with me through the day. I may read my e-mail, I may not. If I feel I might get stressed by reading it, I don't. I'll save it for later in the morning, to read after I've had some creative writing time or taken care of a few household tasks.
I do my writing with not quite the same intensity I used to. I was burning out writing alone in my room (I'm an extrovert). Now I like to sit with the family and be available to chat, but not too much. As it is, the kids are bed for most of this time anyway.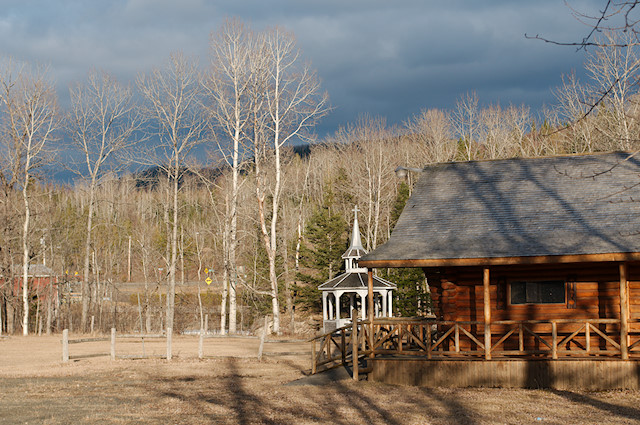 At some point the kids get up and do their thing - breakfast and chores. Mid-morning is when we exercise, the whole fam-damnly. Sometimes together, sometimes on our own.
In between and after exercising I fit in my major homemaking tasks for the day. Early in the week these are food related tasks - menu planning and grocery list stuff. Later in the week my attention turns to cleaning, organizing, home management, or creative projects.
This leaves school stuff for the afternoon. I'm not sure how long this will last. When the weather truly feels like spring we will take a break to revel in the outdoors which usually includes a large dose of science exploration and nature study. And then of course during summer everything is up for negotiation. So we'll see how it all works out.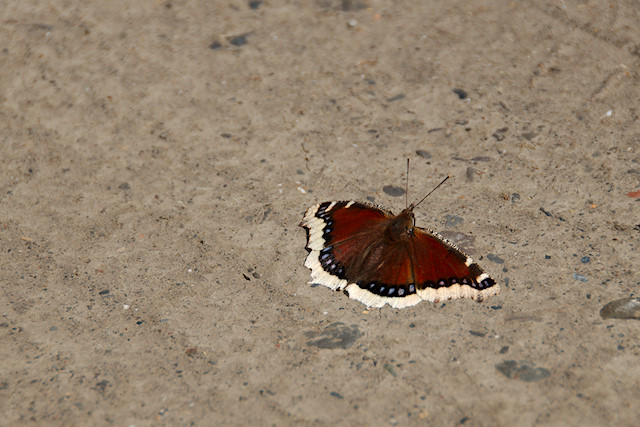 But for now it's working well.
Have you ever switched your school routine from morning to afternoons or vice versa? Or maybe you scatter your school activities through out the whole day? Feel free to share.
Renee Tougas participates in affiliate marketing, including the Amazon Services LLC Associates Program. Whenever you buy something on Amazon from a link you clicked here, I get a (very) small percentage of that sale. See disclosure for further explanation.
Filed Under
Resource Library
You can subscribe to comments on this article using this form.
If you have already commented on this article, you do not need to do this, as you were automatically subscribed.