A Vegan Summer CSA Menu Plan
July 8, 2010
This is our sixth summer as share members at a local csa farm. Our farmer was one of the first in Maine to do this type of farming and has been at it for over 20 years.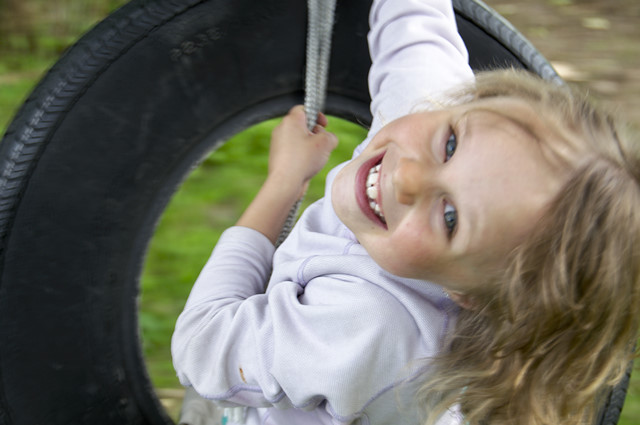 Brienne loves the farm tire swing
CSAs are all the rage now-a-days (with good reason). Here's a few articles I've come across in just the past month:
Do you have a csa post to recommend? Please leave a link in comments.
Different farms operate pick ups with their own unique twists but one thing vegatable csa farms have in common is produce offered according to season. For example in Maine we don't get tomatoes, peppers or melons in early July but do get peas, lettuce, chard and lots of other goodies.
During the summer months our farm prepares boxes each week with a variety of just-harvested produce. Members don't get to pick and choose what they take home.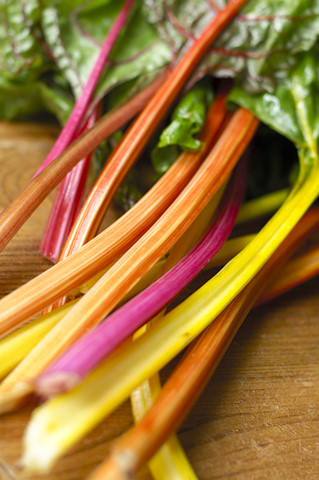 this is exactly the color of the chard,
no photo editing, it's called "Bright Lights" for a reason!
Learning to cook according to the local, seasonal harvest is challenging. I'll say right now we don't only eat locally produced food. We would have a very limited diet if we did. This makes me feel less-than-granola/crunchy (we don't eat only organic either by the way) at times and definitely out of touch with the hip locovore movement. But we are committed to a mostly plant based diet and if we were to eat only local we'd be eating either a lot of meat or a lot of cabbage and as it is we eat cabbage, of one sort or another, several times a week!
Most of our vegetables this time of the year come from the farm and some from the farmers market but we still buy out of state fruits and veggies from a favorite produce stand. Having got that non-locovore confession out of the way I feel I can proceed with telling you how I menu plan for summer's seasonal veggies.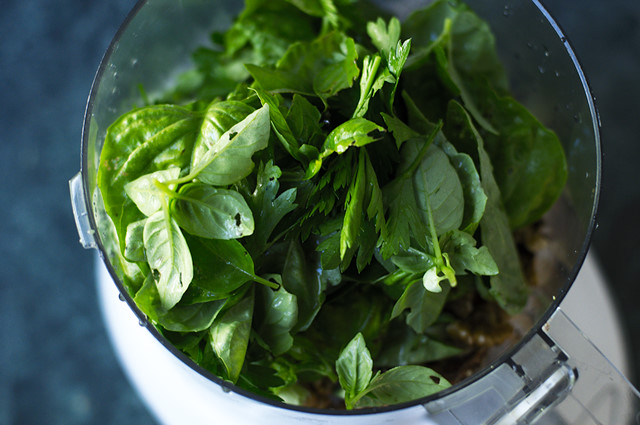 Menu Planning Basics
My basic meal planning strategy, regardless the time year is to plan our supper meals around main vegetables, beans or starches and fill in the spaces with other vegetables, beans and starches.
I am not a gourmet chef but I have been cooking whole food, vegan meals for several years now and can, with a certain amount of ease, whip up tasty meals from our bulk beans, grains, a few condiments and whatever veggies happen to be in the fridge.
Normal Menu Planning:
Read recipes, choose what to make and write out a menu. Check your fridge, freezer and pantry to use up things on hand.
Make a grocery list from your menu.
Buy groceries.
Cook the meals.
CSA Menu Planning:
Pick up veggies from farm. While you're there feed the chickens, pet the goats, chat with other members. Ohh & ahh at the gorgeous vegetables and be so thankful for your farmer who grew it for you.
Come home and figure out what the heck you're going to do with all this wierd stuff. Beet greens? Garlic scapes? Daikon? Parsnips?
For most months of the year I use a modified version of the straight forward menu-list-groceries-cook planning strategy. I buy lots in bulk from buying clubs so I can often skip step 3 and "shop" from our bulk supplies, however I do buy copious amounts of fresh produce each week. But for these next four months I shift into csa menu planning mode which in years past has left me feeling a little frazzled.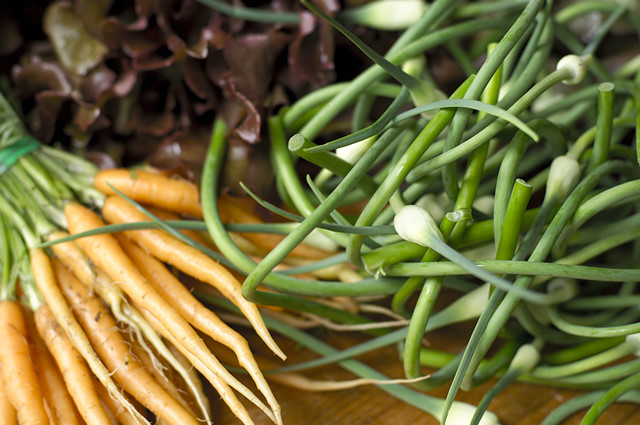 A Weekly Menu Plan
This year I finally decided to make the unknown (exactly what veggies will I be getting this week?) a little bit easier by determining a set menu plan each week that I just "plug" the vegetables into.
Monday:  Pasta. This is my recovery day from our busy weekends. I used to do a lot of meal and house work this day but we recently made Monday a crash day. Pasta is the main thing for the supper meal with the addition of maybe beans and whatever veggies are on hand or from the freezer. One example is empty fridge pasta. Other ideas are pasta salad, pasta primavera, pasta with greens or thai peanut sauce noodles with shredded cabbage and carrots.
Tuesday:  Potatoes. This is similar to pasta night but with potatoes as the base. I have mixed most any veggie (except lettuce) with potatoes. On colder nights we might have mashed taters with cabbage or other such greens (kale, collards). Hot days we eat cold potato and vegetable salads with lemon tahini dressings and sliced olives. Another option is baked potatoes with bean, tomato & veggie toppings.
Wednesday: Soup, Casserole, Patties or Wraps. Tuesday and Wednesday I have some time to pull together something nicer for Wednesday supper. We eat a lot of easy, one pot meals but this is the night I make an effort to prepare a nice one pot meal. If I'm running short on time I can pull together a hearty veggie soup with my eyes closed, otherwise I might take extra time and make veggie patties which are like burger patties only filled with healthy grains, seeds, vegetables and/or beans. Another favorite is brown rice or whole grain corn tortillas with toppings.
Thursday:  Beans. We eat a lot of beans at our house. Our kids have been eating them for years and don't think anything of eating a bowl of beans, with some veggies of course, for supper. Thursday is our farm day. I cook a large pot of beans earlier in the day and then add fresh veggies from the farm pick up. Alternately, if it's cooler day we might have baked beans with sauteed garlic greens.
Friday: Stir fry & Rice. Each season provides interesting veggies for stir fry and during the summer season this is definitely true. This could be asian inspired or it might take on a mexican cumin/salsa flavor depending on the veggies. Making stir fries with fresh picked greens is especially delightful.
Saturday & Sunday: I don't plan too much in advance. After hiking we almost always eat out or maybe have easy pizza at home. The other night I'll ask the family for ideas or try to use up something in the fridge.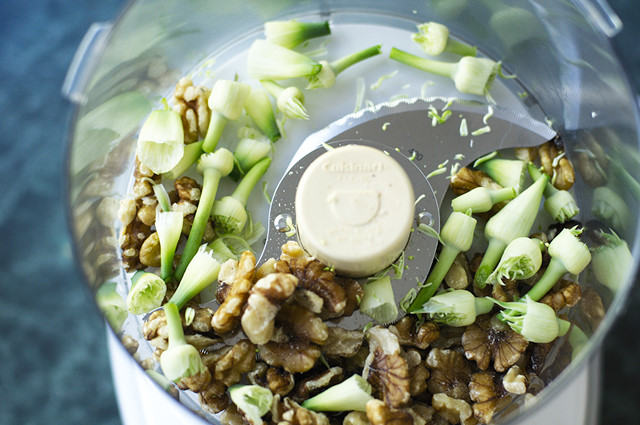 A Sample Menu
Last week's farm pick up we received chinese cabbage, carrots (thinnings), garlic scapes, lettuce, parsley, shell peas, snap peas, scallions, swiss chard and pyo herbs. This is a sample menu, roughly based on what my family ate this past week, showing how you could use these seasonal veggies. Our pick up day is Thursday so my menu plan starts that day.
Thursday - Garbanzo Bean Pesto Salad. Veggies used: shell peas, garlic scapes, parsley, scallions and pyo basil.
Friday - Chinese Cabbage Stir Fry. Veggies used: chinese cabbage, garlic scapes, snap peas and scallions
Saturday - Wraps with fresh veggies, marinated tofu, beans and salsa. Veggies used: lettuce, scallions
Sunday - Supper out
Monday - Sesame Noodles w/ Garbanzo Bean. Veggies used: chinese cabbage, peas, garlic scapes, scallions
Tuesday - Swiss Chard Potato Salad. Veggies used: carrots, parsley, Swiss chard
Wednesday - Vegetable & Tofu Lasagna, loosely based on this recipe. Veggies used: none from the farm but kale from our garden.
To each of these meals I often added other out of season vegetables, ie: tomatoes, mushrooms, onions, avocado etc.. The lettuce was eaten for lunches in our salads as were any veggies that didn't get cooked for supper. Peas were also eaten as snacks.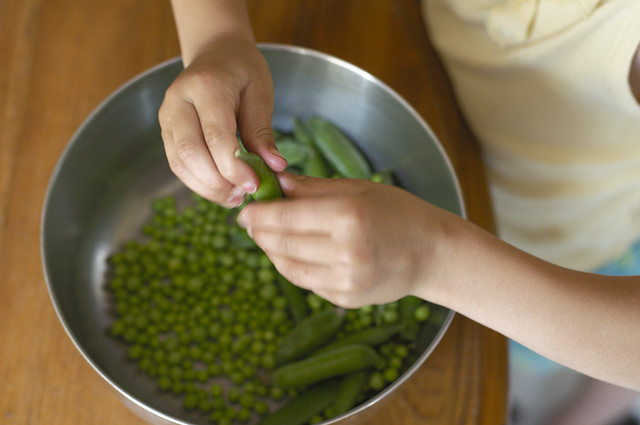 For more one pot meal planning ideas, see One Pot Wonders.
How do you menu plan around seasonal veggies?
Renee Tougas participates in affiliate marketing, including the Amazon Services LLC Associates Program. Whenever you buy something on Amazon from a link you clicked here, I get a (very) small percentage of that sale. See disclosure for further explanation.
Filed Under
Part of Series
Resource Library
You can subscribe to comments on this article using this form.
If you have already commented on this article, you do not need to do this, as you were automatically subscribed.