A softer & greener "time of the month"
April 16, 2009
Menstrual Cups
For about one year now I've been using a menstrual cup during my period. It took me the longest time to figure out these things even existed, which is why I'm writing about it. The more women who know about this, the better.
I'm not sure what originally tipped me off that there were greener options to the usual disposable pads and tampons. I think I started questioning it when I read something (don't ask me what or where) about chemicals/bleaching agents in tampons. I never did use those much anyway since having babies but I wondered what the environmentally friendly and body-safe alternatives were.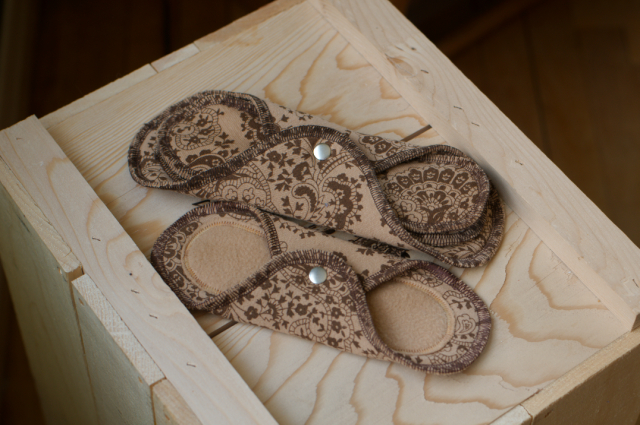 This led me initially to purchase A Keeper. You can purchase them directly from the website, I found mine at the local health food store. I figured with a 3 month guarantee I couldn't lose.
In the beginning using The Keeper was like the intial stage of breastfeeding my first baby. I knew I wanted to do this but it sure wasn't easy!
That area of my body still seems like such a mystery to me, even after natural childbirth of 3 kiddos and the you-know-what that makes the babies! Figuring out how exactly to fold, insert and position the cup was frustrating and at times humorous. But even after I mostly figured it out I was still leaking and needed pads for back up. Also near the end of my period, or sometimes at night, I prefer a pad.
Enter the cloth pads...
Cloth Menstrual Pads
For a few months while adjusting to the cup I kept using disposable pads. I started buying Seventh Generation Chlorine Free maxis (does anyone know why they're called maxis??) so I wouldn't be exposing myself to bleach derived dioxins.
In the meantime I started researching, yet again. Anyone else feel like all we do in this modern, toxic world is research!! It takes me a long time to decide on purchases so I kept putting off buying cloth pads, partly because I wanted to see and feel them before purchasing. I also couldn't find any made locally, even at Common Ground Fair.
So when I found them at a natural/hippy/crunchy store on our trip to Canada (handmade locally) I picked up a couple to get me started. Because we hang dry all our laundry it takes me longer to dry pads so I discovered I needed a couple more.
My second set I purchased from Phreaky Boutique via her Etsy shop.
All together this is the whole kit and kaboodle that I own:
I dare you to say that fast 5 times!
One extra large (overnight-style) pad.
Cotton/flannel mix.
One pantyliner with 2 thin inserts and 1 double padded insert.
Cotton/flannel mix.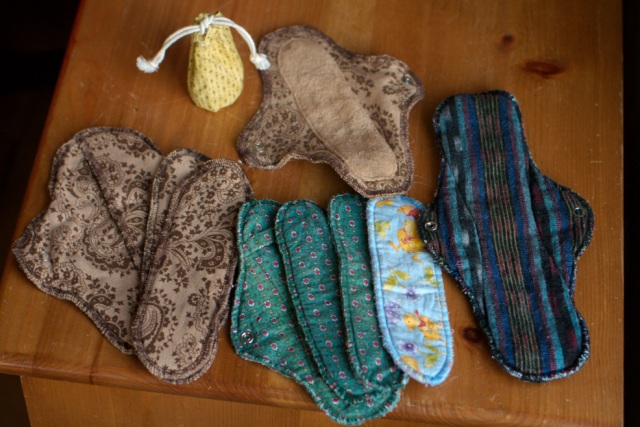 General Notes about Menstruation
Since adopting a whole foods, plant based diet (we eat some animal products but not often) I don't experience the usual PMS symptoms. It's hard to say if this is due to having babies or the diet change since we changed our diet during my pregnancy with baby no. 2 (8 yrs ago). I personally think it's the diet since I know many women who still have menstrual pains & heavy periods after child bearing.
I never really know when my period is coming since I don't keep track. One day I'll get kind of emotional and teary, and every month without fail I wonder what's wrong with me when this happens. Then sure enough the next day my period starts - no cramps, no bloating, no pain and suffering - just a few tears. My periods are also relatively light but they never were particularly heavy.
Regardless, I don't jump for joy when I get my period but since using the cloth pads I enjoy my period more. Before you think I'm crazy consider this: having cloth next to your skin is vast improvement over paper, really now who wants to wear paper against their most intimate body parts??
Resources
If you're still reading this post you may want to investigate further. Or maybe everybody's already using cloth and cups and I'm just really late to the game!
For the crafty folks who want to "sew their own".
This woman made them for an African orphanage and a set for her daughter.
Simple, Green, Frugal Co-Op comes through again with a great article - more information on cleaning and care.
My SIL shares her experience and a couple resources.
My friend Naomi shares a lots of research and information on using a menstrual cup.
Keeper of the Home shares her experience and lists resources.
Please feel free to ask any questions or post comments about your own experiences.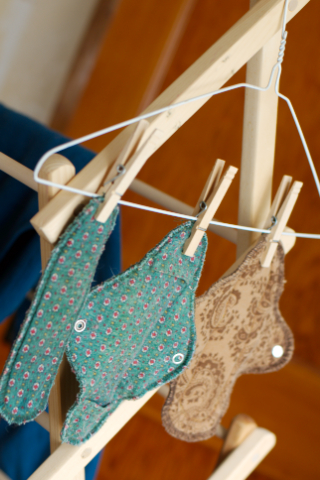 Since originally publishing this post four years ago I have bought a second set of pads for my oldest daughter from Eco Fab Mama. We are very pleased with the quality and construction of those pads. My five year old pads are still going strong.
Also, I now use an online "period tracker" to keep track of my period so I don't have surprises while traveling, camping, etc. I get a friendly e-mail reminder, along with feeling a wee bit emotional, to notify me to expect my period in the next couple days. Funny, but true.
Filed Under
Resource Library
You can subscribe to comments on this article using this form.
If you have already commented on this article, you do not need to do this, as you were automatically subscribed.