A snowy Sunday
January 19, 2009
I don't usually blog on our family day which is Saturday or Sunday depending on the weekend. Our day for outdoors and adventure. The day we focus on doing activity together.
Today was that day but I couldn't help but share the photos from the day. Not because they'll mean much to you but because they mean something to me. I actually print (every 6 months or so) my old blog posts and put them in our family's memory binder/photo album. I'm hoping to devise a new system to streamline this process but I think it involves learning CSS and this scares me. All that to say... I wanted to post this so we'd remember it. You can take it or leave it.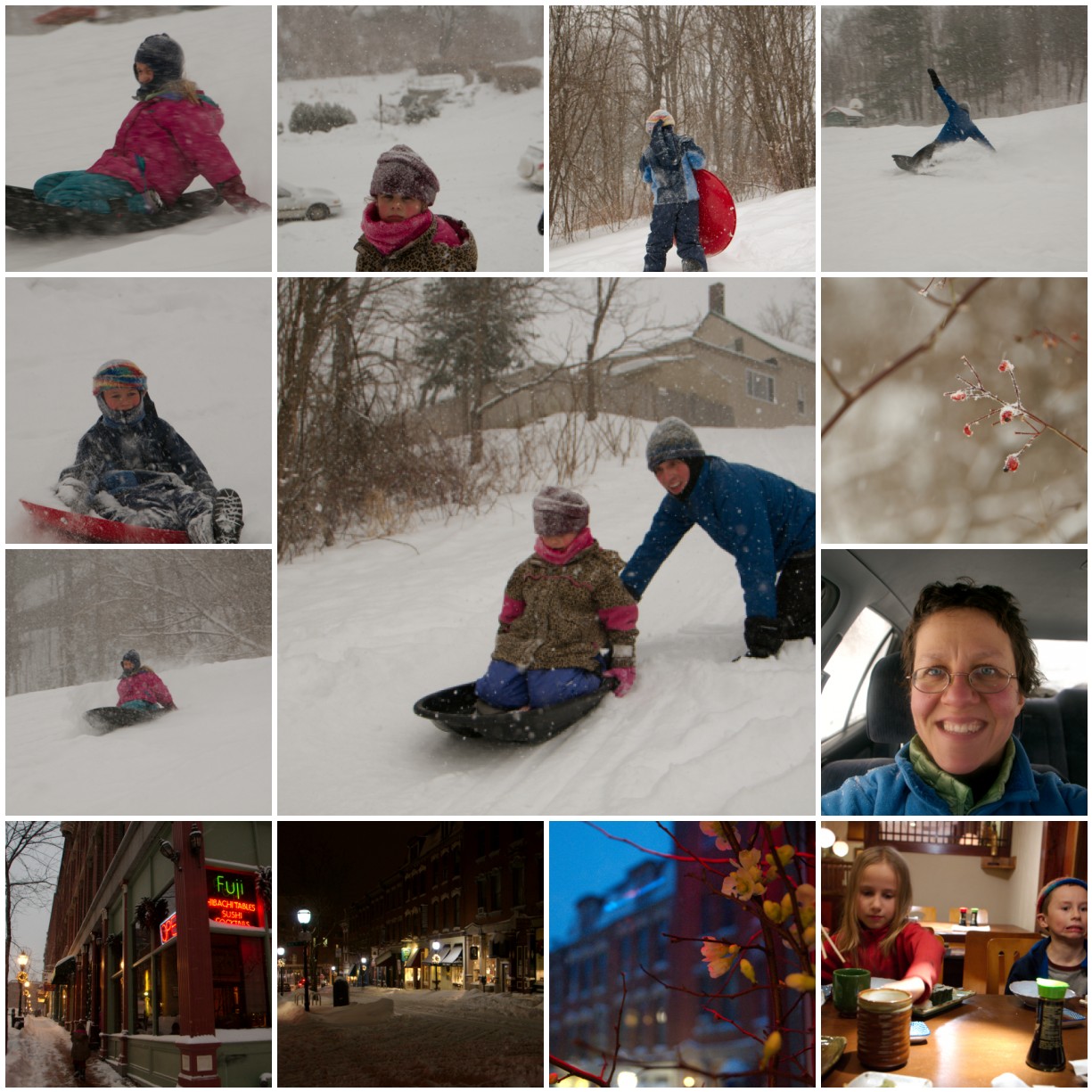 It was a snowstorm day. Perfect for a morning of sledding. Not so perfect for making a trip out of town, which we did in the afternoon. But Damien's a good driver and we were motivated by some much needed clothing returns. I'm winter-bootless right now because we returned my 2 months old boots as they were coming apart - and they were good quality (or so we thought).
Earlier this week we devised this weekend plan to sled in the morning and run to the "city" in the afternoon with supper out at our favorite restaurant, the Japanese place we've been faithfully eating at for 6 1/2 years. This restaurant is full of memories. Taking newborn Brienne when she was just days old, birthdays and anniversaries. Special meals with visiting family, an occasional "just because" splurge.
We ordered our favorites, enjoyed the supper together and were thankful the snow stopped in time for our drive home along the dark interstate. At home we played SET with the older two, the "baby" fell asleep on the drive.
The kids are now in bed and the day's coming to a close. Time to snuggle with my husband. Thankful for snow, my beautiful family, our day together, Japanese food, safe traveling, and so so many good memories.
Renee Tougas participates in affiliate marketing, including the Amazon Services LLC Associates Program. Whenever you buy something on Amazon from a link you clicked here, I get a (very) small percentage of that sale. See disclosure for further explanation.
You can subscribe to comments on this article using this form.
If you have already commented on this article, you do not need to do this, as you were automatically subscribed.