A Simple Salad Spinner
June 18, 2012
As promised, I have a little video for you this morning. Video is something I'd like to get more experienced with.
I love talking communicating and interacting with people. And I have so much I want to share, video seems to work well for this but I need more practice so I can speed up the workflow. 
In this video I show you a simple trick I've been using this month while living in Montréal - how I spin our lettuce dry without a salad spinner. This is not life changing knowledge, but it's fun and practical.
If you've watched the video you know I have a new e-book coming out about eating large salads, specifically eating a meal sized salad as a regular part of your diet.
For years, on and off, we've been eating salad, as the meal, for our lunch. In this last year though we got serious about our salad and we now consistently eat a salad meal nearly every day. This e-book is about how we went from sandwichs to salads, making it work in your own life and of course, dressing recipes. Because what's a salad without a good dressing?
What makes these recipes unique though is that they are whole food. 
No oil, a miniscule amount of refined sweetners (there's one tablespoon of maple syrup in one). Made with ingredients you can source where you live, ie: no plum or fig vinegars. 
These are recipes for vibrant health and I created them with your family in mind. It's no joke when I say I'm excited about writing and releasing this e-book. Something as simple as switching one meal a day to a salad (How the heck do you do that? Ah, I wrote a book to answer that!) has huge health benefits. I want to share that with you.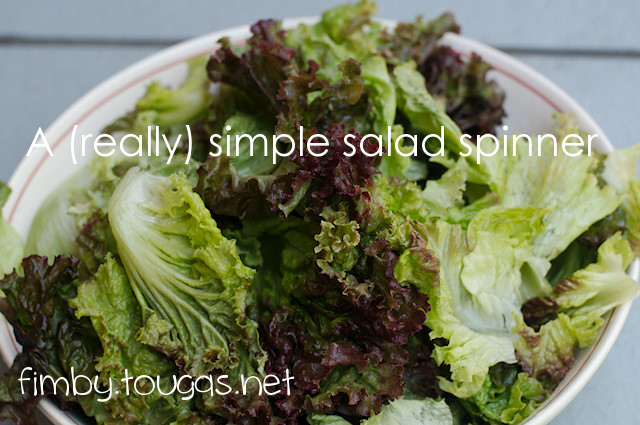 Back to the salad spinner for a moment. I have to give credit where credit is due for where I first saw this idea. Two years ago I had a brief e-mail converstaion with Rachel Meeks of Small Notebook about salad spinners. Mine died and I think I might have mentioned it on her blog in comments. I was not keen to add more plastic to my kitchen.
Rachel kindly directed me to Gadget-Free Salad Spinner on Katie's blog. (I had the privilege of meeting Katie last summer and I even "flew" her plane!)
I tried the idea but it didn't work well for me. There was water all over the kitchen. I wrote Rachel back and said:
Well I tried it and it was good in theory... but left water droplets all over the fridge, the table, the floor. When Damien saw me he insisted "we really must buy a spinner, want me to look on-line?" 
We bought a replacement plastic salad spinner that I use almost every day - when I'm living at home. But like I share in this video, I'm not living at home right now, I'm living in a furnished apartment rental this month sans salad spinner. 
Katie's idea came back to me and I tried it again, this time with a cloth bag and outside. Works like a charm.
PS. If you're wondering why I'm writing on my photos, I'm experimenting with making certain posts more "pin-able" at Pinterest. If you want to pin this post on one of your boards use the Pinterest button below and then choose the lettuce photo. It makes it clear what the pin is about. I've noticed other bloggers doing this so I'm trying it. Don't worry, not every post will have a photo like that, I find them kind of annoying - just show me a pretty photo. 
Also, if you notice something awry at FIMBY - page links not working, commenting giving you grief, whatever - I would love to hear about it. I appreciate constructive feedback so I can make your experience here more enjoyable. 
Renee Tougas participates in affiliate marketing, including the Amazon Services LLC Associates Program. Whenever you buy something on Amazon from a link you clicked here, I get a (very) small percentage of that sale. See disclosure for further explanation.
You can subscribe to comments on this article using this form.
If you have already commented on this article, you do not need to do this, as you were automatically subscribed.