A bare-bones homeschool library and reluctant readers
August 28, 2009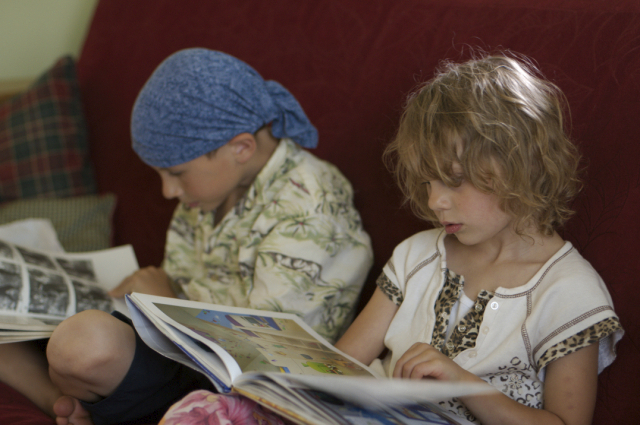 A homeschool library
Earlier this summer I was asked the following:
Since you keep your at home book collection small, I'd love to hear about which books you do think are worth owning vs. borrowing.
People will disagree with me on this but I don't think it's worth owning much, that's what the public library is for. We have 2 not-so-big bookshelves and don't intend to buy more. Children's books we do own:
One shelf of hard covered, modern, visually appealing reference materials - the human body, geography, dictionary, animals, history, oceans. You get the idea. Usborne, Kingfisher, DK publishing type. I bought most of these through Scholastic book sales. Scholastic has a warehouse in Maine and a few times a year they have awesome sales. I've never spent more than $3 for a brand-new book at these events.
Softcover science and Magic School Bus type (1/2 shelf), picture books and little kid stories (1/2 shelf). All of these were either gifts, hand-me-downs or book sale finds. As the kid's outgrow them or interests change we get rid of them.
One third of a shelf for hard and soft cover craft & science experiment books. I've picked up the experiment books at bookstore sales and let the kids attempt the projects themselves. The craft books I've mostly bought new since for me they are harder to find at sales. The kids also peruse and attempt these projects mostly independently.
One shelf devoted to series & chapter books, American Girl, Little House and such. I will keep them till all the kids have outgrown them. Another shelf for animal stories, classics and award winners. I have a mental list of books that I look for at sales, used book shops and such. We'll keep these till all the kiddos have outgrown them. Right now only Celine has read them.
One coffee table sized drawer filled with nature study guide books, like the type talked about in Great Books for an Outdoors Education. 
Our routine is to visit the library each week and on average check out 20 - 30 books (between 3 children) each week. Easy readers, graphic novels, picture books, historical fiction and non-fiction, general fiction and non-fiction, reference materials, chapter books, poetry, books on cd, and magazines. Reading is how we homeschool. Which brings me to my next point...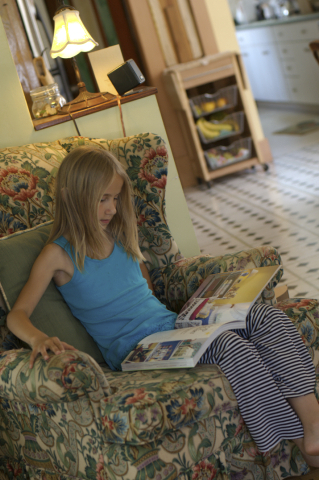 Reluctant Readers
Your 8 year old doesn't read yet? please tell me more about that...my seven year old isn't really reading either (well, simple words only) and i've been concerned...it's good to know we're not freaks because our kids aren't reading at 4...
I really don't have a lot of wisdom to share. My first born was reading around 6 and at 10 has devoured more books than I can possibly count. My challenge with her is trying to keep her interested in the children's room chapter books when her reading level is young adult (but she's not ready for the content in those books).
Our son, number two, is 8.5 and only recently read his first easy reader book cover to cover. Damien taught him and our youngest, almost 7, to read using Teach Your Child to Read in 100 Easy Lessons last year. But neither of them is very motivated to go much beyond that. They can read, they just would rather look at the pictures and listen to me read!
This is something I'm working on right now. I'd like them to become a bit more independent in this area because there is stuff they want to know and if they could read it for themselves it would make my life easier! Our son is starting to experience frustration with only understanding pictures and not words on the page. I'm hoping this will the be motivation he needs to apply himself to practicing.
We've tried "read 3 easy readers out loud and get a reward" approach. They both stopped after the 1st book (The Foot Book by Dr. Suess) and these two are usually motivated by prizes. If anyone has any ideas I'd love to hear them. I'm not worried or anxious about this because I KNOW they are intelligent, articulate and Laurent especially is a good communicator but so much more of the world would open up to them if they would choose to read more. Having a first born who is voracious reader set the bar kind of high I guess.
Updates
With children in the teen and pre-teen years, we continue to keep a small hardcopy library, but our digital acquisitions are many and varied. (Oh, and we have virtually no local library to speak of in our new community, which I will write about someday I'm sure.) 
You can read more about how we keep books in small spaces and some thoughts on digital resources in the following posts:
So it turns out our son is dyslexic. He wasn't a reluctant reader, he was a "challenged" reader. We just couldn't tell the difference in the early years. You can read more about that discovery in this post.
Renee Tougas participates in affiliate marketing, including the Amazon Services LLC Associates Program. Whenever you buy something on Amazon from a link you clicked here, I get a (very) small percentage of that sale. See disclosure for further explanation.
Filed Under
Resource Library
You can subscribe to comments on this article using this form.
If you have already commented on this article, you do not need to do this, as you were automatically subscribed.