It's all good ~ Chocolate Truffles
January 26, 2009
We spent Saturday night with friends and during the visit our friend Myke asked me to start posting more recipes.
So I told him, like a good friend would, fat chance. Although I have a Vegan Kitchen tag I rarely post recipes for a couple reasons.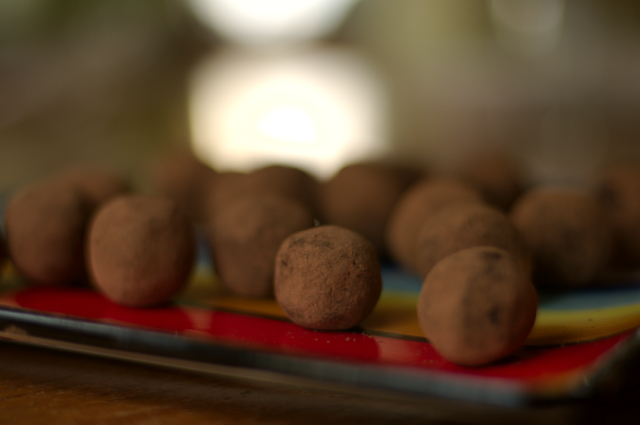 Most of our meals are one-pot wonders that "creatively" use farm veggies and beans. Come suppertime I "take what I've got, throw in the pot" (Stone Soup anyone?) and I somehow forget to record what I'm doing while I'm teaching one kid to cook, helping another spell on the computer and playing UNO at the same time. Yes, I seriously have done all these, at the same time, during supper prep!
I will not post a recipe without a nice photo. Suppertime, when everyone is hungry and the sun is set and the table is cast in the lovely glow of compact fluorescent light bulbs is photographically wrong, all wrong.
For all these reasons you should all be eternally grateful for today's rockin' recipe, Chocolate Truffles. I made these yesterday afternoon for a special Sunday dessert. It was a treat for my family (I rarely make dessert) but especially for my husband who has incredible self discipline and doesn't eat sugar and all kinds of other bad stuff. These were for you baby, glad you loved them!
And to my friend Myke: technically these are meat free but these probably weren't what you had in mind when you requested more recipes. Check out Fatfree Vegan Kitchen for a lot of incredibly tasty and beautifully photography vegetable based recipes.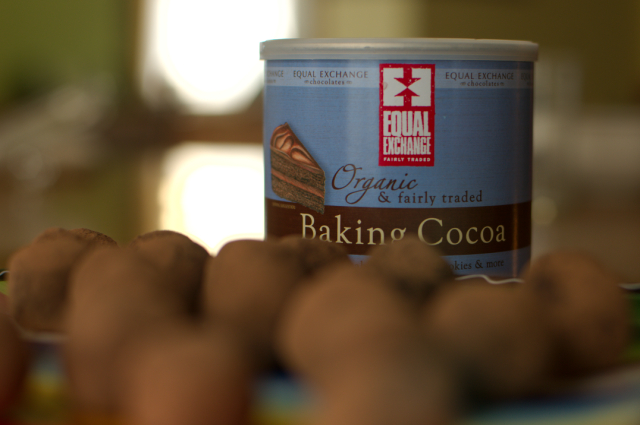 All That's Good Chocolate Truffles
Ingredients:
1/2 cup pitted dates (or other dried fruit)
3/4 cup almonds
1/4 tahini
1/4 cup soymilk
1/2 cup plus a bit fair trade cocoa
1/2 cup unsweetened shredded coconut
1 - 2 tsp almond extract
shot of rum or other such libations, optional
Directions:
In a food processor chop dried fruit and almonds into a fine chunky meal.
Pour in tahini and milk and mix well.
Add 1/2 cup cocoa and all remaining ingredients. Mix well, scrapping the sides of the bowl often.
Roll small spoon sized balls in the palm of your hands (don't lick!) then roll balls in the bit of extra cocoa.
Set aside in really chilly kitchen corner or refrigerate for an hour to help balls set.
Notes:
I added a couple used-up vanilla beans from my homemade vanilla extract. Because they had been sitting in vodka for months most of the flavor was gone but they added a nice subtle flavor. I didn't use rum, none in the house, but afterwards thought this would be a nice touch, especially for a holiday dessert.
Instead of balls you could alternately press these into a small dish, chill and cut into squares - which we do for hiking. In which case we call them
chocolate chews
.
Renee Tougas participates in affiliate marketing, including the Amazon Services LLC Associates Program. Whenever you buy something on Amazon from a link you clicked here, I get a (very) small percentage of that sale. See disclosure for further explanation.
You can subscribe to comments on this article using this form.
If you have already commented on this article, you do not need to do this, as you were automatically subscribed.