My mother makes Salsa Verde ~ Cooking and Preserving the Harvest
October 1, 2009
My parents are back in Nova Scotia and so we're ditching morning school for the rest of the week to adjust to life without Nana & Papa. Our days are filled instead with lots of sewing and lego play; in case you're wondering where that next homeschool post is... it's coming.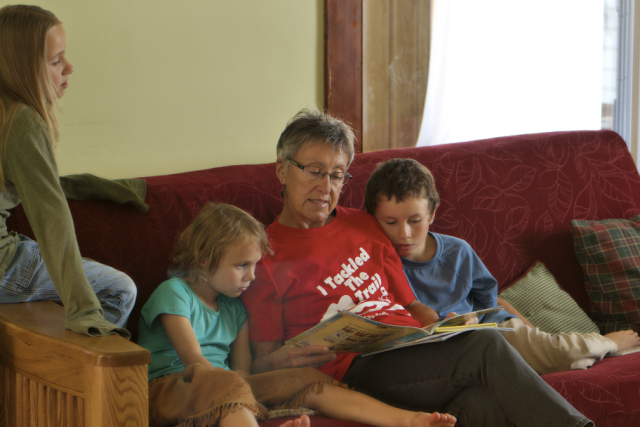 I love having my parents visit. I love sharing my life with both my parents but mom is my best friend (next to Damien) and having her around the house is such a pleasure. She is a busy bee and most of my inspiration for home making, mothering, and hospitality comes from her. When she visits she does laundry (4 loads washed, hung and folded in one day!), plays with the kiddos and even cooks in my kitchen.
This woman, my mom (sporting my proud, beaming face) is THE best. And I haven't even mentioned that she's a writer, supports her local farms, is getting certified in nutrition, mows the lawn, grows beautiful flower gardens, sews, swims, cycles, kayaks and runs (she does this competitively and wins). Yes, she is all that and more. She's MY Mom!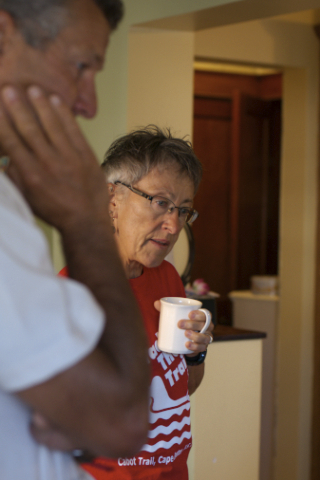 But, this post is supposed to be about the salsa verde she cooked up while visiting. I'm a one-pot wonder kind of cook. I prepare a pot of soup for supper and call it good. My mom is a gourmet cook (Christmas at their house is spectacular), she has both the resources and time to do so, and prepares some of the most amazing food. Appetizers, desserts, main course, soup and the wine to match - she knows it all.
All of that to say this; I wouldn't normally make a salsa to eat with supper. I'm too busy cooking supper! But my mom would and she did during her visit.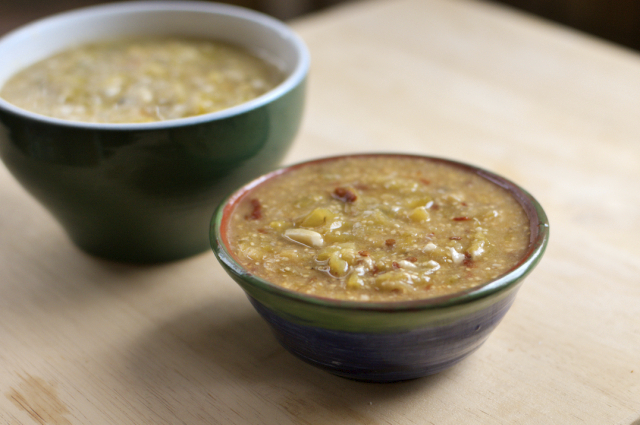 green bowl on left is mild version for kiddos - sans chipotle peppers

So without further ado here are the general directions for making Dry-Roasted Garlic Salsa Verde (I made that name up, mom called it tomatillo salsa).
Salsa Verde Recipe
1. Gather lots of tomatillos and garlic, one or two chipotle peppers (in adobo sauce or re-constitute dried ones), one lime & bit of salt.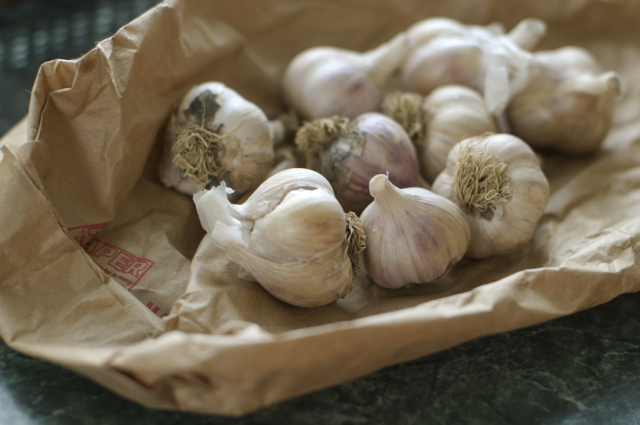 2. Remove tomatillo husks and broil in oven till soft, watch so they don't burn too much. Peel the broiled skin & discard, chop and put in large bowl.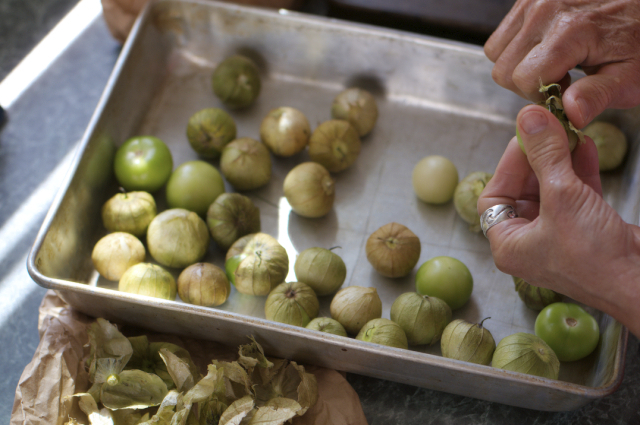 3. Remove most of the outer skins of the garlic but not too much. Dry roast on a skillet till they look like this. My mom notes that she took too much skin off. Remove skins and chop the garlic. Add to the tomatillos.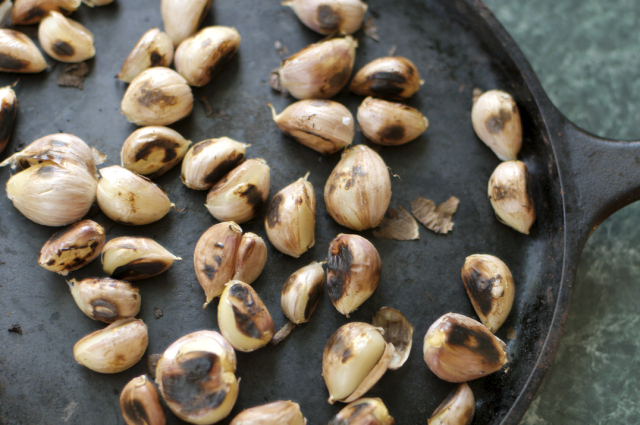 4. Add chopped chipotle peppers, juice from one lime and salt to taste.
(Recipe adapted from a version my parents were served while visiting friends on Cape Breton Island.)
Preserving and Cooking the Harvest
Tomatoes
I bought 25 lbs of local tomatoes this week ($10 at Blackies for all you locals) and I froze most of them but today I'm making a damn fine spaghetti sauce from Simple Savvy. The smell of it simmering, while I sit here and eat my three sisters soup for lunch, IS the smell of the fall harvest! I added a bit of red wine (care of my parent's visit) and italian seasoning to mine. I plan to jar and freeze whatever we don't eat tonight for supper. 
Dehydrating
While the tomato sauce simmers, my dehydrator is humming away making peach-pear fruit bark for my guys' huge hike this weekend. I LOVE my dehydrator. I use it for preserving but we mostly use it to prepare camp and trail food and to use up fruit and veggies that are past prime - still edible but not fresh. I highly recommend one and even if you don't have a dehydrator here's a couple dehydrating posts that I think you'll find useful.
For more harvest talk check out today's edition of Food Roots at Shannon's lovely Nourishing Days.
Renee Tougas participates in affiliate marketing, including the Amazon Services LLC Associates Program. Whenever you buy something on Amazon from a link you clicked here, I get a (very) small percentage of that sale. See disclosure for further explanation.
You can subscribe to comments on this article using this form.
If you have already commented on this article, you do not need to do this, as you were automatically subscribed.