A Green Revolution
May 12, 2010
Have you noticed that every one is talking about green smoothies these days? Or is it just in my little world where people are whizzing up these healthy cocktails and extolling the virtues of drinking your salad?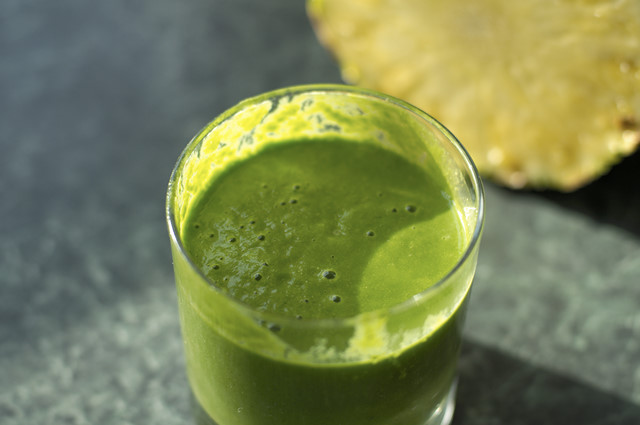 Green smoothies are nothing new for the raw foodie types, but they are a relatively new addition to our menu. Last summer, during my mother-in-law's visit she prepared green smoothies in the afternoons for snack.
Green snacks are one thing but drinking a green breakfast is another! Damien and I have been doing just that for the last month and absolutely loving it. Damien's been wanting to do this for years but I've been stuck in an oatmeal and rice rut. This is a lovely change, especially for this time of year. My body craves greens and new growth. 
The kids have taken sips but have yet to embrace the green-ness (or brown-ness depending on the ingredients) of the experience. Brienne, who least likes vegetables, enjoys these drinks the most - go figure. I am still preparing other breakfasts for the children and I eat a bit of that also. A drink for breakfast, even with nuts added, just doesn't give me enough oomph in the morning. And I should add I drink my coffee right along side with my smoothie.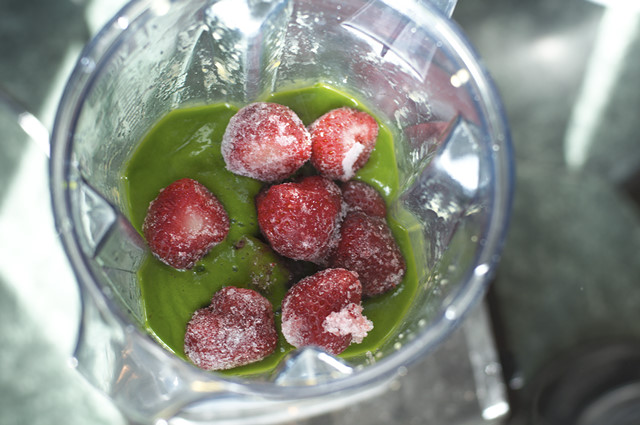 I wish I had better photos of these tasty meals to show you but quite honestly green smoothies are disgusting to look at, especially when you add berries, which we often do. Instead of being bright green, which is lovely in my opinion, they are baby poop brown. Once you get over the appearance though the taste can't be beat. 
I really love starting off the morning this way. I incorporated this morning ritual into my weekend with mom and here she is juicing the fruits to make our morning smoothie. Go mom!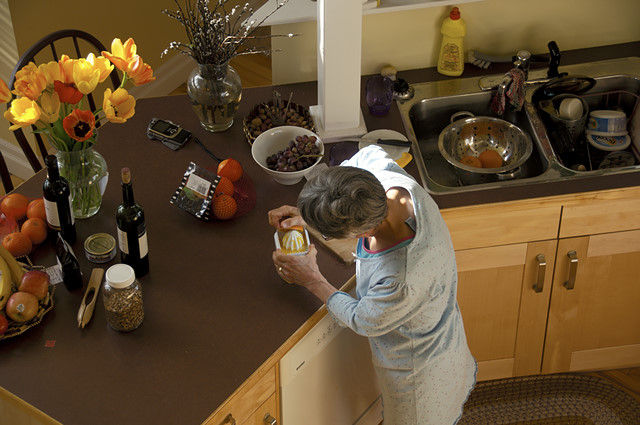 Green Smoothie Recipe
What goes in a green smoothie? Anything you want. We have a Vita Mix (best kitchen investment ever) that can handle nuts and seeds and will blend them up really well so some days we add those also.
This morning's recipe was this:
2 oranges, juiced* 
1/2 grapefruit, juiced
1/2 lemon, juiced
1 banana
8 oz. spinach
handful of frozen strawberries
handful of ice cubes
1 mango
Makes approximately 32 oz. 
*We use the little hand juicer you see below. You could put the whole fruit in, minus the peel, but Damien prefers the texture of juiced fruits better.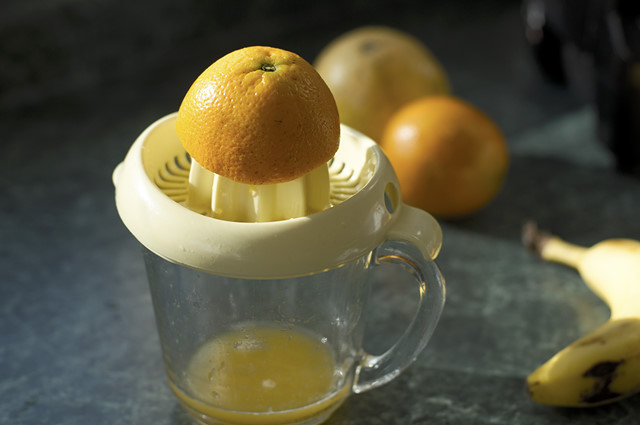 Green Smoothie Resources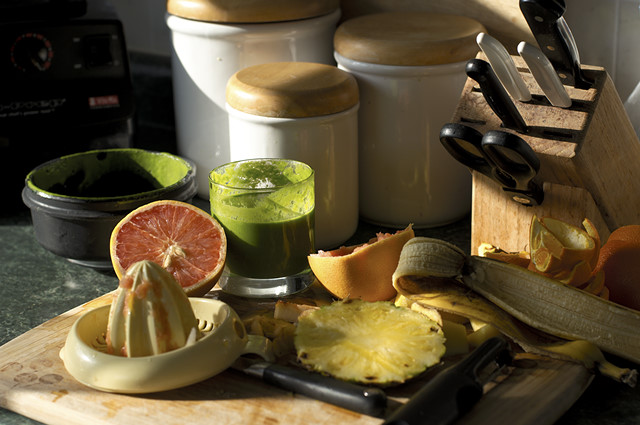 Are you a part of this green revolution? Have a recipe to share? Links to blog posts welcomed and appreciated.
Renee Tougas participates in affiliate marketing, including the Amazon Services LLC Associates Program. Whenever you buy something on Amazon from a link you clicked here, I get a (very) small percentage of that sale. See disclosure for further explanation.
You can subscribe to comments on this article using this form.
If you have already commented on this article, you do not need to do this, as you were automatically subscribed.