The View Around Here ~ The End of August
August 24, 2012
I am in a mild state of shock, as I'm sure many people are, that summer is nearly to an end. When I was actively gardening and my kids were younger, I used to live summer till the middle of September. According to the calendar, that's how long summer really is.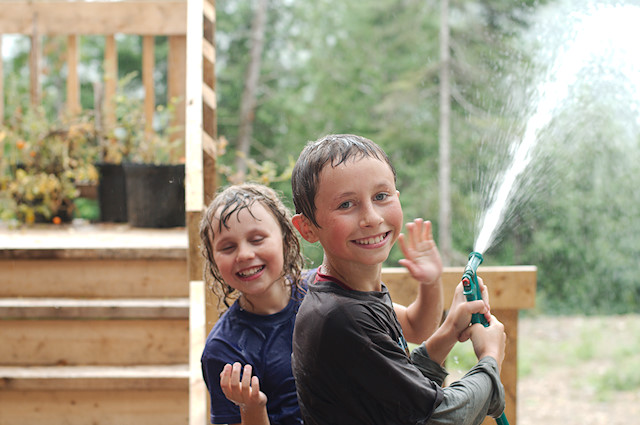 But this year feels different for me. Summer is coming to an end and I am experiencing my seasonal shift melancholy a couple weeks earlier than usual. This is a real pattern in my life, see this post, this post and this post. Same thing, every year.
The season starts to change, I freak out a bit, I plan the heck out of lives (life never goes according to these plans but it's a fun exercise in futility nonetheless), I find an equilibrium, and then I hit my fall stride.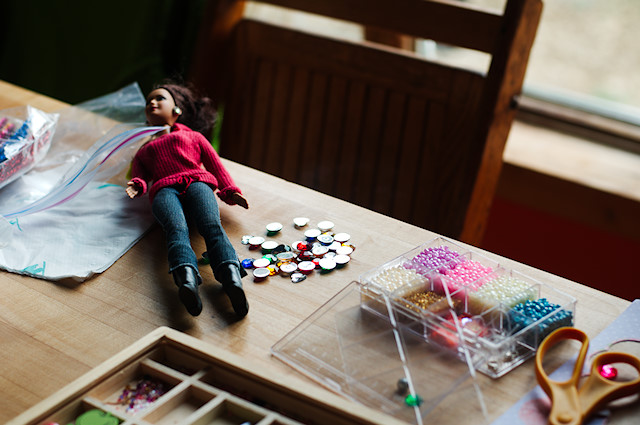 Knowing this about myself and even anticipating this shift to happen sometime early September I've been surprised to experience it this week. It took a couple days to realize what was going on, "what's wrong with me?" Gracious! We're still a full week away from September.
I think one reason I'm experiencing this melancholy a few weeks earlier than usual is that we live in a different place and the summer season is, in fact, shorter here.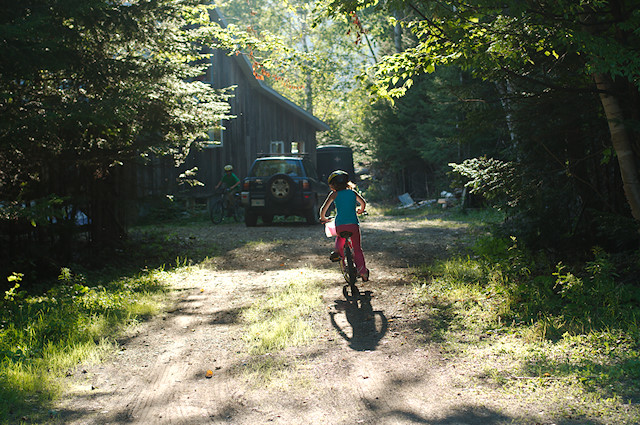 But the main reason for my feelings (I'm guessing) is because of how our summer played out.
Summer started when we went to Montréal and what a wonderful introduction that was! Then summer whizzed by for the first few weeks of July when we moved back to the Gaspé peninsula. In the midst of boxes and renovations we made trips to the river and of course went hiking on the weekends, but mostly we worked hard to settle into our new home.
Nova Scotia was a welcome break from that and a summer vacation as far as the kids were concerned. I happened to release an e-book while there so it was less vacation-y for me, but still very summer-y.
And now we've been back a couple weeks and are finally and truly getting settled in to our house (while still having some renovations done).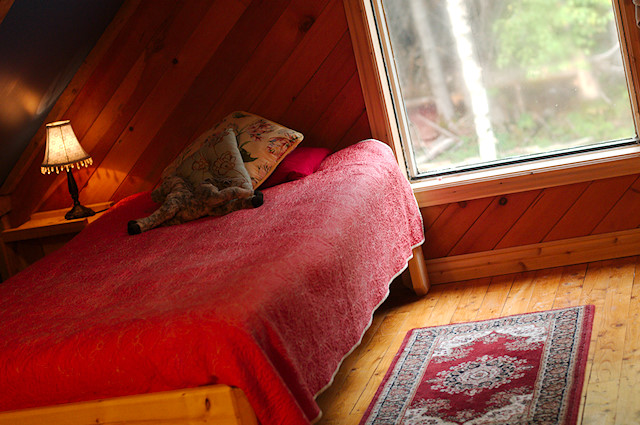 In the midst of all of this we're working at earning a living. In fact, that is really important right now since all this summer travel has eaten up both income earning time and any savings to speak of. Working for ourselves we don't get paid vacation time. This has been a bit of a stress for me throughout the whole summer and that stress is catching up with me.
My dad, not knowing my heart and mind were burdened this way, gave me this pendant when we were in Nova Scotia. Anyone familiar with the gospels knows that this symbol speaks, "God will provide". And that is where I am trying to rest, in God's provision.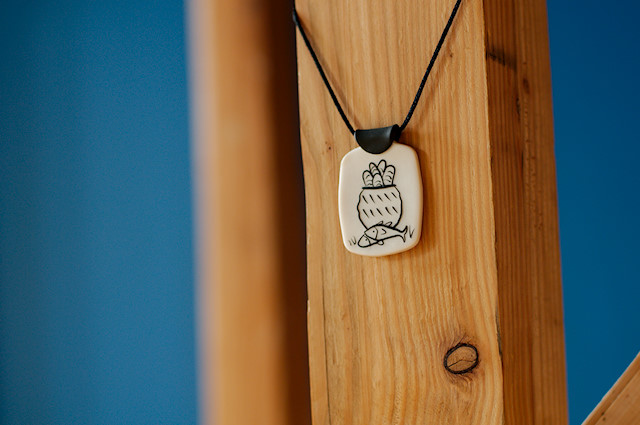 My main goal for this next week coming up is homeschool planning. We've done small pieces throughout the summer (we're year rounders) and of course there is the learning-all-the-time curriculum we follow. But it's time for more direction to our days. And I need to really look at where Céline's interests and passions lie and figure out how to construct her curriculum around that. A tall order.
Now that we're making some progress with Laurent's dyslexia, the elementary curriculum for the younger two is easier on mama's brain. A little bit of math, reading lessons and practice, everyday writing, stories for history, nature study and hands-on science, lots of crafts and time outdoors.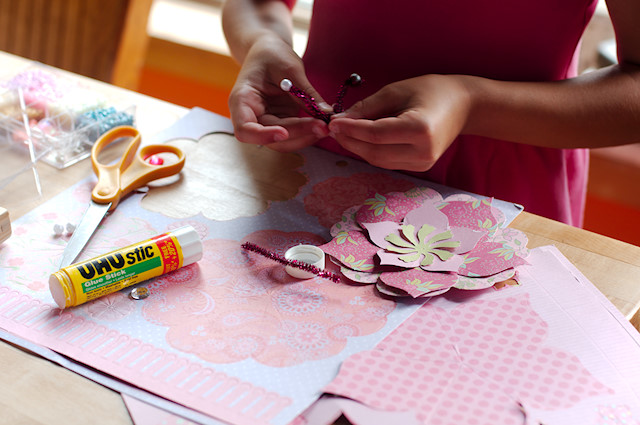 In contrast, I feel Céline's transition to deeper study is as taxing for me as it for Céline, in different ways. It's on my brain a lot these days.
And while we work to keep food on the table, to settle into our home (and oh, how I do need to settle for a while), and to wrap our brains around our kids' needs, summer rolls by around us.
I try, oh I do, to stop and savor these days. But there are times in our life when there is a lot of work to be done and we are observers, more than participants, of the season changing around us. Not gardening makes this observation vs. participation keener than ever.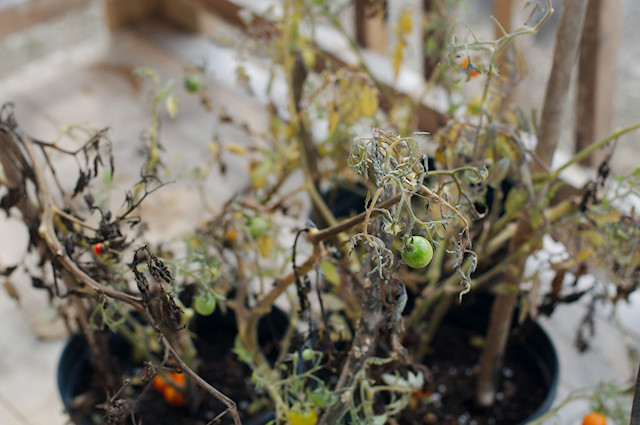 the sad extent of my garden this year
I'm noticing the subtle shifts around me, the light especially is different. Falling through the large front windows at a different slant than it did when we first arrived here.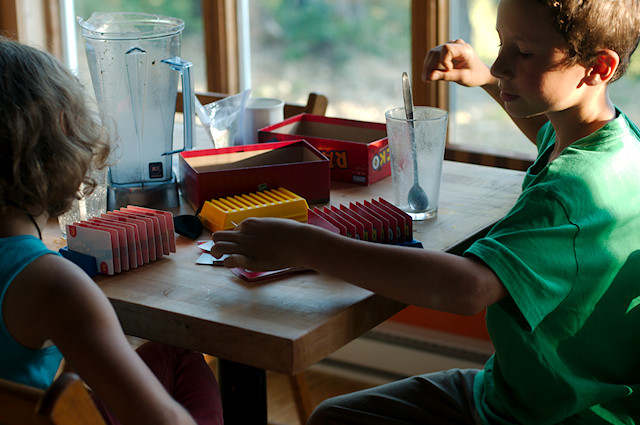 The mornings are cooler and we make plans to get the wood ready to heat our house this winter.
There was that cool, rainy afternoon this week that called for vegetable soup for lunch, instead of salad.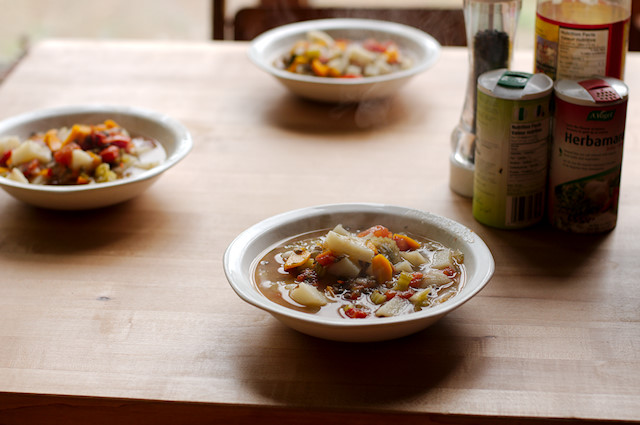 But there are still hot days and lush green leaves. And the farm share is a full, heavy bag of summer's goodness.
And so I here I am, straddling two seasons both on the calendar and in the growth and development of our children. Another in-between.
I'm beginning to think we (people in general and our family specifically) live mostly in-between, try as we might to find solid footing. Not to say there isn't solid ground, there is, just not necessarily where we are looking to find it.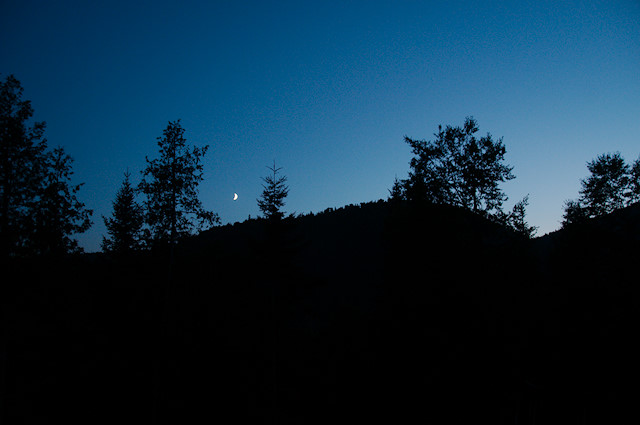 PS. I read a great book this summer that is a nice transition-through-the-seasons read. If You Lived Here, I'd Know Your Name: News from Small-Town Alaska is a great non-fiction book and has it all - life transitions, family transitions, season transitions. I loved this book and highly recommend it.
Also, the Homeschool Omnibus e-book sale ends tomorrow. Take advantage of that great deal now while you can. I know I will be. 
Oh, and I almost forgot (I came to add this later) that Jennifer Sanders at Kidoing is giving away a couple copies of Eat This right now on her blog.
I might be MIA next week here at FIMBY. Maybe, maybe not. Haven't totally decided yet. Sometimes the best way for me to smoothly transition is by unplugging for a time. Also, I will be expending a good deal of my creative and mental energies in planning our school year and curriculum. I may have nothing to give to this space. 
Thanks for reading all these end notes (smile). And have a great weekend.
I'd love to know where you're at. Are you transitioning to fall yet or still living summer, or somewhere in-between?
Renee Tougas participates in affiliate marketing, including the Amazon Services LLC Associates Program. Whenever you buy something on Amazon from a link you clicked here, I get a (very) small percentage of that sale. See disclosure for further explanation.
You can subscribe to comments on this article using this form.
If you have already commented on this article, you do not need to do this, as you were automatically subscribed.