Simplify Your Family Life E-book Sale
April 16, 2012
I really pleased this morning to tell you about a collaborative project I was asked to participate in.
Mandi Ehman from Life Your Way and Corey Allan at Simple Marriage have put together an e-book package.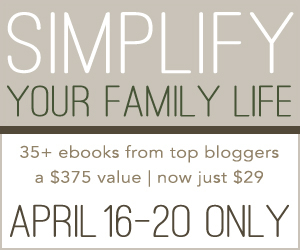 This package is chock full (seriously packed) with e-books on family living. Everything from menu planning to marriage advice, including my e-book Nurturing Creativity. I'm a bit overwhelmed actually at what's included in this sale. Resources I think many of you would be interested in.
Here's a few titles in this sale that immediately caught my eye.
Kitchen & Food. Got Dinner? Quick & Easy Recipes, Real Food Basics, Smart Sweets, Plan It Don't Panic, and The Everything Beans Book (beans are a daily staple in my kitchen). My disclaimer: these are not vegan resources and I would pick and choose carefully before using them personally. But I realize many (most? nearly all?) FIMBY readers are not vegans or even plant-based eaters. I think a large majority of the population would find these e-books helpful.
Blogging & Creative Mompreneur. Some of you have been asking me about blogging. Some of the questions you have are out of my realm and are better addressed by these e-books. How to Have Your Cake and Eat it Too*, Blogger Behave, Your Blogging Business, and 25 Simple Steps to Making Money Blogging. Also, Tap Into Your Unique Creativity & Self Expression video from Lisa Byrne. I'm particularly interested in watching this video.
Simplicity & Simple Living. 3-2-1, Inside Out Simplicity, and Simple Ways to Be More With Less. There are more minimalist titles, you'll see the full list below.
Home management. I eat this stuff up. One Bite at a Time*, Tell Your Time, and The Weekly Household Planner from The Confident Mom (I love her pretty pages).
Natural Living. From what I can see, these are excellent resources for making your own natural body and homecare products. Clean Start, My Buttered Life, and Food On Your Face.
Parenting. Parenting with Positive Guidance, Flourishing Spring (there are some great ideas in here perfect for right now, I like it), Mindset for Moms*, and Truth in Tinsel: An Advent Experience for Little Hands. 
I've briefly listed a few titles that relate to what I write about at FIMBY. Or resources I think some of you would be interested in based on the e-mails and comments you send me. (*These are the e-books I have read and recommend based on personal experience.)
But there is much more in this package. Here's the complete list of 38 titles you get when you purchase the Simplify Family Life collection. (Don't get overwhelmed. Take it slow.)
Entrepreneurship & Blogging
Food & Cooking
Homemaking
Marriage & Relationships
Minimalism for Families
Parenting & Kids
One more thing - The Simplify Your Family Life Sale is brought to you in part by Plan to Eat, an online meal planner that makes eating at home simple. Receive an exclusive coupon code on a one-year membership with your purchase.
Here's the deal. The Simplify Your Family Life e-Book Sale gets you instant access to all those resources for just $29.

This is a good deal. Even if you don't read half of them.
Honestly, it's overwhelming to me how much stuff you get with this package. The irony of or course is that it would complicate your life, not simplify it, if you tried to read these all at once. These are a year's worth, easily, of how-to/self-help type resources. Take your time. 
Click here to purchase the complete collection. This link takes you to Life Your Way where you actually make the purchase.
Just so you know, this is an affiliate marketing program. Whatever site you link from to purchase the collection (lots of great bloggers - all those listed above - will be promoting the sale this week) the affiliate income will go to that blogger.
If you choose to purchase from FIMBY that directly supports our family and the work I do here, and I appreciate your support.
The sale ends Friday morning at 8am EST. That gives you a couple days to hem and haw, but really, if you've ever considered buying even a few of these resources, this is an excellent deal to take advantage of now.
Renee Tougas participates in affiliate marketing, including the Amazon Services LLC Associates Program. Whenever you buy something on Amazon from a link you clicked here, I get a (very) small percentage of that sale. See disclosure for further explanation.
You can subscribe to comments on this article using this form.
If you have already commented on this article, you do not need to do this, as you were automatically subscribed.