Holiday Spice Soap ~ On Sale Now
December 10, 2011
I am so psyched about this! {And now I'm so bummed it's already gone and so many of you missed out!}
For the first time ever I am offering my artisan, handmade soap for sale at FIMBY.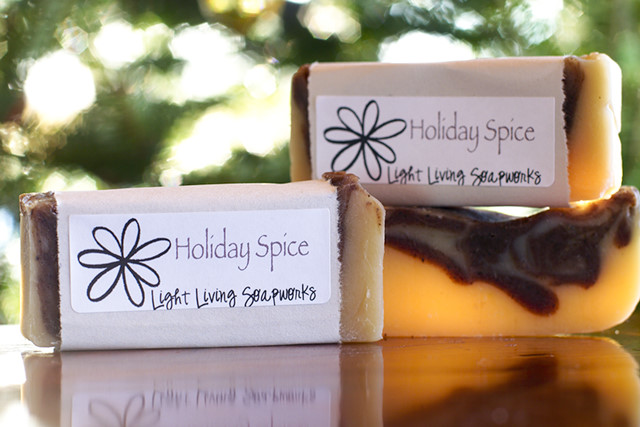 Holiday Spice, available for a limited time only. Perfect to give as a holiday gift to friends, family or yourself!
If you're interested in buying some I don't suggest waiting since I have a limited amount and when they're gone, they're gone.  And I won't be selling any more soap till my spring offering. 
Gone already friends. So sorry.
What a fabulous response (blush, blush). Thank you. Your interest in my soap makes me reconsider another winter offering, after the holidays. A woodsy, winter bar. The creative soapmaking juices are starting to flow...
About Holiday Spice
To read all about the soap, what's in it and even how to make a batch for yourself, please read my Holiday Spice Soap page.
If you're too busy to click over here's what you need to know about this soap.
It's crafted by yours truly with lots of love and skill. I take special care to create soaps that are beautiful to look at, tantalizing to the senses but that also clean and moisturize. What more could you want in a bar of soap?
Holiday Spice smells like spice cookies straight out of the oven or an orange pomander dangling from red ribbon. It's oh so good. It's smells like the holidays.
I use only vegetable oils (and no palm oil). This particular batch is a luscious blend of seven different vegetables oils, chosen for their moisturizing and lathering properties. You're going to love how this soap feels on your skin.
These bars have cured over 6 weeks to last longer.
All bars come wrapped as seen in photo. 
Shipping & Pricing
My Canadian friends and family will be sympathetic to my biggest dilemma in selling soap on-line. The shipping costs!
Postal service in Canada is not cheap and the cost can be downright prohibitive to selling something something weighty like soap.
To accommodate this reality and make my soap accessible to as many people as possible I got creative with sizing and cutting my bars. 
These bars are little - under 20 mm or about 1/2 inch wide. I sized them this way so they could be shipped flat using non-standard size lettermail rates. All packaged up, they are only as thick as a bulky envelope. Which is how they'll come. Clever, eh?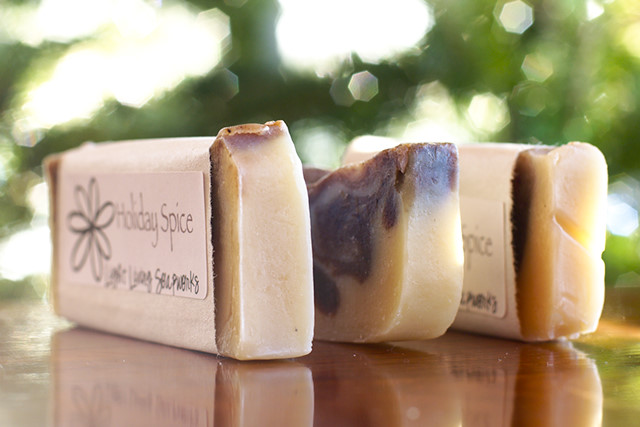 All of that to say, I worked really hard to keep the shipping costs low and make buying these bars feasible for you.
The price for 2 bars of soap is $4.00, the total minimum weight is at least 85 gm or 3 oz (85 gm does not exactly equal 3 oz, but it's very close). To simplify the selling prices I've worked the shipping cost into the overall price. 
Pricing Chart
|   | 2 Bars | 4 Bars | 6 Bars | 8 Bars |
| --- | --- | --- | --- | --- |
| Minimum size | 85 gm/ 3 oz | 170 gm/ 6 oz | 255 gm/ 9 oz | 340 gm/ 12 oz |
| Cost with S&H to Canada | $6.75 | $11.50 | $16.00 | $20.25 |
| Cost with S&H to US | $8.00 | $16.00 | $20.00 | $24.00 |
I will mail your order within 2 days after your purchase. 
I can ship soap as gifts but I don't offer gift wrapping. I can attach a little holiday note for the recipient, just be sure to leave a comment when purchasing via Pay Pal. 
Feel free to ask any questions about the soap or shipping in comments. I look forward to sharing this gorgeous soap with you this holiday season. 
Renee Tougas participates in affiliate marketing, including the Amazon Services LLC Associates Program. Whenever you buy something on Amazon from a link you clicked here, I get a (very) small percentage of that sale. See disclosure for further explanation.
You can subscribe to comments on this article using this form.
If you have already commented on this article, you do not need to do this, as you were automatically subscribed.