Great outdoor education books
March 10, 2010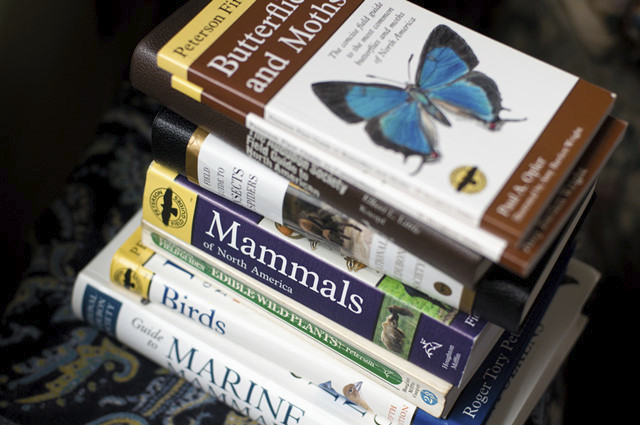 You'll find my monthly post published today at Simple Homeschool.  I've written about two things we enjoy very much; reading and the outdoors. The combination of these is a post titled, Great Books for an Outdoors Education.
Reading is something that inspires us to get outdoors more; to experience this great, wide and beautiful world we've read about. Then, after we've been outdoors and want to research what we've discovered for ourselves (ie: identifying the bugs, leaves and forest floor wildflowers) books are where we turn to find our answers. 
Just this morning I read Henry David's House to the kiddos.  Reading this very edited and richly illustrated (oh I just love children's picture books) version of the American classic Walden, or Life in the Woods by Henry David Thoreau inspires me to follow my dreams for simpler living, leaves me pining to return to the woods (only 4 more days till our next hike) and has piqued my curiosity to read the original. 
If you'd like to find more outdoor/nature type books to read with your children you can check out my nature study shelf at Goodreads.  
This winter Damien upped the nature-book ante by reading outdoor adventure books to our family during the evenings. These are stories about people truly being in the outdoors, not just studying it from the comfort of their heated living rooms or well equipped science labs. He's got a booklist going also at Goodreads that you can see at the bottom of the AdventureinProgress mainpage. 
Have any of you read Walden, or Life in the Woods? What did you think? Would you recommend it?
PS. I know there's been a lot of posts lately on FIMBY about the outdoors.  This blog reflects my life, it's not an abstract writing project, and we've been reading about, talking about and spending lots of time outdoors. And we hope to do more.  It's a good thing but I do plan to post about other more "homey" subjects.  Maybe hopefully spring gardening, with some pretty photos. 
Renee Tougas participates in affiliate marketing, including the Amazon Services LLC Associates Program. Whenever you buy something on Amazon from a link you clicked here, I get a (very) small percentage of that sale. See disclosure for further explanation.
You can subscribe to comments on this article using this form.
If you have already commented on this article, you do not need to do this, as you were automatically subscribed.