Cocoa Date Cookies
March 14, 2012
A couple months ago Jennifer @ Kidoing introduced me to the cookbook Bake With Dates, written by Susan Lowenberg. Susan also has a blog by the same name. Chock full of free, healthy recipes.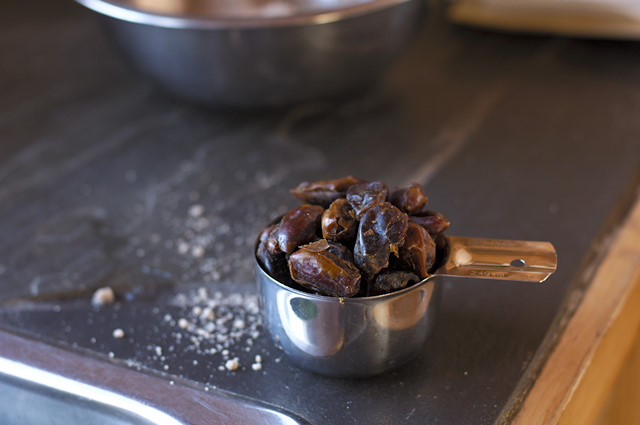 I am always open to sugar free (for me this includes all refined sweetners - honey, maple syrup, brown rice syrup, etc.) baking inspiration and this little cookbook seemed like a good resource, and a good deal at just $4.99 for my Kindle (and part of the Amazon Prime lending library).
I got as far as the Carob Chip Cookie recipe and kind of parked there. For like three months now. I do that - find a favorite recipe and make it lots till I'm tired of it and want to find another.
In the summer it was the peanut butter cookies. This winter has been Cocoa Date cookies. I revised some of the ingredients in the original recipe to make it gluten free and to use cocoa powder, not carob chips.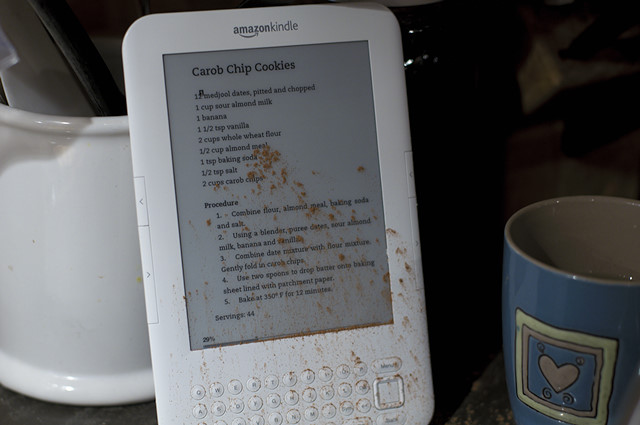 I don't recommend cocoa on your Kindle
(photo of recipe used with permission from author)
I've tweaked the recipe enough to call it my own and feel comfortable sharing it here with you. 
My family loves these cookies. Keep in mind we don't eat a lot of baked goods, what is considered "indulgent" by my family might be too "crunchy granola" for your tribe. I make no promises.
These are best served right out of the oven. In fact, in our house they never make it longer than a couple hours. I bake a batch and we eat cookies that day and then don't for a couple weeks, till I make another batch.
I would describe these as "moist, muffin textured" cookies. They aren't flat and gooey. They are biscuit like in shape. And like I said, they are devoured in our house.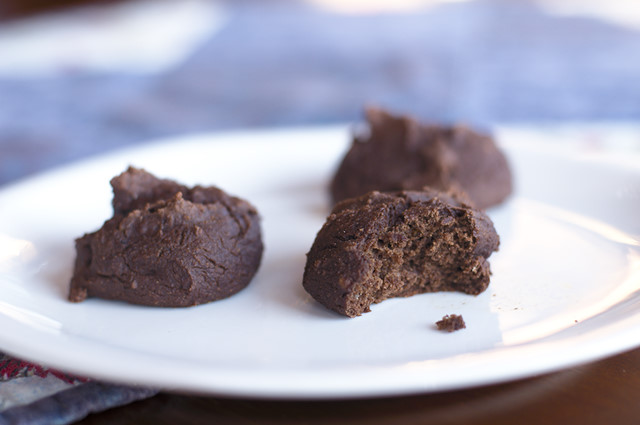 Cocoa Date Cookies
Ingredients:
1 heaping cup of pitted dates (180 gms) approx 45-50 neglet or honey dates, 12 large medjool dates. See photo at top of post for what I mean by heaping cup.
1 cup of sour nut or soy milk*
1 banana
2 tsps vanilla extract
2 cups g-free flour mix. I use one cup of my own Gluten-free Baking Mix and one cup of Spring's Favorite Baking Mix. Scroll through both posts to find the recipes. 
1/2 cup almond meal
1 tsp baking soda
1/4 tsp salt
1/3 cup cocoa powder
Directions:
Using a high powdered blender combine dates, sour nut or soy milk, banana and vanilla. If you don't have a high powered blender soak the dates in water overnight, drain (save the soaking water to sweeten smoothie) and use. You will lose some of the sweetness this way though - the fruit sugar "leaks" into the water.
In a bowl combine gluten free flours, almond meal, baking soda, salt and cocoa powder.
Pour date mixture into dry mix. Stir until just combined with spatula (don't over mix g-free flours).
Using two spoons or fancy ice cream scooper drop batter onto greased or silicone covered baking sheet. Parchment paper works also but is too much bother and waste for me.
Bake at 350F for 12 minutes.
*To make sour milk: in a one cup measure pour 1 tbsp of lemon juice or apple cider vinegar. Pour nut or soy milk till cup measure is full.
Enjoy!
Renee Tougas participates in affiliate marketing, including the Amazon Services LLC Associates Program. Whenever you buy something on Amazon from a link you clicked here, I get a (very) small percentage of that sale. See disclosure for further explanation.
You can subscribe to comments on this article using this form.
If you have already commented on this article, you do not need to do this, as you were automatically subscribed.